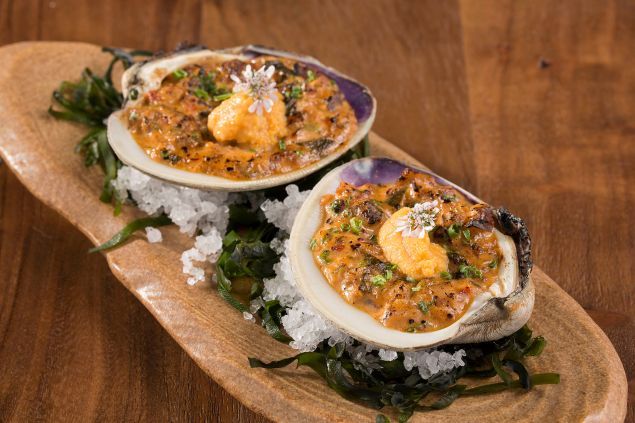 On-Strip and off, Las Vegas knows how to throw down on New Year's Eve. Here are five glitzy and delicious options for your final meal of 2017.
For Great Food and a Gatsby Theme
Sparrow + Wolf, chef Brian Howard's triumphant off-Strip sensation on Spring Mountain Road, has quickly established itself as one of the city's best restaurants with creative dishes like Chinatown clams casino and udon with lamb ragu. For New Year's Eve, the restaurant is doing things a little differently with its Gatsby-themed Innocence Lost soiree, where $125 gets you a special spread with all the food and drink you want to enjoy. Dress to impress (there might be a reward for your swanky costume), and expect caviar bumps and a champagne tower. The party starts at 10 p.m. Call to RSVP.
For Hoppin' John With Caviar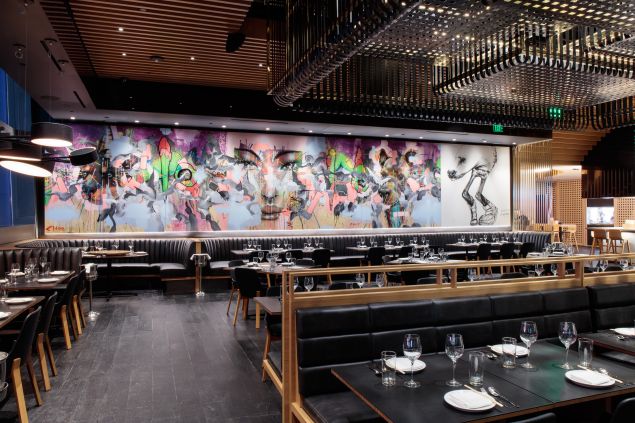 David Chang's Momofuku at the Cosmopolitan is going big on New Year's Eve with a five-course, $148 blowout headlined by prime rib and truffled king crab with potatoes and creamed spinach. The festive meal starts with a hoppin' John canape featuring caviar. (Chang has proven that fried chicken and caviar go well together, so we're going to trust that black-eyed peas and rice with caviar is a good combination.) The feast also includes hiramasa crudo, Dover sole roulade and eel-and-Matsutake congee. Dessert is a parfait with dulce de leche, smoked pineapple, coconut and lime.
Bet It All on Red Sauce
Chances are, you'll never get to dine at East Harlem's Rao's, which is still one of the most exclusive restaurants in the world. But you can book a table at Rao's Las Vegas inside Caesar Palace, where New Year's Eve means a three-course, $98 feast with the choice of pastas like spaghetti alla bolognese and lobster-and-shrimp diavolo.  Entree options include filet mignon marsala or the famous Uncle Vincent's lemon chicken. Don't forget to add meatballs as an a la carte side, and finish off the night with tiramisu or cannoli. Phone reservations only.
For Steak and Lobster in Summerlin
Elizabeth Blau and Kim Canteenwalla's Andiron Steak & Sea in Summerlin is always an option for a baller meal off the Strip. Its lavish New Year's celebration features a three-course, $95 dinner with appetizer options like a chilled king crab salad and entree choices including a wagyu New York strip and a whole roasted lobster. We love the idea of a donut trio (strawberry, chocolate mousse, coconut caramel) as your final dessert of 2017. Tickets are available online.
For Modern Asian Food Turned Up to 11
Kumi, chef Akira Back's dazzling modern Japanese restaurant at Mandalay Bay, is serving a family-style feast ($95 for seatings from 5 p.m. to 7 p.m., $125 from 7:30 p.m. to 11:30 p.m.) with tuna tacos, bao buns, hirame carpaccio, crispy calamari, crispy pork belly, Kobe beef short ribs, grilled Scottish salmon, coconut rice cakes and more. Back, who just got a Michelin star for Dosa in his native Seoul, is one of Vegas' most respected chefs. He's a former professional snowboarder who knows when to take things to the extreme but who also understands the importance of balance when he weaves together Japanese ingredients and Korean-American flavors. Anyway, another dish Kumi is serving at New Year's Eve is the Hot Mess, which is crab, sashimi poke, avocado and what the restaurant calls screaming O sauce. This is Vegas, so why not encourage guests to end the year with a bang?
Andy Wang, the former real estate and travel editor at The New York Post, has covered West Coast food and drink for more than a decade.