It's your final meal of 2017, which means it's time to go big. And if you're in Los Angeles, going big can mean anything from eating all of the caviar to trying some game-changing truffle-topped pizza. Here are five New Year's Eve meals you won't regret.
For Your Wildest Caviar Dreams
O.K., we get it. It's New Year's Eve, and you want caviar. Let's not mess around. At Petrossian in West Hollywood, executive chef Carlos Cabrera's $275 New Year's Eve dinner starts with a caviar flight featuring selections of Transmontanus, Siberian, Shassetra, Ossetra and Kaluga Hybrid eggs. Now that your caviar craving has been sated, you can enjoy lavish dishes like Dungeness crab with green apple and avocado; hamachi with trout roe, a tapioca puff and mirin vinaigrette; black truffle risotto; and a choice of Kobe A5 striploin or Dover sole, all while a string quartet performs. Dessert options include a seasonal galette.
For Classic Meets Modern in Santa Monica
The patio and the art-filled lounge at Michael's Santa Monica are old-school glamour, but chef Miles Thompson's menu is full of as many modern surprises as any restaurant in Los Angeles. Thompson's creative combinations include, for example, octopus with mango-lime curd, Thai chiles and shrimp vinaigrette. It's multicultural food that represents L.A. at its finest. Michael's is serving its regular á la carte dinner menu on New Year's Eve. Standout new dishes include hamachi collar with fish-sauce caramel, radish and toasted peanuts; young chicken with chicories, chives and tarragon dressing; and spaghetti with "pesto cavolo," chile flakes and breadcrumbs.
For Stellar Surf and Turf
Ocean Prime in Beverly Hills is ringing in the New Year with live entertainment, a midnight champagne toast and, best of all, some great specials that allow you to create a family-style surf-and-turf feast. There are Kumamoto oysters with caviar, Asian pear mignonette and Meyer lemon ice ($30) to start, and entrees include Corvina bass with a butternut squash and Granny Smith apple puree as well as sherry-sautéed oyster mushrooms with lobster ($54). On the meaty side, you can order a 20-ounce dry-aged prime rib eye with truffle-sautéed mushrooms and a red-wine reduction ($75).
For Neo-Neapolitan Pizza
Before he opened Brentwood sensation Pizzana, Daniele Uditi was known for making pizza at private L.A. parties attended by A-list guests. So he knows how to throw down for a celebration. Pizzana's neo-Neopolitan pizzas include a truffle-topped pizza, a Sunday gravy pizza, an amatriciana pizza and a chorizo pizza inspired by street tacos. And for New Year's Eve, Uditi is also offering a limited quantity of caviar pizzas made with carbonara sauce, fior di latte, coppa, parmigiano and ROE caviar. For dessert, pastry queen Candace Nelson (of Sprinkles Cupcakes fame) is making torta di mele, an Italian-inspired apple upside-down cake with salted caramel, caramelized apples and vanilla ice cream.
For a French Twist in Beverly Hills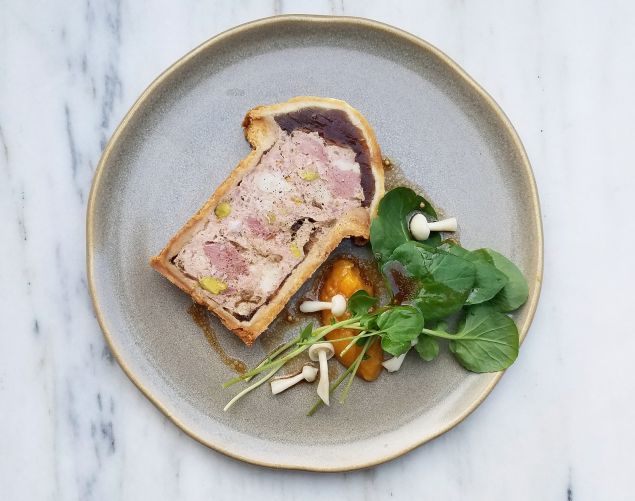 If you come to the early New Year's Eve seating (5:30 to 6 p.m. reservations) at Geoffrey Zakarian's Georgie in the Montage Beverly Hills hotel, your three-course $88 dinner includes the option of executive chef Wilfrid Hocquet's showstopping pâté en croûte. Or make a later reservation (8:30 and onward) for a five-course $188 feast and midnight toast. A later reservation means caviar and house-smoked salmon with a chestnut blini; Dungeness crab with avocado and green apple; Chilean sea bass with Champagne sauce; dry-aged strip loin with black-truffle sauce; and espresso semifreddo with passionfruit sauce. Hocquet is a classically trained French chef, meaning he's really good at making sauces.
Andy Wang, the former real estate and travel editor at The New York Post, has covered West Coast food and drink for more than a decade.