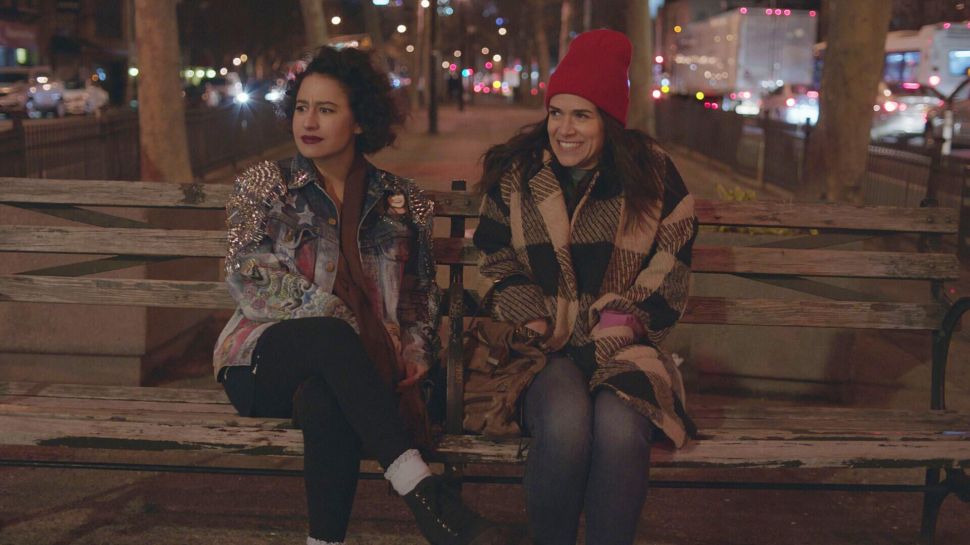 For its first three seasons, Broad City showcased a range of summer looks while airing in the colder months. Season four changed things up; in part as a reaction to the political climate, which you can see reflected in the darker, broody costume design choices made by Staci Greenbaum. Signature Abbi and Ilana clothing such as cut-offs, crop tops and floral dresses are still a vital part of their wardrobe, but with a winter weather twist.
At the start of season four, Abbi has a new job that requires office attire—but of course this includes plenty of Abbi Abrams flair. Wearing items such as plaid shirts, tucked-in sweaters, stripes and skinny jeans with boots, Abbi definitely goes more mainstream than her best friend did when she held an office job (see: a dog sweater worn as a sweatshirt). Staci Greenbaum told Racked that in her vision of Abbi's shopping choices, the character shops at Topshop, Madewell, Zara and H&M, but she might splurge on something from The Outnet, Gilt or Reformation from time to time. Because Broad City shoots months in advance from when it airs—season four was filmed between January and March of this year—a lot of the clothes are no longer available, so we've got similar rather than exact copies of Abbi and Ilana's season four staples below.
A good coat is an important place to start when considering your winter wardrobe; it is better to spend a little more on something that will last. Abbi has several pieces of outerwear that she rotates, depending on the outfit and occasion. Try H&M for replicating her casual parka, which has a variety of puffy options. For the fancier end, this versatile double-breasted coat from Madewell will go with an array of work-ready or going out looks. And to add something eye-catching Abbi usually opts for plaid. Two alpaca options from & Other Stories offer a similar look. Abbi's convertible mittens from Madewell are the ideal solution for keeping your hands warm while also being able to use your phone.
Ilana wears her political thoughts on her sleeve (quite literally) this season. The 2016 election result influenced a number of the show's season four elements, including storylines, tone and costuming. Ilana's floor-length padded parka is one very visible statement, covered in political patches and pins.
H&M has a number of options for this style of coat. And to give it that Ilana Wexler custom edge, look to Otherwild, Wildflower, The Outrage, Zig Zag Co. and Retrograde Supply Co. for funky outspoken patches. Ilana also sports one of this winter's must haves; a wool-lined denim, cord or plaid jacket. Levi's and Topshop both have a variety of colors available. A bold orange bomber is the third jacket in Ilana's rotation; Topshop has a reversible choice for that two-in-one surprise.
Broad City often repeats outfits, which lends an air of legitimacy to this TV depiction of broke millennials. But the woman also find ways to switch things up when in danger of falling into a winter style rut. As they show, mixing up headwear is key. Beanie hats don't have to cost a lot; Abbi and Ilana have both worn a variety of colors and styles throughout season four. Uniqlo has always been a great go-to for this staple, but H&M and Madewell also have a number of good options for keeping your head warm and stylish. Politics also pops up in this arena; at the start of "Twaining Day" Ilana wears a pink "Pussyhat."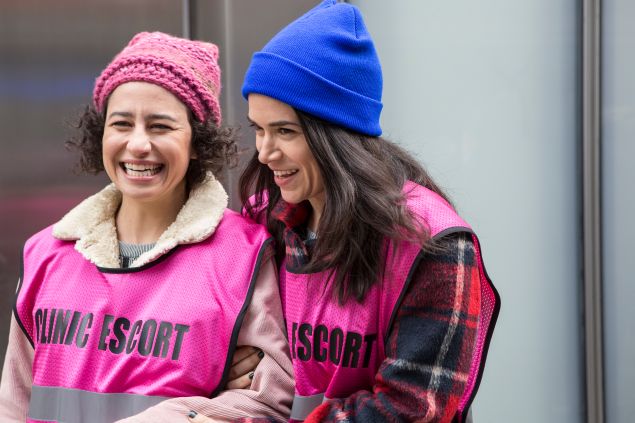 Stripes are another way to brighten up the winter doldrums. Abbi and Ilana each have a number of everyday striped sweaters in their wardrobes. Some favorites that are similar to those worn on Broad City include this mock-neck bold color Urban Outfitters number, Topshop's chunky stripe mohair knit and  H&M pink stripes—a near match Abbi's knitwear from the episode "House-Sitting."
Ilana's signature cut-offs and crop tops still make an appearance despite the shift in season. There is no need to banish your warm weather clothes to the back of your closet, Ilana shows that tights or leggings under a pair of shorts is an easy fix. Ivy Park has fabulous fishnet style leggings, and a sparkly pair from Urban Outfitters or oxblood from ASOS all scream Ilana Wexler. At work, Ilana adds a bit of glitz in black jeans with a glitter finish, similar to this pair by Levi's.
Layering allows you to adapt your signature summer style deep into winter by using garments you probably already own. In "Abbi's Mom," Abbi wears a black turtleneck underneath a floral short-sleeve dress. Denim overalls and dresses also get the same sweater treatment in "Witches" and "Bedbugs." A sweater doesn't have to be worn on top. This item is a lot more versatile than that.
This season Abbi and Ilana have proved their winter style is just as covetable as their summer attire. A coat can be a blank canvas for your political thoughts, a hat can change up an outfit and you don't have to buy an entire new wardrobe just because there is a chill in the air.   
Emma Fraser is the creator of TV Ate My Wardrobe and spends most of her time writing about TV, fashion and costuming; like Abbi and Ilana's Broad City style, the wigs on The Americans and Fleabag's lipstick. Emma has a MA in Film and Television, and she holds Angela Chase responsible for this path. You can find her on Twitter @frazbelina.