The hotels of Paris may be plentiful, but they also take being one-of-a-kind as a badge of honor. When looking for a Parisian place to rest your weary head one can almost feel spoiled for unique options. But to get the full Parisian experience, booking your own pied-à-terre can bring it home while going big on your Paris shopping excursion. Beyond Airbnb, a crop of rental boutiques hand-select grand, coveted apartments which might not come with a bellhop, but are stocked with a full range of luxury concierge services. It's a temporary address, sure. But make it official: You're moving to Paris, even if just for the night.
Grands Boulevards Moderne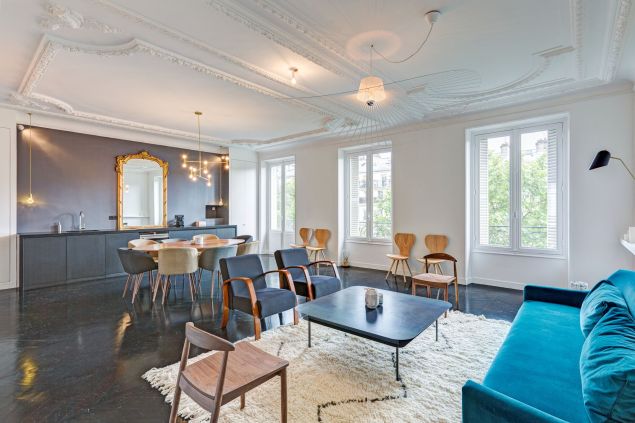 Perhaps you've come to the city for some retail therapy, or maybe to catch Musée des Arts Décoratifs' House of Dior exhibition before it closes. Whatever the case, Haven In's Grands Boulevards Moderne, a stroll from Paris' retail center, matches the design mecca with its contemporary stock. Out of four bedrooms, the slick main room is the real show-stopper with edgy dark wooden floors, brassy and geometric pendant lamps and upmarket mid-century inspired chairs. The seating pops in hues of royal purple velvet beneath whitewashed crown molding. And what about the bedrooms? Use them as storage for the shopping haul—or bring the family (and save the master bedroom's soaking tub for yourself).
Margaux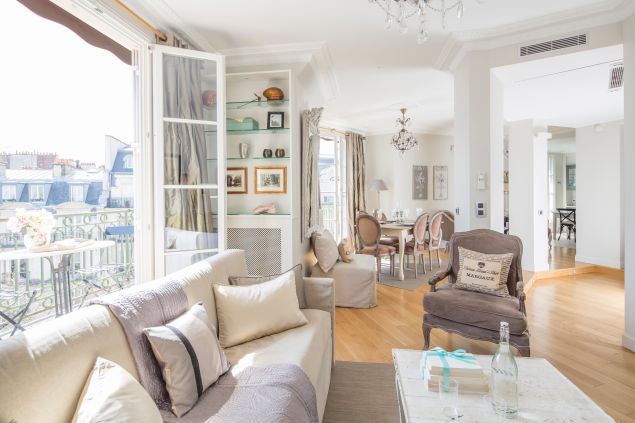 The bulk of Paris Perfect's considered apartments include stunning views of the city's iconic spire—without requiring a telephoto lens. Consider the Eiffel Tower your nightlight: When it scintillates on the hour, your room might, too. Such is life on the 7th floor in the 7th arrondissement (home to Le Bon Marché, the city's oldest department store), where the rental company's three-bedroom apartment, Margaux, is replete with a massive wraparound balcony to beat any bistro. Morning espresso (Nespresso machines come standard) segue to evening toasts as the sunset peels from rooftops. Inside, its 1,210 square feet are chic and dressed with thoughtful touches, from pillowy beds tucked with custom sheets to modern Italian sofas. Necessary staples are stocked, like orange juice and milk, but there's no need to use an inch of the modern kitchen—a roster of concierge services in the brand's new Gourmet Experiences can bring a personal chef right to the apartment. Or, for an excursion, souvenirs come in the form of the perfect soufflé: A cooking class right in the neighborhood teaches guests how to master the fidgety dish in chocolate form.
Rue de Varenne III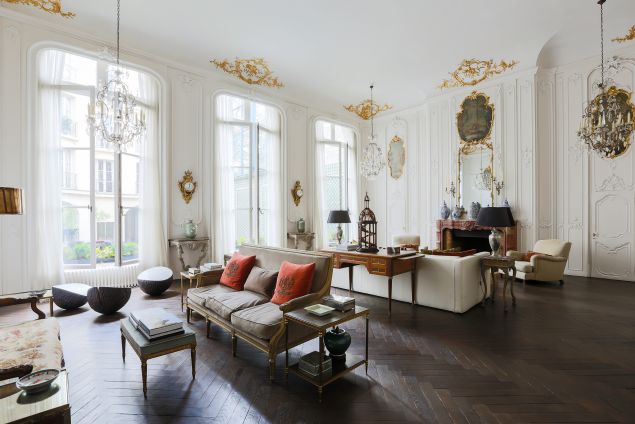 One for the classics? Stick to the 6th arrondissement's historic quarter, Saint-Germain-des-Prés, home of many a designer boutique, where the equally fine Rue de Varenne III is lavish enough to pretend it's part of a château (in reality, it's part of Onefinestay's network of rentals). The three-bedroom booking, rich with elegant furnishings from spiral stairs to silver candelabras and gold-painted molding, belies its more modern indulgences. Oriental rugs in the bathroom alongside clawfoot tubs? Sure. But don't overlook the private steam room, top-of-the-line sound system and the all-contemporary kitchen. And if you're keeping count, keep going—there's not two, but three sitting rooms.
La Réserve Apartments Paris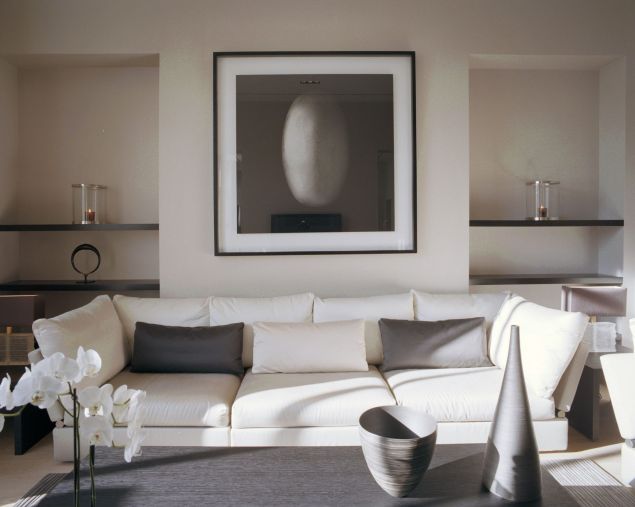 If a full-blown apartment feels too close to home, La Réserve Apartments Paris aren't unlike hotels—and in fact, are serviced by the five-star La Réserve Hotel & Spa. Tucked near the river across from the Eiffel Tower in the 16th arrondissement, the apartments are a stone's throw from worthy stock: Inside a former hunting lodge, Le musée Marmottan Monet comprises the world's largest collection of Monet's works, while on the other side, Le Palais de Tokyo is home to contemporary art. Contrast is at work inside the ten apartments in this Haussmann-style building: clean-lined, bright and airy interiors refresh the building's 19th-century style. Apartments range from one bedroom to four, all kitted out with more than enough facility to please any crowd (whether it's a well-appointed dining room, or access to the nearby hotel's sprawling pool).
Charlemagne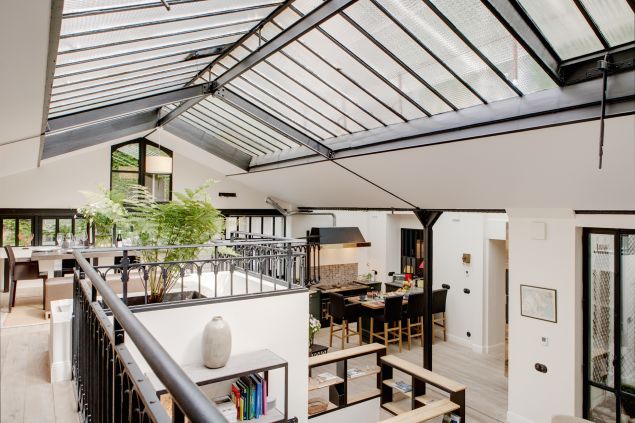 Stroll long enough in Paris, and you'll stumble into one of the city's Les Passages Couverts, 18th- and 19th-century shopping arcades topped off with intricate glass roofs—for shoppers, they are shelter from rain. Speaking of shelter, their luminous charm is mirrored within the four-bedroom Charlemagne, another Paris Perfect booking which is crowned with a glass roof. The high-ceiling apartment brings a sweeter side of Parisian history: Located in the buzzing Latin Quarter, it was once a chocolate factory. Now, it's as edgy as the grand dame city gets, with two-floors and mezzanine-like interior balconies overlooking the main floor—a little bit of lofty, it's like a touch of New York in Paris. But here's one indulgence most NYC apartments don't have: a washer-dryer. There's nothing quite like repacking luggage with fresh laundry.