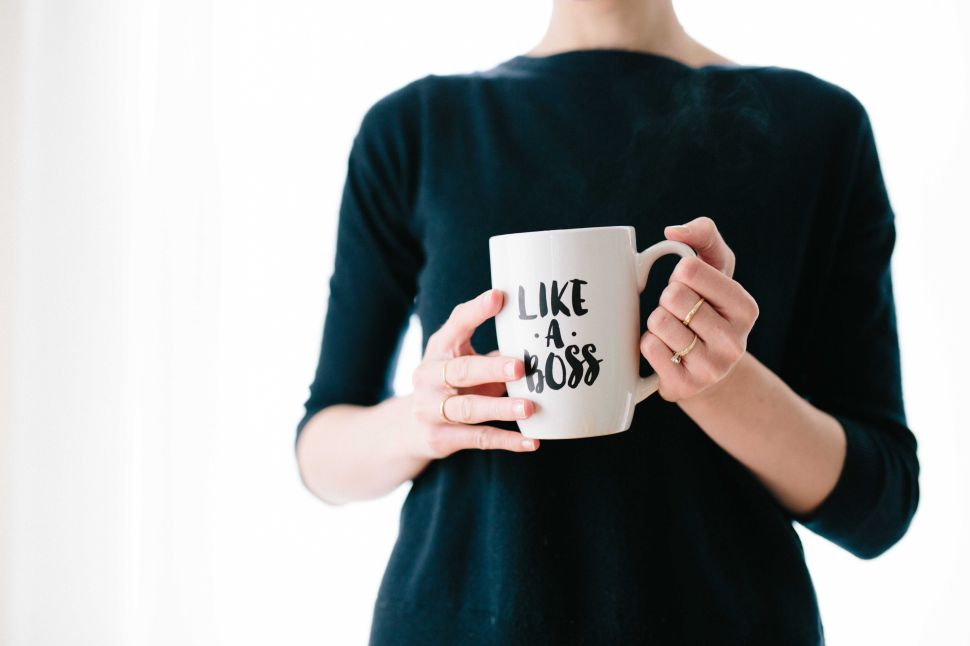 "I am so unhappy at my job. My boss is such a bitch! She has it out for me—I swear she's poisoned the whole team against me," says my 40-something client who works at a nonprofit.
"I'm the new kid on the block—I've only been around six months and I have more solid experience and a better educational background than she does. Her boss brought me in to 'help streamline things' and my sense is that if I clean up some protocol in a few months time, I might be her replacement."
"Well that's an unfortunate and very challenging position to be placed in. Did you realize that prior to accepting the offer?" I ask.
"I guess I realized during the interview that it was a bit of a tense environment, but I didn't realize it would be quite so political and I certainly didn't realize that I would be met with such resistance," she says.
"But you saw the writing on the wall, no? After three months of interviewing, surely you must have sensed that it was a bit of a challenging and fairly 'unkind' environment?" I ask.
"Unkind? I mean come on…it's business for chrissakes. Who thinks about kindness during an interview?" she snaps back.
"That's an interesting response—this coming from a woman who's in the humanitarian arts? No offense, but aren't you in the business of improving humanity?" I ask.
"Well, yes of course, but we live in the real world and people are messy," she adds. "I'm in the business of providing education solutions and addressing basic human needs in several third world countries. Obviously they need help, they don't all have the luxuries we have in our gluttonous society."
"That is very true. You seem to be very passionate about your work," I add.
"I am. These people are hurting and they need support, food, aid, education and basic infrastructure just so they can survive. It makes me sick that I live in a city where there is so much wealth and so much waste. It makes me resent people here in New York City."
"You know, it doesn't really serve you to harbor so much animosity towards people here in the West while you're out fighting to spread goodwill and support to the rest of the world. Can you see that you're undoing yourself with that strategy? I ask her.
"You are missing a key ingredient in your approach to success—kindness," I tell her.
Kindness starts in your own backyard.
Don't waste your time preaching kindness and offering goodwill across the globe. In life, kindness starts in your own backyard with the people you deal with everyday. We can all make a significant difference in the world just by showing up with small gestures of loving kindness to everyone we encounter on a daily basis. That small token of kindness pays itself forward tenfold and is always returned to the giver.
Kindness is contagious.
Holding a door for someone, smiling at someone on the street, being kind to a person serving you or reaching out to assist a colleague or friend in need—these are small ways that can help to shift the heavy vibration of fear and anger that we're all dealing with these days. For a brief moment in time, that gift of kindness will have altered someone's experience, bringing levity and a lightness to their life. It also encourages others to do the same.
If you want to make a difference in the world, start with yourself.
Don't waste your energy pointing fingers at people who are unkind. It won't get you anywhere and it certainly won't change them. It will just bring you down to their level.
"I know you yearn to be influential in the non-profit space and bring healing to third world countries, but I can assure you that you'll never get there as long as you're being hyper-critical and judgmental of others in your day-to-day operations," I tell her.
"Why would you say that?" she asks.
Kindness isn't a contest.
"I understand your frustration, but your ability to effect change for these people isn't just tied to your programming, it's tied to the way in which you are motivating and inspiring your own team at home." I tell her. "Believe it or not, it doesn't make you a kinder or better person because you're helping over 3,000 people a day in third world countries; it makes you a better person that you can consciously affect even one person's life in a positive way every day," I tell her.
Kindness doesn't have an ego.
If you're looking for the acknowledgement that you've been kind or that you have done the right thing by others, you've missed the boat on delivering kindness. Kindness doesn't have an ego; it just is. If you're acting righteous, you're not being kind.
Do you want to be right or do you want to do the right thing?
Kindness naturally does the right thing; it has no need to be right about it. Kindness has nothing to prove, whereas the ego has everything to prove.
"You do have a bit of an ego-martyr complex about doing the right thing, but I warn you that approach doesn't create more love and kindness out in the world, it creates more separation for you at your workplace," I tell her.
"But they aren't doing anything right!" She exclaims. "In fact, they're doing it all wrong! It's just a mess over there and they're wasting thousands of dollars each month! I'm estimating that with my new processes in place, we should be back on track in just under three months," she smugly replies.
"Well, believe it or not, it isn't about coming up with the best solution here; it's about how well you motivate your team towards embracing that new solution," I tell her. You can still give constructive feedback, while prioritizing being kind in how the message is delivered.
It's not about where you get to in life. It's about who you step on to get there.
"You are a critical team leader and change management analyst—at the end of the day, it doesn't matter how great your new protocols are, what matters is how you managed to unify your team and inspire, uplift and motivate them towards implementing those new protocols. Wouldn't you agree?" I ask.
"I'm sure your ideas are golden, but if you lack the necessary interpersonal skills to connect with your team, your brilliant ideas do you no good. And what's worse is that you end up typecasting yourself as the "the difficult one" to work with. So how exactly does that make you an effective leader—let alone position you as an influential power player in the NGO space? It doesn't," I tell her.
Being kind isn't about doing something, it's about who you are being while you are doing it.
Most of us get caught up in our daily grind of delivering results—we're so goal oriented that we can forget to be human and we can neglect basic kindness. But on the road of life human emotion and interconnectedness is the glue to our very existence. Without loving kindness, we are left empty and alone. The most influential people, and the best leaders, naturally understand this concept and they apply this emotional intelligence ritually, which is why they are so successful.
Life is never about the results, only about the relationships.
Truth is you may never get to your destination in life, so doesn't that make the journey that much more important? A life well lived exists in those small moments of human connection. You can be hugely successful and amass all the wealth and richness in the world, but if you've lived a life devoid of loving kindness and connection to others, it was a life wasted. When all is said and done, the simple truth to becoming influential in life is learning how to be kind.
Based in New York City, Donnalynn is the Author of "Life Lessons, Everything You Ever Wished You Had Learned in Kindergarten." She is also a Certified Intuitive Life Coach (ethereal-wellness.com), Inspirational Blogger (etherealwellness.wordpress.com), Writer, Speaker and Yoga Teacher. Her work has been featured in Glamour, the iHeart Radio Network, Thought Catalog and Princeton Television. You can follower her on Twitter, Instagram, LinkedIn,  Facebook and Google+ . Read Donnalynn's column for Observer.