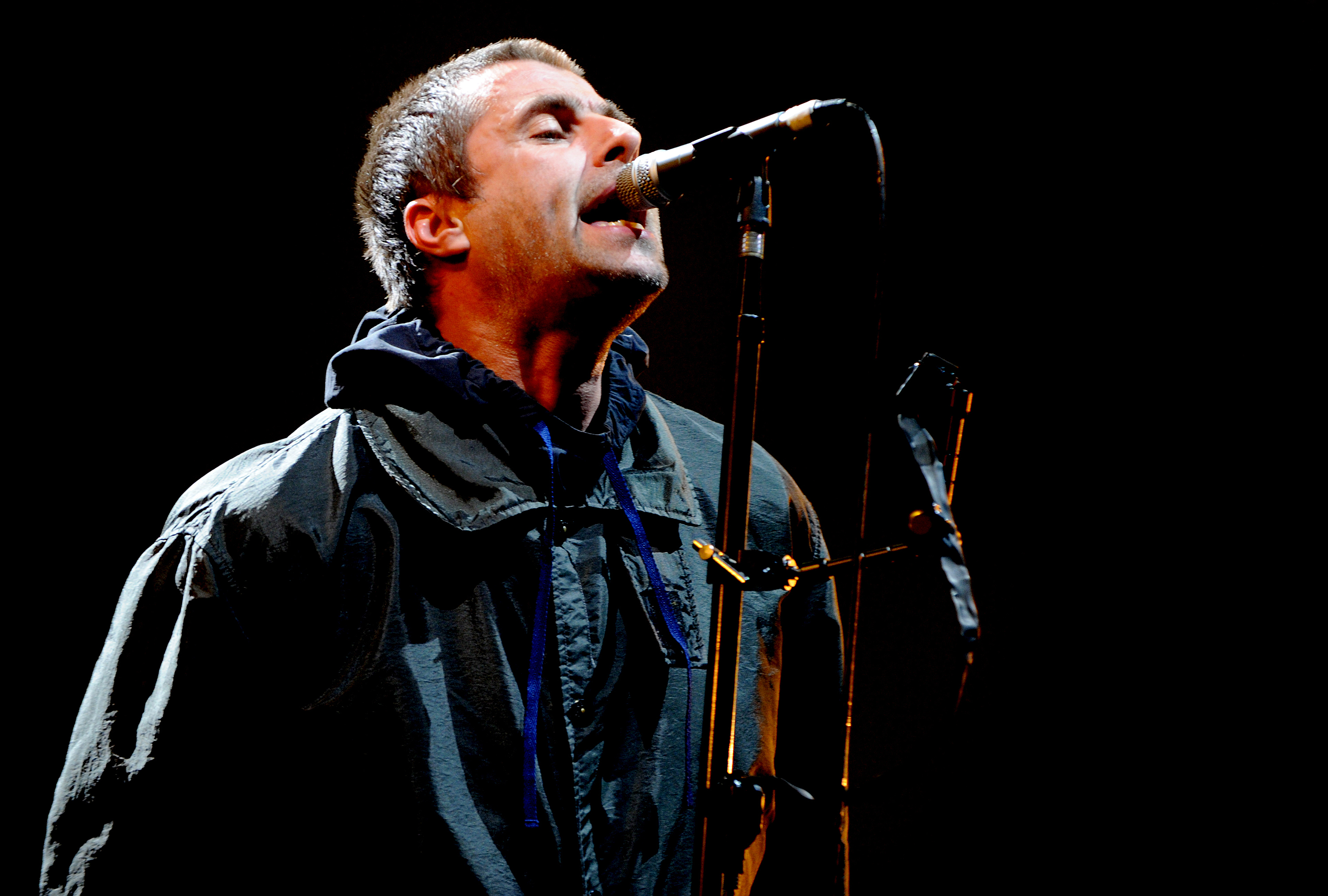 "I want to dedicate this next song, last song, to the people who were killed in the Manchester attacks and London in the Grenfell Tower," Liam Gallagher proclaimed at this year's edition of England's Glastonbury Festival, playing a not-so-secret set on the festival's second-biggest stage. "If you know the words, join in!" he continued, before launching into an a capella rendition of "Don't Look Back in Anger."
That Gallagher, former frontman of the still immensely popular Oasis, put on perhaps the most beer-drenched and hit-filled performance of the weekend wasn't a surprise. But the overt emotionality of his hour-long set was rather special, something that had become relatively rare toward the end of Oasis' arena run and throughout the overall shrug of Gallagher's Beady Eye project. By the end of "Don't Look Back in Anger," the first time he had ever sung the song solo, there wasn't a dry eye in Pilton.
But the performance of that song in particular – and especially the crowd's reaction – would never have happened without the Manchester terrorist attack a month before. Following the detonation of a shrapnel bomb after an Ariana Grande concert at Manchester Arena on May 22, Gallagher's comeback bid suddenly meant something completely different. The return of Manchester's most famous son would have been cause for celebration regardless, but it became a symbol for the city's resiliency. It became the healing event of the year, with all benefits going to the victims of the attack.
Thanks to an impromptu performance of "Don't Look Back in Anger" at a memorial service for the 22 slain concertgoers during a moment of silence, the track became something of an anthem more than 20 years after its initial release. The ensuing video went viral, covered by nearly every music publication worldwide, prompting think pieces like The Guardian's "'Don't Look Back in Anger' becomes symbol of Manchester's spirit."
The song charted again in the U.K., hitting No. 25. The reemergence of the (What's the Story) Morning Glory single, accompanied by Gallagher's May 30 concert at The Ritz in Manchester, thrust the younger Gallagher brother firmly back in the spotlight. With candles onstage for each victim and a chant of "Stand up for the 22," he gave his city something to celebrate in dark times.
He'd soon be onstage at the massive One Love Manchester benefit concert June 4 at Old Trafford with Coldplay, a band he'd repeatedly poked fun at over the years. Gallagher, then 44, closed out the concert (excluding the whole cast singalongs), which featured 2017's biggest pop stars – Justin Bieber, Katy Perry, Miley Cyrus and more. To say Gallagher looked out of place was an understatement, but his inclusion on the final artist list was vital.
His upcoming album, As You Were, came out on Oct. 6, but didn't matter at that point nor did his becoming a tabloid fixture following his affair with an American journalist. Gallagher championing his city on its worst day put him back in British society's good graces.
Oh, and the first song Coldplay played at One Love Manchester? "Don't Look Back in Anger."
Throughout the five-year existence of Beady Eye, a band comprising the final Oasis lineup minus Noel Gallagher, Liam Gallagher was basically ignored stateside. Of the band's two albums, most major American publications reviewed one, if any. Interview requests rarely made it out of writers' inboxes; the most press the group received concerned their breakup in 2014.
But on May 31, Gallagher dropped the video for "Wall of Glass" and something weird happened – America took notice.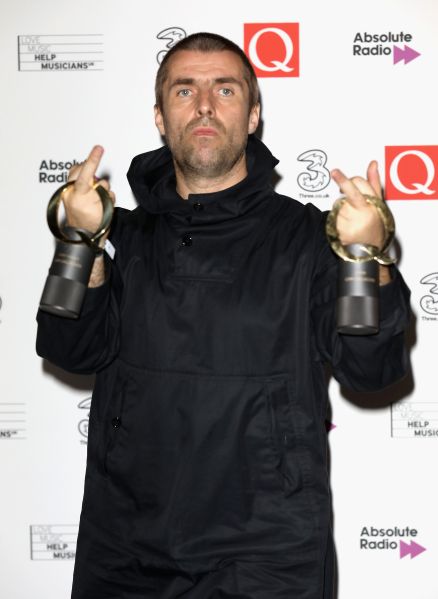 "Motherfucking rock 'n' roll stars, wake the fuck up," Noisey raved. "Today is your day. Liam Gallagher, greatest frontman of the greatest band to have ever walked their antagonistic little footwear across the Earth, has released his debut solo single."
"Liam Gallagher's 'Wall of Glass' Sounds Like a Return to Form" read a Spin headline, adding, "How great is it to have Liam Gallagher back?"
Pitchfork, which once described a fan attacking Noel Gallagher onstage in Toronto as "arguably the most exciting thing that's happened to Oasis in over 10 years," wrote, "The taster from his upcoming debut solo album, As You Were, finds Gallagher in classically sneering form.… This does a perfectly fine job breaking a Britpop icon through the solo barrier."
This was the beginning of Gallagher's best American press cycle since the mid-'90s heyday of Oasis.
Suddenly, Gallagher was popping up everywhere among stateside music publications with interviews in Rolling Stone, Noisey, Billboard, Consequence of Sound, Paste, Esquire, Newsweek, Vulture and appearing on Howard Stern. At age 45, Gallagher was one of the most written about rock musicians in 2017, on par with Father John Misty (50 posts on Consequence of Sound vs. Gallagher's 46 as of this writing), Queens of the Stone Age (23 articles on Pitchfork vs. 25) or Mac DeMarco (15 pieces on Noisey vs. 16 for Gallagher).
The eternally entertaining frontman wasn't getting anywhere near this level of American visibility throughout his tenure in Beady Eye; those same publications – Consequence of Sound, Pitchfork and Noisey – wrote about his post-Oasis act 19, three and two times, respectively. Heavyweights Spin (50 for Gallagher this year vs. 19 for Beady Eye) and Rolling Stone (19 vs. 10) also heavily covered his solo act while barely lifting a finger for Beady Eye, who had performed at the closing ceremonies of the 2012 London Olympics.
As You Were isn't radically different from Beady Eye's output or even the last couple of Oasis records, all widely panned on this side of the Atlantic.  Why the drastic uptick in American press?
This phenomenon began back in May 2014, when Oasis' landmark debut, Definitely Maybe, was reissued on Big Brother Recordings. After years of middling critical reviews, this not-so-subtle reminder of their renowned early days put them back in music journalists' good graces. The reissue, coupled with B-sides, live performances and demos, received near universal acclaim as Consequence of Sound (A+) and Pitchfork (8.8, best new reissue) hailed the box set as a triumphant memento of the best of the Britpop era. The reissue received a 95 on review aggregator site Metacritic.
The re-release was followed by the "Wonderwall"- and "Champagne Supernova"-featuring (What's the Story) Morning Glory reissue in September 2014, just weeks before Beady Eye's breakup. Once again, critics were raving about the older album, giving writers another chance to wax nostalgic about one of the most definitive records of the '90s.
Next came 2016's Oasis: Supersonic documentary, which chronicled Oasis' early days, from the Gallagher brothers' middle-class childhood to their Knebworth concert in 1996, where they played to 250,000 people over two nights. Ignoring the overblown Be Here Now and the group's subsequent relative creative decline until their breakup in 2009, director Mat Whitecross only showed Oasis at their peak form, recalling their quick rise to prominence in British pop culture.
While the film does dig into some troubling and intense periods – like the brothers' first foray into the notoriously persistent British tabloids, crystal meth use and a lawsuit from Tony McCarroll, the band's first drummer – it's entertaining as hell, presenting their extreme lows in an almost This is Spinal Tap-type way, keeping the film light and chock-full of sharp insults traded between the two Gallaghers.
Unsurprisingly, this kicked American interest in the Gallaghers into a higher gear. The film received nearly universal praise, "Certified Fresh" on Rotten Tomatoes with an 83 score. It wasn't unusual to see headlines like Noisey's "For a Moment Oasis Really Were the Best Band on Earth," even in America.
With the outrageous comedy of the Gallaghers back in the spotlight, more American publications started paying attention to the familial infighting. While British publications, especially NME (which critics have dubbed the Noel Musical Express), had been covering the brothers' war of words since Oasis' inception in the early '90s, American magazines had largely stayed out of the crossfire. That began to change as Liam Gallagher became more active – and hilarious – on Twitter, especially in mid-2016.
When responding to his brother's statement to the British tabloid Daily Star that he'd reform Oasis for 20 million pounds, Gallagher went on the offensive, calling Noel Gallagher a "potato" on May 24, 2016, ending the outburst with "FUCK OASIS."
Dubbed "potato-gate" by Pitchfork, American music sites went along for the ride; Stereogum, in particular, wrote nine pieces in 2016 referring to Noel Gallagher as "Potato." Few, if any, musicians manage to stay in the news outside of album cycles, yet a handful of facetious and simple tweets drew loads of free publicity for Liam Gallagher, which he and his PR team at Warner Bros. fully capitalized on once his record was slated for release.
These tweets continued into 2017, providing music journalists with a new kind of material sorely missing amongst the most-written about rock musicians still kicking, combining the best comedic traits of previously mentioned artists Father John Misty, Queens of the Stone Age (Josh Homme) and DeMarco.
Gallagher, mocking and silly, is the master of the interviewer/interviewee relationship. He's keenly aware that by playing up his persona and continuing to hurl barbs toward his brother, he can stay in the news.
And because of that,  Noisey started a video series where he reviews snippets of a wide array of new music. It's why a BBC3 tweet of Gallagher making tea was retweeted over 154,000 times and covered by virtually every music site. It's why Taylor Swift included his track "For What It's Worth" in her "Songs Taylor Loves" Spotify playlist.
It's not like these writers cared much for the eventual record. As You Were received a 71 on Metacritic, which is more-or-less similar to Beady Eye's debut. The majority of each profile concerned his relationship with Noel or other relevant music stars. Few actually dug deep into the actual album itself, its lyrics, production or non-single tracks.
As a result, these articles were almost exclusively written about Liam Gallagher The Social Commentator rather than Liam Gallagher The Solo Musician. A Gallagher response to Noel's scissor-player was more attention-grabbing than a music video depicting a sunset walk around London, with a cringeworthy Beatles lyrical reference to boot. Writers focused much more on the potato peeler at his London show than the performance itself.
But the incredible amount of interest generated by each stateside article did lead to better record sales, a surprising feat considering the general anti-guitar sentiment amongst the Billboard charts in 2017. As You Were hit No. 30 on the Top 100 and No. 3 on the Alternative Albums chart, while his previous release with Beady Eye, BE, never touched the charts in America, becoming the first of either brother's studio offering – Oasis or solo – to do so.
In the U.K., the good will from his Manchester response carried over to the charts. As You Were became the third fastest-selling album of 2017, outselling the rest of the top 10 combined upon its release. Gallagher's solo offering eclipsed BE's total sales in just three days, almost doubling the sales of Definitely Maybe's first week, which was the fastest selling debut album in British history at that point.
There probably wouldn't have been much American hype for As You Were without a big press cycle, and the combination of his Twitter antics, a thrilling rock doc and well-received reissues of Oasis' early work overwhelmingly did the job.
Gallagher gave us a press cycle to remember, full of incredible sound bites, hysterical tweets and lots of potatoes, with the end result releasing a solid rock album in a year with few of them. In a time with a madman in the Oval Office routinely threatening nuclear war and an entertainment industry rocked by near-daily sexual assault charges, we needed someone who could simultaneously provide laugh-out-loud commentary and thousands of teary eyes at festivals. The world needed Liam Gallagher in 2017, and he more than rose to the challenge.
Steven Edelstone is a Brooklyn-based writer who has been featured in Spin, Consequence of Sound, Paste, Noisey, and NME, among many others. When not drinking shot-and-beer combos at a divey Bushwick punk show, he's probably obsessing over his likely horrendous fantasy football team or complaining about how terrible his alma mater's sports have become. While he sends out about as many tweets in six months as the president does in a single day, you can follow him @ed_and_the_stone.