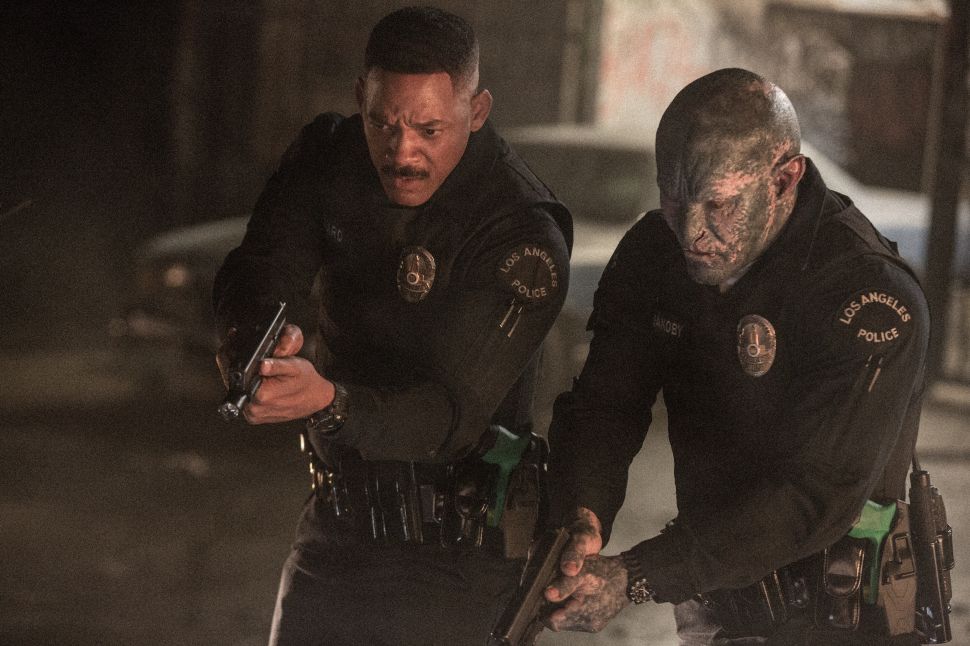 Netflix hopes to produce as many as 80 original films in the coming years and is already cherry picking some of Hollywood's most interesting movie projects. While Thursday's confirmation of Disney's purchase of 21st Century Fox throws a wrench into their theatrical ambitions, a lot of hope still rests on the shoulders of Will Smith's fantasy action drama Bright.
Directed by David Ayer (Suicide Squad, End of Watch), Bright marks a new venture for Netflix: a big-budget original film that would otherwise be a major studio's blockbuster. Sure, the streaming service has successfully dipped its toe into original filmmaking with the likes of this summer's splendid Okja, but the company has never done anything on this scale. So when you're going big, you get big stars like Will Smith to lead your movies. At the Regency Village Theater premiere on Wednesday night, Smith noted Netflix's growing influence in the film industry.
"What's great about working with Netflix is that this is the type of movie you couldn't really make anywhere else," Smith said, per Variety. "It's an R-rated, violent, $100 million dollar movie … no other studio is making that."
It's true that other studios are wary of investing such a sizable chunk into a less-than-mainstream project, just ask Alcon Entertainment about their box office woes with Blade Runner 2049. But Netflix is betting on its talent to pilot a no-sure-thing premise to widespread praise and attention.
In the movie, Smith plays Daryl Ward, a human police officer from an alternate reality where fantasy creatures such as orcs and elves live among us, though there are tensions between the world's magical and non-magical beings. The actor admitted that Ward is "a black police officer that's racist against orcs," a racial undertone that he saw as an "exciting opportunity to look at society through a different lens."
Netflix let Ayer and company craft a "gigantic film" complete with "all the toys," according to co-star Edgar Ramirez. It's the kind of plant your flag in the ground move the streaming service is hoping will attract more A-list talent to their burgeoning film division. Bright producer believes that the film's non-theatrical release will not affect the enjoyment of viewers.
"I've personally never seen any of my five favorite movies in a theater, and I think there is a love for movies that transcends where you see them," Newman told the outlet.
Also starring in the movie are Noomi Rapace and Joel Edgerton. If Bright reaches its potential, it will mark a new phase for filmmaking.
The film will hit Netflix on December 22.