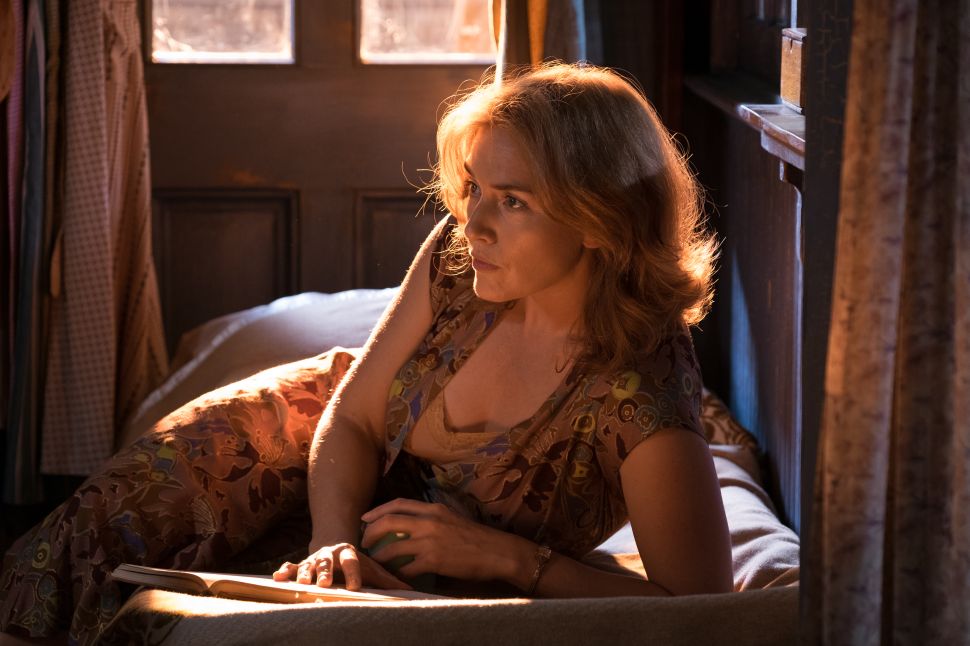 I've often written that even on a bad day, Woody Allen is better than everybody else on Sunday. This is true again of Wonder Wheel. Ignore those mixed reviews. (One critic roasted the movie in print because she hates the fact that the director married one of Mia Farrow's adopted daughters, as if that has anything to do with his talent as a filmmaker. I mean, with reviewers like that on the loose, the real wonder wheel is why directors spin around in circles making any movies at all.) It may not be one of the best, most inspired and fully realized classics in the master director's oeuvre, but it towers above almost everything else in the junk pile of 2017 year-end releases.
Wisely reunited with the great cinematographer Vittorio Storaro, Woody has recreated the nostalgia of the Coney Island he remembers from the 1950s and done for Kate Winslet what he did for Cate Blanchett in Blue Jasmine—created a colorful visual backdrop for a lusty, multi-faceted performance that prunes away the clutter and leaves you devastated. The film is about a disparate group of tortured neurotics who live and work in the shadow of the famous Coney Island ferris wheel, called the "Wonder Wheel." Ms. Winslet pulls out all the stops as Ginny, a former actress-singer who still clings to memories of a faded career while she works as a waitress in a clam bar. Ginny lives in the movies when she can escape from her drunken stumblebum husband Humpty (John Belushi), who runs the Coney Island merry-go-round, and the responsibility of taking care of teenaged Richie (Jack Gore), her troubled son by a previous marriage to a jazz drummer, who entertains a dangerous passion for setting fires.
Humpty also has a daughter from a previous marriage—a ditz named Carolina (Juno Temple) who shows up for the first time in five years looking for a place to hide from her gangster husband after stupidly revealing the Mob's secrets to the FBI. To stay sane, Ginny is sleeping with a summer lifeguard named Mickey (Justin Timberlake) under the boardwalk and in his apartment in Greenwich Village where he keeps notes on everything he sees in the hope of someday becoming an award-winning playwright. Mickey doubles as the narrator of events as they turn into a narrative. The story moves slowly at first, but when Mickey starts cheating on Ginny with her stepdaughter Carolina, the heat rises to a boil and all Hell breaks loose, plunging all of the characters into life-altering repercussions from Ginny's wrath.
---

WONDER WHEEL ★★★
(3/4 stars)
Directed by: Woody Allen
Written by: Woody Allen
Starring: Kate Winslet, Justin Timberlake, John Belushi, Juno Temple and Jack Gore
Running time: 101 mins.

---
As the older woman scorned, Kate Winslet is a one-woman gale force. Suffering from migraines, she hits the bottle, thrashes about in her slip like somebody in a Tennessee Williams melodrama, and steeps her histrionics in the direction of tragedy. Her ultimate decision to destroy her competition leads to a harrowing nervous breakdown, with the effect of a true horror movie, but despite its soap opera overtones, Wonder Wheel is firmly, steadily balanced by Woody's clear-eyed vision and enhanced by Vittorio Storaro's gorgeous lighting and camerawork. The garish neon glow of the ferris wheel reflected in Kate Winslet's eyes bounces off her expressions like myriad metaphors.
This is her finest, most three-dimensional performance in years and she plays every mood shift brilliantly in sync with the melancholy around her. There isn't a dull moment in her extravagant characterization of a woman falling apart, bit by bit, or in Woody Allen's generous, thrilling direction of her, scene by scene. We've had Woody Allen bright, fanciful, literary, musical, goofy, lyrical, and hilarious. This is Woody Allen dark, and still splendid all the way.