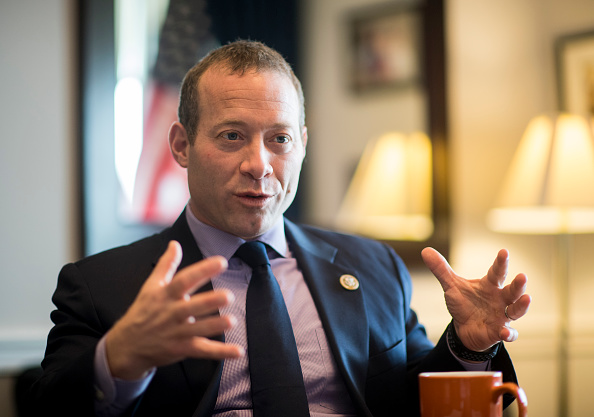 Rep. Josh Gottheimer (D-5) has raised over $2.2 million ahead of next year's congressional midterm elections, the most of any House candidate running in New Jersey in 2018, according to reports filed with the Federal Election Commission.
Gottheimer, a former speechwriter for President Bill Clinton, was first elected to represent his North Jersey district in 2016, unseating Republican incumbent Scott Garrett in the process.
Republicans see Gottheimer's victory as a fluke and have identified the 5th district as a top target in 2018. According to the New Jersey Division of Elections, there are about 148,000 registered Democrats in the district, about 147,000 Republicans and about 214,000 unaffiliated voters. In 2016, Gottheimer beat Garrett by a 4 point margin, but the district has become slightly more Democratic-leaning since President Trump's election.
Democrats are preparing for a knife fight. Or at least, the kind of knife fight that costs you more than $2.2 million in campaign operations and TV ads.
At least two Republicans will face off in the June 2018 primary, former Bogota Mayor Steve Lonegan and John McCann, former legal counsel to the Bergen County sheriff. It will be hard for either Lonegan or McCann to match Gottheimer in the fundraising department, particularly if they go through a primary that eats up campaign contributions before the general election.
Lonegan is a perennial Republican candidate to who has previously run for governor, Senate and the House, all unsuccessfully. During the last weeks of 2017, Lonegan started an endorsement blitz, showcasing support from some prominent Republicans around New Jersey. But most of those endorsements are from Assembly members and local elected officials who remain largely unknown outside of their districts or communities.
McCann is a lawyer and general counsel to the New Jersey Sheriffs Association. He is also a former Cresskill councilman.
Lonegan has about $560,000 in his campaign accounts, $500,000 was self-loaned. McCann announced his candidacy in November but has yet to report any fundraising to the FEC. But the National Republican Congressional Committee will likely spend money in the district next year after sitting out Garrett's 2016 race. In 2015, Garrett refused to pay his NRCC dues over what was reported at the time as his concerns with the group's decision to support gay candidates.
During the 2016 campaign, Gottheimer got support from the Democratic Congressional Campaign Committee and focused on some of Garrett's less popular stances — including the comments about gay Republicans — to appeal to moderate Republicans and right-leaning independents in the district and convince them to switch their vote to Democrat. Both Lonegan and McCann are staunch conservatives.
Since his election, Gottheimer has been carving out a role as a middle-of-the-road Democrat. He is the co-chair of the Problem Solvers Caucus, a bipartisan House group that tries to find common ground on issues like health care. He also regularly partners with Rep. Leonard Lance (R-7) on issues like fighting elimination of the State and Local Tax Deduction.
Gottheimer began fundraising for his 2018 campaign before he was even sworn into office in January, asking voters to contribute and prevent Republican victory this year. "There's already talk that the Tea Party will do everything they can to unseat Josh and replace him with another extremist," said a fundraising email sent in November of last year, just under two years before the 2018 general election.