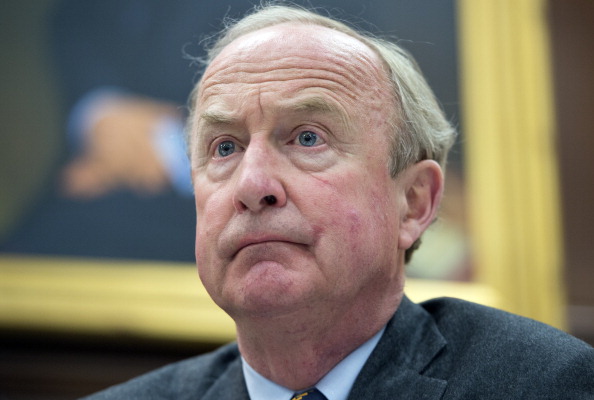 New Jersey's 7th and 11th congressional districts are poised to become battlegrounds during the 2018 midterms, a critical election for Democrats who are targeting these traditionally Republican strongholds as they attempt to overtake the GOP majority in the House.
In 2000, filmmaker Michael Moore registered a ficus tree to run against Rep. Rodney Frelinghuysen in New Jersey's 11th congressional district, a gag meant to highlight the uncompetitive nature of gerrymandered districts nationally.
Oh, how things have changed.
Frelinghuysen is now seeing one Republican and four Democrats — down from six Democrats originally in the mix — jostle to challenge him in the upcoming 2018 midterm election. He has represented the district since 1995.
According to the Cook Political Report, the former GOP stronghold is now a "toss-up." Cook cites a redistricting that brought some parts of Essex County, including liberal Montclair, into the district, changing voter demographics.
Frelinghuysen has also made a few potential missteps that have energized activists in the area. In May, Frelinghuysen wrote a letter to a local bank calling employee Saily Avelenda a "ringleader" in the activist group NJ 11th for Change, some of Frelinghuysen's harshest critics.
The group has hosted candidate forums to educate voters about Frelinghuysen's potential challengers, holds weekly protests outside of his office and regularly calls on the congressman to hold in-person town halls, something Frelinghuysen has declined to do for many months. His letter tattling on Avelenda was seen as a ham-handed attempt to quash a dissenting voice in his district.
Some other controversial moves in the past year by Frelinghuysen, chair of the House Appropriations Committee, include his decision to support a House bill to repeal the Affordable Care Act, a bill that would have likely stripped health care coverage from many in New Jersey, and a vote to release a GOP budget resolution due to a need to get important appropriations moving. But that resolution also included the basic provisions of the Republican tax bill, a deeply unpopular plan in New Jersey and one that Frelinghuysen eventually voted no on.
His most successful Democratic potential challenger to date is Mikie Sherrill, a former federal prosecutor and Navy veteran. Sherrill has raised over $744,000. Frelinghuysen has raised about $1.15 million. But former prosecutor Mitchell Cobert, family advocate Tamara Harris, college professor Mark Washburne and attorney Martin Hewitt, a Republican, are also in the mix.
Six Democrats have so far registered for the June 2018 primary in the 7th congressional district, currently represented by Rep. Leonard Lance, a moderate Republican. Those Democrats are former Assistant Secretary of State Tom Malinowski, lawyer Lisa Mandelblatt, businesswoman Linda Weber, lawyer Goutam Jois, lawyer Scott Salmon and community organizer Peter Jacob.
Lance has teamed with Democratic Rep. Josh Gottheimer (D-5), a moderate Democrat, to push back against initiatives including looming changes to the state and local tax (SALT) deduction under the national GOP tax plan. Lance was also one of the only national Republicans to vote against the House health care bill earlier this year, and is a regular although not vociferous critic of President Trump.
Despite those stances, Lance is still being painted as an enabler for national Republicans. His challengers say his support of Speaker Paul Ryan and other party officials has contributed to the current atmosphere in Washington and that, despite his protests, national Republicans have not taken his criticisms to heart.
Lance has raised about $643,000 in campaign contributions, according to reports filed with the Federal Election Commission. But there will likely not be a competitive primary in his district, allowing him to hold on to his campaign funds until after the June primary. Combined, the six Democrats in the field have raised $865,000.