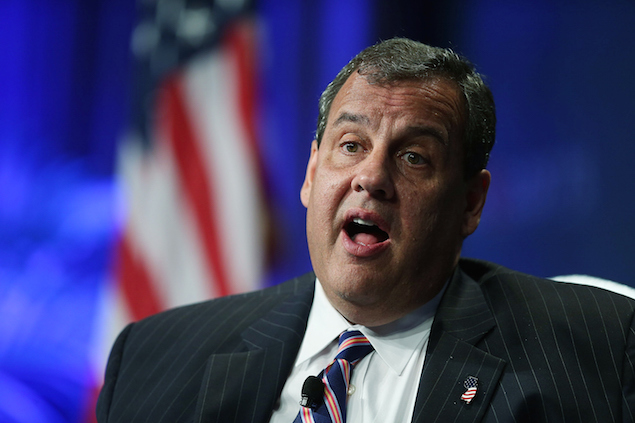 Gov. Chris Christie had a rough 2017, a final year in office that will likely be remembered more for the wreckage of his approval ratings and photos of the governor on the beach than for his increased efforts to combat the opioid epidemic.
In late June, Christie and members of the state Legislature found themselves at an impasse. Christie wanted to allocate $300 million for drug treatment and resources, a plan that hinged on raiding the reserves of Horizon Blue Cross Blue Shield, New Jersey's largest health insurer. Legislators balked at the idea. The state budget was late. The government went into shutdown mode over the Fourth of July weekend and residents couldn't access state parks or beaches. Other than Christie and his family, that is.
Viral photos of Christie, his wife and other family members on a completely empty Island Beach State Park made national headlines. The shutdown quickly ended and Christie's plan to raid Horizon's reserves faltered.
But Christie, who rose to national prominence for his brash style, never apologized to outraged state residents for the debacle, often referred to as "Beachgate," an homage to Christie's now-infamous 2013 "Bridgegate" scandal.
"That's because the governor has a residence at Island Beach. Others don't," Christie said in defense of his presence at the beach that day. "It's just the way it goes. Run for governor and then you can have the residence."
When he was re-elected to office for a second term in 2013, Christie's approval ratings were sky high. National Republicans had courted him to run for president the previous year. Many state Democrats broke with tradition and endorsed the governor in his effort to win back the State House, all but ignoring Democrat Barbara Buono.
But this year, the governor's approval rating sunk to record lows. According to Monmouth University, post-Beachgate Christie's approval rating sunk to 15 percent, the lowest of any New Jersey governor in history. Pollsters say that Christie was hampered by his failed 2016 presidential run, his endorsement of Donald Trump and the 2016 Bridgegate trial that put Christie's alleged involvement in the lane closures of the George Washington Bridge under a microscope. Christie was never indicted in Bridgegate but two of his political associates were found guilty of using the bridge to enact political revenge on a Democratic mayor who didn't endorse Christie.
Republicans statewide had the albatross of Christie hanging around their collective neck in 2017, and this November's elections saw major losses for the state GOP. An October Quinnipiac poll found that Lt. Gov. Kim Guadagno's connection to Christie gave 51 percent of voters a negative opinion of her. The party lost several seats in the Legislature, diminishing their minority and handing over the governorship to Democrat Phil Murphy, a political newcomer.
"I had my referendum. My referendum was four years ago," Christie said on Election Day. "Everyone knew who I was. I am not much different today than I was then, except a little bit older and a little bit grayer. But other than that, I'm not a whole lot different than I was then. I got 61 percent of the vote four years ago, I'm happy to stand on that. I'll see if anyone beats that anytime soon."
But regardless of how he leaves office, Christie's presence in New Jersey gave the state a national political figure with a charismatic persona and a wicked sense of humor. It remains to be seen what kind of job he lands after leaving office, or what his long-awaited book will be called. It remains to be seen whether Murphy can do any better with New Jersey's finances than Christie, whose fiscal moves earned a series of credit-rating downgrades from Wall Street.
But in Morris County, Christie's home county, the often-divisive governor's legacy will live on. "Governor Chris Christie Drive" was christened in November, a road that county officials (unironically) say will alleviate traffic in the area and improve access to a county park.