Earlier this week, NATO made some shocking announcements.
No, not that NATO, we're talking about the National Alliance of Theater Owners.
On Wednesday, the organization revealed that the national average movie ticket price for 2017 rose 3.7 percent year-over-year to $8.93, per TheWrap. In 2016, the average cost was $8.65.
In addition, NATO also estimates that 1.23 billion tickets were sold, which would mark the lowest total since 1993. At that time, Jurassic Park was the highest-grossing film of the year and an estimated 1.24 billion tickets were sold.
According to The Numbers, domestic ticket sales have been on the decline since 2002, while inflation has helped box office numbers climb overall.
All of that begs the question: Should the film industry adjust what metrics it uses to gauge success? What does it a matter if a movie is breaking box office records, while attracting fewer and fewer actual audience members?
"It's worth noting that along with ticket price inflation there has been technology inflation of sorts that has created modes of competition never imagined at the dawn of cinema or even a decade or two ago and the fact that moviegoing is as strong as it is today in the face of that increased competition is a testatment to the singularity and allure of the big screen movie theater experience," Paul Dergarabedian, senior media analyst at comScore, told Observer.
He continued: "There is no denying that the small screen experience is not to be underestimated and that the theater industry needs to get creative and innovative to keep people coming back to the movie theater. Additionally, it is essential that the movies have to be top notch since the writing and production values on the small screen are operating at such a high level and audiences have grown accustomed to that quality and big screen films have to be seen as having at least as high of a level of excellence."
NATO's findings would seem to support this as well as an uncharacteristically dry summer helped to drag down 2017's overall numbers while early and late year surprise hits perked totals back up.
"2017 highlighted once again the importance of a balanced, 52 week movie calendar," NATO said in its analysis. "A record Q1 (in box office and admissions) was offset by a disappointing summer, with a range of sequels that were not embraced by audiences in the numbers we are accustomed to. Summer 2017 was 92 million admissions short of summer 2016. An unusually empty August accounted for half of summer 2017's shortfall. Q4 2017 was nearly equal to Q4 2016, with 315 million tickets sold, compared to 319 million."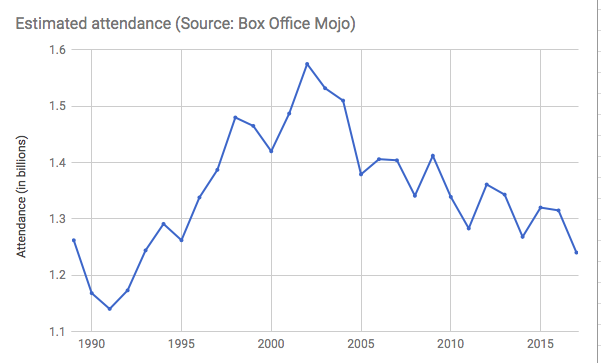 Last year's summer box office numbers came in roughly 12 percent lower than 2016's season. Overall, Hollywood finished the year looking at a two percent drop compared to last year.
Though it was the third straight year that the box office exceeded $11 billion, holiday weekends such as Memorial Day and Labor Day saw historic lows. The entire 2017 slate was pocked with expensive misses such as Baywatch, mother!, Suburbicon and Justice League. However, March and September saw big leaps thanks to Beauty and the Beast, Logan and It.
Will the box office numbers and attendance rebound this year?
The 2018 schedule is dominated by big budget franchises with some highly-anticipated films on the way. But with high expectations can come crushing falls. Will the bad buzz around Disney and Lucasfilm's Solo: A Star Wars Story sink it before it hits screens? What happens if Avengers: Infinity War slightly disappoints like Age of Ultron?
We'll just have to wait to find out.