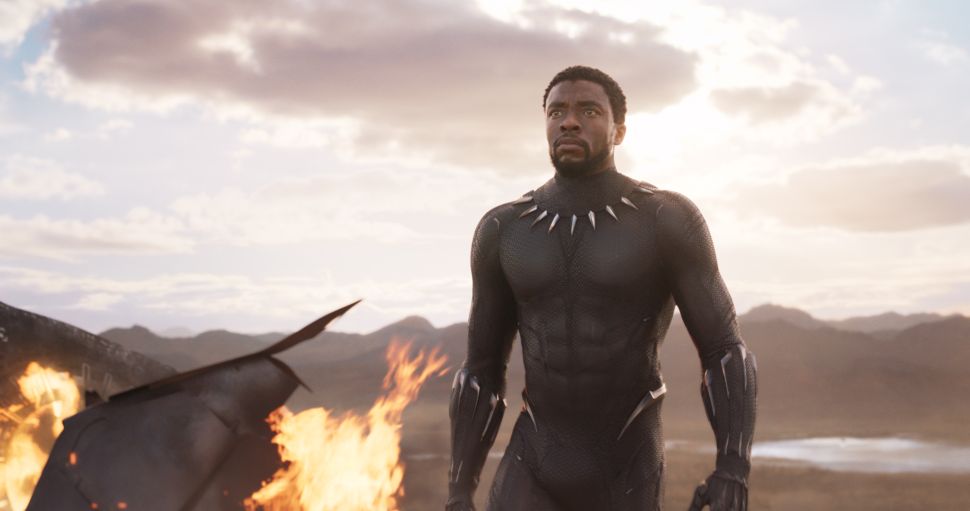 Rex Reed was right: 2017 was a down year for movies. There were definitely some clear cut winners like Call Me By Your Name, Lady Bird and Blade Runner 2049, but for the most part, the last 12 months of Hollywood's cinematic output has been unremarkable. Will 2018, a year that is positively overrun by studio franchises, be any different? We hope so. To that end, here are a mix of big tentpoles and lesser talked about films that we're looking forward to in the New Year.
God Particle (Paramount Pictures, February 2)
God Particle is the third installment in the Cloverfield franchise, giving the J.J. Abrams-produced project an immediate air of mystery and intrigue. The film's release date has already been delayed two separate times and we've yet to see any promotional material which are both, admittedly, not good signs. There's a solid shot this movie doesn't even get a nationwide release at this point. But 2016's 10 Cloverfield Lane—which debuted its first trailer in January and was released in March—was one of the most delightful unexpected surprises of the year, so we're going to remain cautiously optimistic until a militarized alien species swoops down to tell us otherwise.
God Particle follows a team of astronauts aboard an international space station who find themselves adrift in the cosmos after a scientific experiment involving a particle accelerator causes the Earth to vanish. When a space shuttle appears, the crew must fight for survival after a horrifying discovery. For fans of sci-fi, that's one hell of a hook. For fans of quality acting, the movie features an impressive cast that includes: Daniel Brühl, Elizabeth Debicki, Gugu Mbatha-Raw, Chris O'Dowd and David Oyelowo.
Black Panther (Marvel Studios, February 16)
Wesley Snipes' Blade was technically the first black superhero to headline his own solo film, but that was back in the 1990s when comic book properties were still considered a Hollywood punchline (though Blade was as badass as they come). In the modern superhero bubble, fans have yet to see a true blue standalone franchise-starter headlined by a black performer. Better late than never though.
Chadwick Boseman will reprise his role as T'Challa/Black Panther from Captain America: Civil War in his own adventure directed by Ryan Coogler (Creed) come February. With Warner Bros. releasing the first female-led superhero blockbuster in Wonder Woman this past summer, at least we can say that Hollywood is somewhat trying to improve its diversity issues.
Annihilation (Paramount Pictures/Netflix, February 23)
For those of you that loved the cerebral and meticulously thought-provoking Blade Runner 2049, we have a feeling you're going to enjoy Annihilation, based on the James VanderMeer novel of the same name. For those of you that found Blade Runner 2049 to be too slow and dense to embrace, you may want to skip this one. That's the challenge that Paramount (PARA) and Skydance Media ran into during production, which led to the movie's international rights being sold to Netflix to minimize box office risk. Oh well, their loss is the streamer's gain.
We're incredibly excited to dive into this particular world that follows a four-woman expedition into Area X, a quarantined region of America that is undergoing a mysterious ecological evolution where the laws of nature don't apply. Written and directed by Alex Garland (Ex Machina), Annihilation stars Natalie Portman, Jennifer Jason Leigh, Gina Rodriguez, Tessa Thompson and Oscar Isaac.
Red Sparrow (20th Century Fox, March 2)
No one likes to talk about it since she's still Hollywood's "it" girl, but Jennifer Lawrence is in somewhat of a slump recently. Mother! is the most polarizing film of 2017 that no one saw, Passengers was an expensive mess, X-Men: Apocalypse put the traditional mutant series on life support, Joy wasn't the Oscars darling everyone hoped for and The Hunger Games franchise petered out by the time District 12 was set free. J-Law could really use a win right about now.
Will that be Red Sparrow? The film follows Russian intelligence officer Dominika Egorova (Lawrence) and CIA agent Nathaniel Nash (Joel Edgerton), an American saboteur in Russia. It's got all the classic trappings of an adult-skewing thriller success, but that genre has fallen by the wayside in recent years. Here's to hoping Lawrence can breath some new life into it and get her filmography back on track.
A Wrinkle in Time (Disney, March 9)
Ava DuVernay is the first black woman to direct a $100 million film and we're interested to see how the creative mind behind the Oscar-nominated Selma slips into genre fare. The 1962 book of the same name is beloved by fans the world over, but can it survive the Disneyfication of its deep themes of complicated plot? Can DuVernay's unique voice shine through the studio system? This isn't exactly a straightforward adaptation for the family friendly Disney (DIS), who have become the most powerful studio in all the land thanks to its originals, Marvel, Lucasfilm and Pixar.
A Wrinkle in Time revolves around teenager Meg Murray, who teams up with her younger brother, her classmate and three astral travelers to save her father, who is being held prisoner on a distant planet by a universe-spanning evil. It stars a stuffed collection of talent in (deep breath) Oprah Winfrey, Reese Witherspoon, Mindy Kaling, Gugu Mbatha-Raw, Michael Pena, Zach Galifianakis, Chris Pine and newcomer Storm Reid.
Avengers: Infinity War (Marvel Studios, May 4)
Do we really need to explain why this mega sequel that is 10 years in the making and features upwards of 50 characters, massive movie stars and franchise altering storylines that will redefine the biggest brand in film, is on this list? We didn't think so. Shut up and enjoy the trailer.
Deadpool 2 (20th Century Fox, June 1)
Sequels are almost never as good as the original, so you'll forgive us if we don't expect the same out-of-nowhere success for Deadpool 2 as its predecessor. Though the movie is adding a handful of fan favorite characters to its roster, the real intrigue with Deadpool is how it will be handled going forward. With Disney absorbing Fox, many have wondered if the Marvel/Disney brand will allow for experimental superhero content such as hard-R action comedies like this. Bob Iger says that Deadpool will remain R-rated, but you never really know with the Mouse House.
In the short-term, we just hope Ryan Reynolds can provide the meta-laughs once again without the shtick getting old.
Ocean's Eight (Warner Bros., June 8)
So. Many. Talented. Actresses.
We'd watch this group of leading ladies discuss international trade regulations, yet alone star in a heist movie connected to a popular property we all pretty much enjoyed in the mid 2000s (we know George Clooney's Oceans movies were remakes as well, no need to yell at us on Twitter). How do you say no to: Sandra Bullock, Cate Blanchett, Anne Hathaway, Mindy Kaling, Sarah Paulson, Awkwafina, Rihanna and Helena Bonham Carter? The answer is you don't.
Ocean's Eight looks like the snappy comedy caper we need in a year devoid of plucky outsiders.
First Man (Universal Pictures, October 12)
Sure, First Man hasn't yet released a lick of promotional material, but this bad boy is getting by on name power alone. It may not feature any music, but wunderkind director Damien Chazelle (La La Land, Whiplash) has more than earned the benefit of the doubt when it comes to this biographical historical period drama that will follow NASA's attempts to land a man on the moon during the 1960s. (Then again, we'd love to see a Neil Armstrong NASA biopic done as a musical).
Ryan Gosling, Claire Foy, Corey Stoll and Kyle Chandler will star in the long-gestating project that originally began in 2003 with Clint Eastwood at Warner Bros. The Academy loves themselves some historical biopics, so expect First Man to be in the running for several Oscars if it's any good.
Mary, Queen of Scots (Focus Features/Universal Pictures, November 2)

Here's another name-driven project that we know next to nothing about. But after Saoirse Ronan delivered yet another showstopping performance in Lady Bird and Margot Robbie took a career-transforming turn in I, Tonya, we can't help but get excited at the prospect of the two squaring off against one another on screen.
Written by House of Cards creator Beau Willimon, Mary, Queen of Scots will follow the titular character, Queen Elizabeth I and Protestant cleric John Knox as they navigate the religious and personal conflicts that arise while ruling one of the most fractious courts in Europe. Political intrigue, power lust, assassination, royalty. This story is absolutely dripping with fevered curiosity.
Honorable Mentions: Love, Simon (March 9) The New Mutants (April 13), Solo: A Star Wars Story (May 25), The Incredibles 2 (June 15), Sicario 2: Soldado (June 29), Ant-Man and the Wasp (July 6), Mission: Impossible 6 (June 27), The Predator (August 3), Crazy Rich Asians (August 17), Venom (October 5), The Girl in the Spider's Web (October 19), X-Men: Dark Phoenix (November 2), Holmes & Watson (November 9), Fantastic Beasts: The Crimes of Grindelwald (November 16), Creed 2 (November 21), Aquaman December 21), Bohemian Rhapsody (December 25)