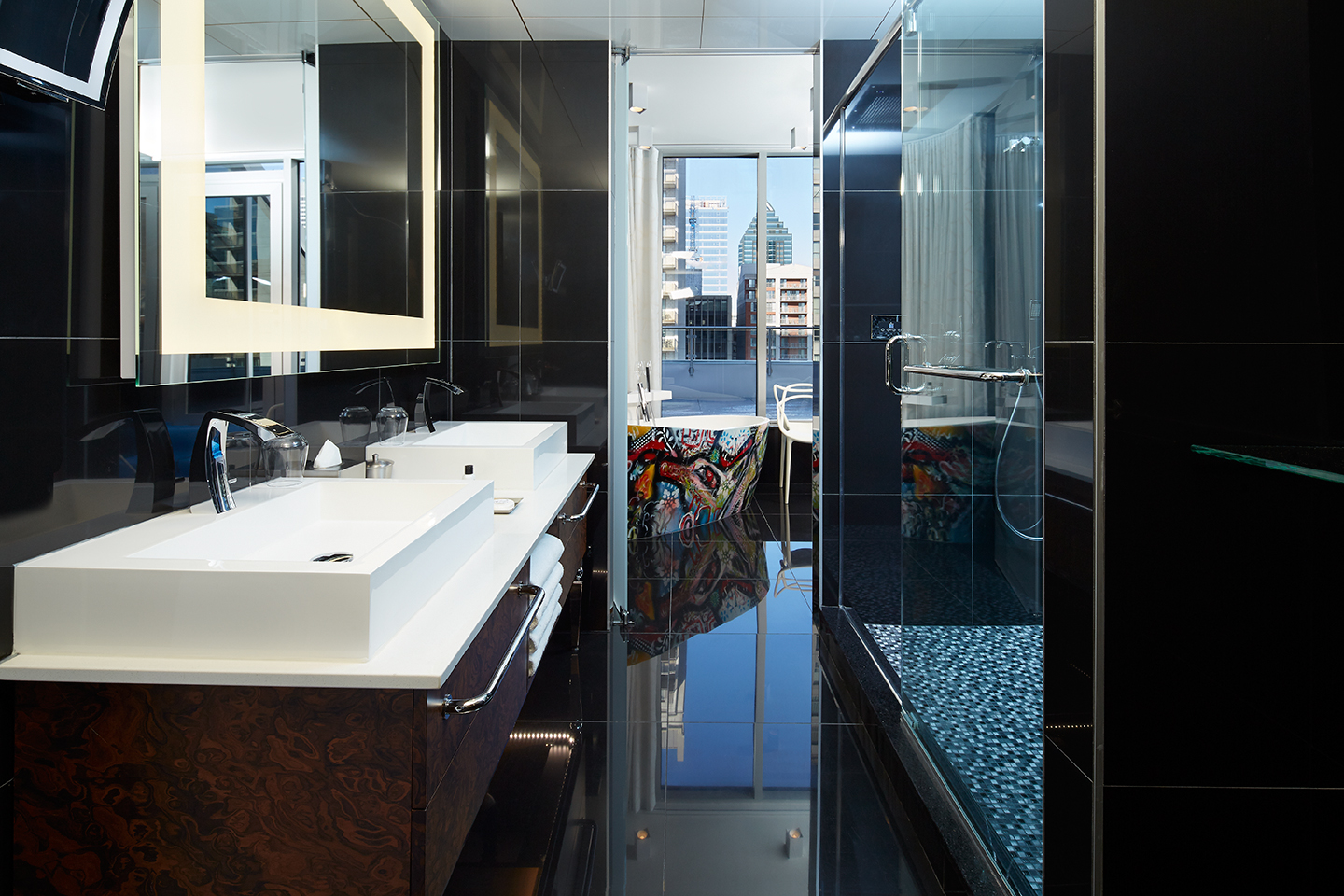 New restaurants are roaring, the music scene's on fire and blockbuster shows are packing museums: Leonard Cohen this year, Thierry Mugler set for 2019. Now, Montreal is finally seeing a hotel boom to match. A departure from the cookie-cutter towers and twee bed and breakfasts that make up much of the city's inventory, these new lodgings feel fresh as, well, the frigid winter air. They also offer strategic home bases for exploring Montreal's character-filled neighborhoods, cobblestoned streets and nonstop calendar of festivals.
Here are five of the best and buzziest hotels in Montreal.
Old Montreal has only become fashionable in the last decade, but  Edward-William Gray saw its potential pretty early on—around 1785—when the sheriff and merchant built the pair of properties that have since been fused into one very happening hotel. The grafting of high design onto centuries-old bones here feels seamless; 127 guest rooms are laid out like Montreal pied-à-terres, with casual-chic furniture, sparkling-white bathrooms and killer Bang & Olufsen media centers. The loftlike, 975-square-foot Residence is the room to snag, with an airy living room, a snazzy kitchen and a dining area that's bigger than the average Manhattan apartment. Montreal's beloved Cafe Olimpico operates the lobby espresso bar, while eatery Maggie Oakes, named for Gray's wife and run by chef Derreck Bocking, accents "honest" local ingredients, with impressive burgers and steaks.
The Fairmont Queen Elizabeth is about six decades old, but following a recent renovation, this once-dowdy grande dame has emerged from its construction cocoon completely transformed. Inspired by the swingin' Montreal of Expo '67, the "Queen E" now boasts a trippy lobby of undulating shapes and shiny surfaces. Art installations, like a video-projected floor-length "river," populates every surface and Roselys, the hotel's techno-meets-Art-Deco restaurant, has become a hot local hangout. Riotously colorful murals animate reimagined guestrooms, with clean and modern furniture and irresistibly comfortable beds. Looking for the ultimate splurge? Consider the sprawling, $2,400-per-night John & Yoko Suite, where John Lennon and Yoko Ono held their infamous 1969 bed-in—and where plush period furniture, insane VR experiences and a massive-free-standing tub now pampers superfans of the counterculture couple.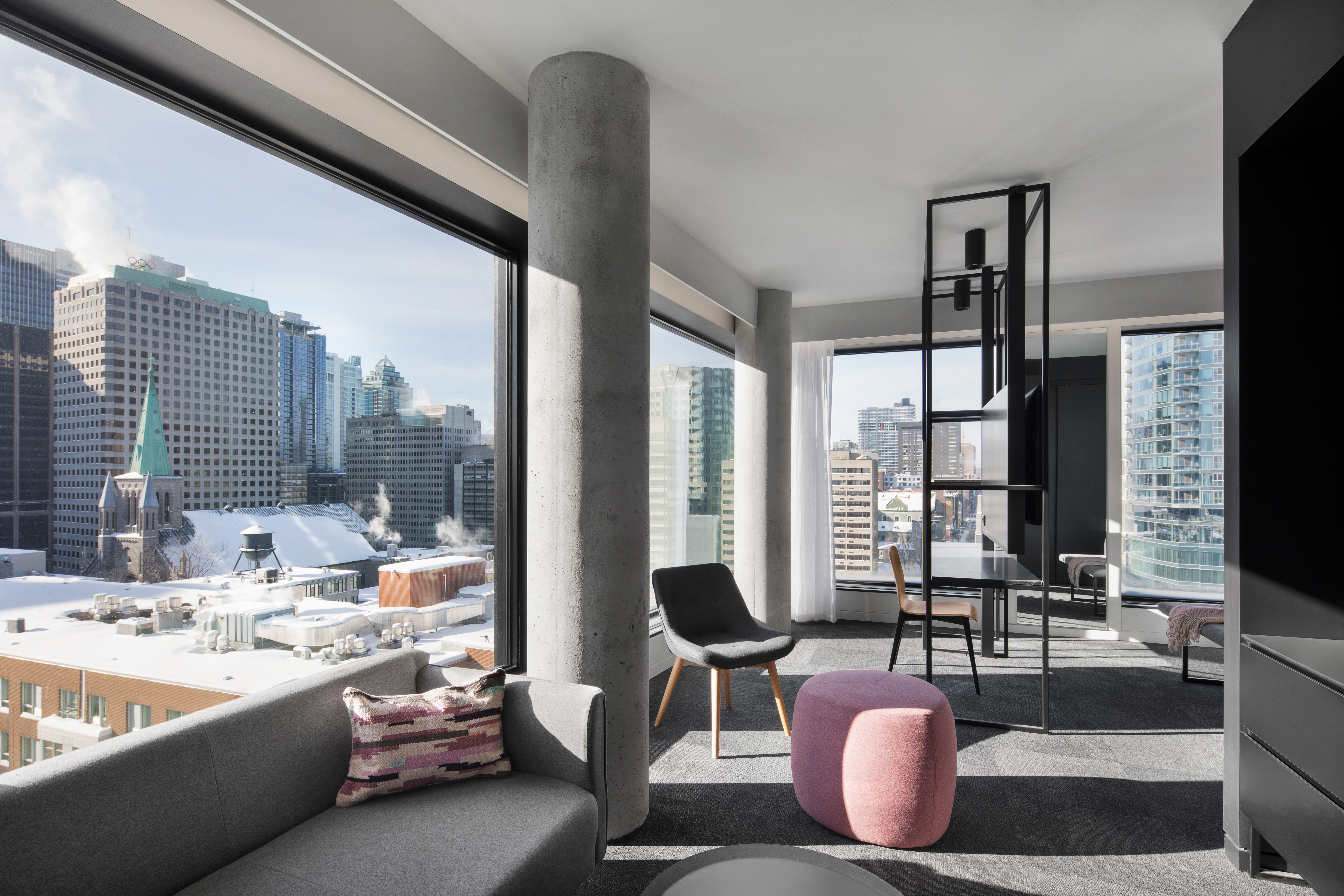 Le tout Montreal has wondered when high-design favorite the Gault—Old Montreal's OG boutique hotel—would spawn another property. And, after 15 years, the wait is over. The sleek, 269-room Hotel Monville opens its doors on March 1 in the gulch between Old Montreal and downtown's business district. Nouveau-Scandinavian meets concrete jungle in loftlike rooms that are brightened with blond wood, raw industrial finishes and plush furniture in rich neutrals. Book a light-filled corner suite for killer city views; perhaps you can see that Montreal's mammoth convention center is just next door and the Notre-Dame Cathedral is a five-minute (uphill) stroll.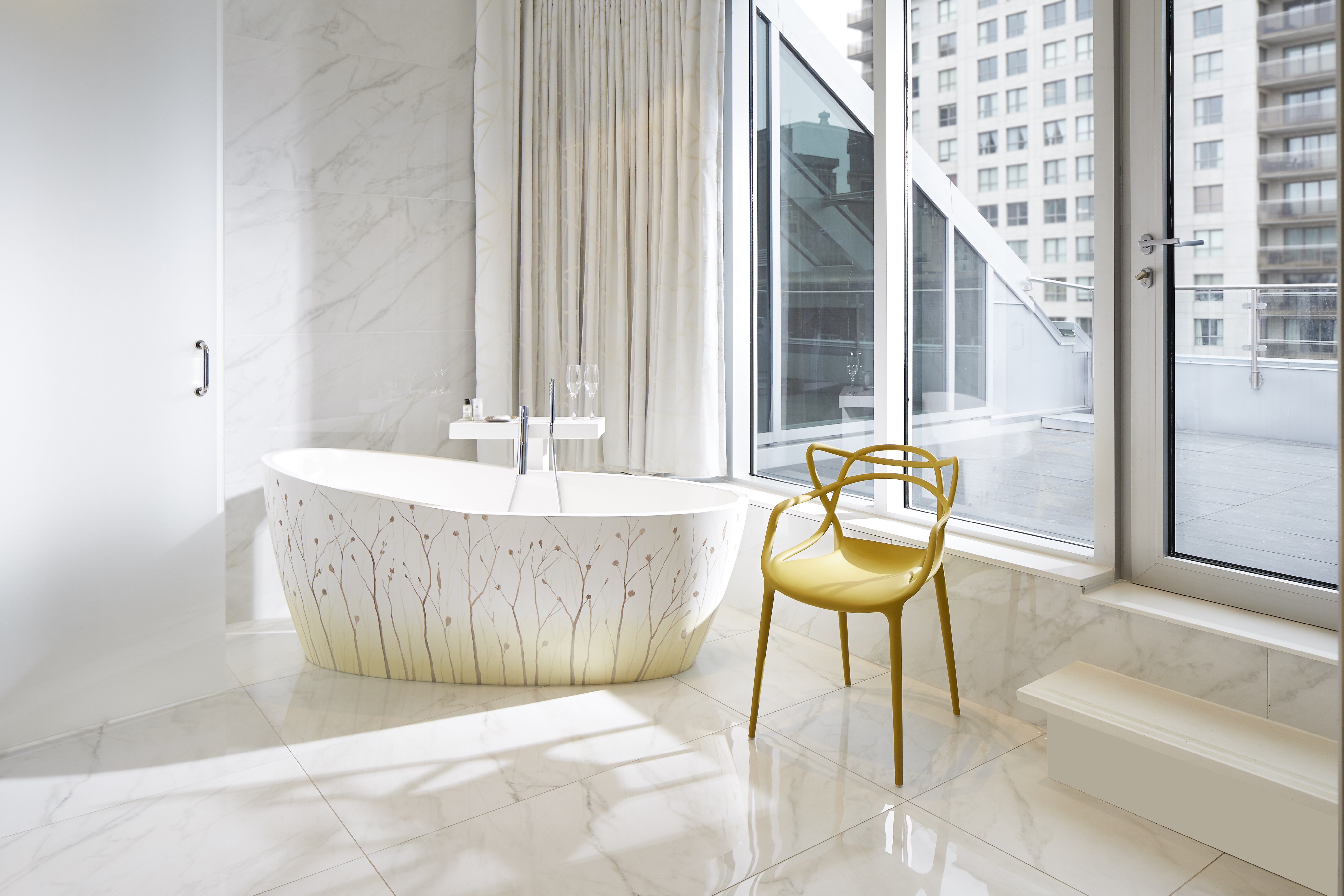 Built for George Stephen, first president of the Canadian-Pacific Railway, this breathtaking Italian-Renaissance mansion housed a snooty, private club for much of the 20th century. Now, after a problem-plagued restoration, it's reopened as a sumptuous boutique property whose ornate, preserved façade conceals 90 ultramodern, playfully colorful guestrooms. Coming in at 5,000 square feet, Le Mount Stephen's Royal Suite is Montreal's largest hotel room, with gigantic glass ceilings, two sprawling terraces with skyline views and a huge kitchen. Will you even want to leave the place? Maybe, but only to indulge in an anti-aging facial or shea butter and coconut massage at the hotel's MBIOSPA downstairs.

If Bulgari, Armani, and Fendi can get you in bed, why can't Canadian uber-jeweler Birks do it, too? Set to open in May, Hotel Birks will transform the company's landmark sandstone flagship into a 120-room, five-star property. Montreal's low-profile Le St-Martin Hotel group, which operates three midsize, middle-of-the-road luxury hotels across Quebec, owns it. Will the décor match Birks' signature bright blue boxes? Will bathrooms get bedazzled? The team's keeping mum (and a spokesperson wouldn't answer design questions) but the location at Ste-Catherine Street is already a winner. Montreal's first Saks Fifth Avenue's set to open across the street in late 2018 and leafy Philips Square, which the building overlooks, is slated for a makeover next year.