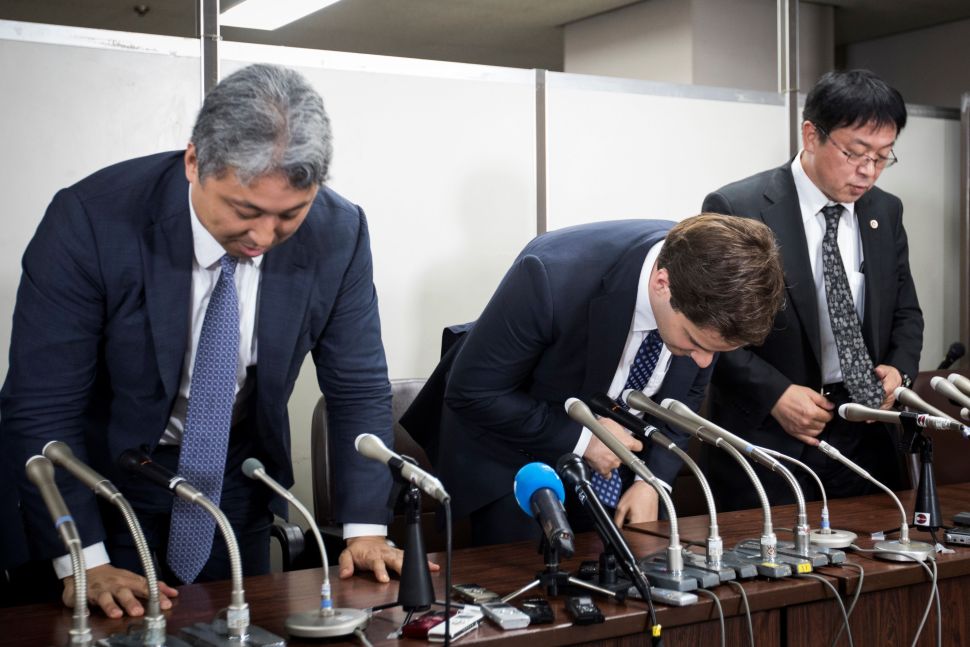 The Bitcoin market received another ominous signal Friday morning when cryptocurrency trading abruptly stopped on Japan's largest exchange after what appears to have been a hacker attack.
Coincheck, Japan's largest digital currency exchange, suspended withdrawal of Bitcoin and trading of all other cryptocurrencies Friday morning. Coincheck announced the changes on the company website and Twitter, which caused Bitcoin's price to drop four percent in the morning. Ethereum and Ripple prices also took a hit.
In a press conference, Coincheck's president and chief operating officer said that around 500 million NEM tokens worth around $533 million had been taken from Coincheck's digital wallets, Japanese news site Asahi reported.
The company said it was investigating the causes and considering compensating customers who were affected.
It's unclear yet whether the hack on NEM directly caused the trading suspension. Coindesk reported that the stolen amount might be the largest in history.
Last time Japan had a massive hack on a mainstream cryptocurrency exchange was in 2014. Between 2011 and 2014, Mt. Gox exchange, which was handling 70 percent of Japan's Bitcoin trading at the time, suffered a series of security breaches due to engineering flaws. Government interventions that followed eventually forced the company to file for bankruptcy, which sent Bitcoin prices tumbling by nearly 40 percent.
However, the Mt. Gox incident didn't stop the overall digital coin market from surging in the following years.
Investors will watch closely how the Japanese government handles the incident this time. Following the Mt. Gox collapse, Japan's financial regulators introduced a licensing system to increase oversight of exchanges, but, according to Bloomberg, Coincheck never obtained a license from the government.
Major Asian markets like China, South Korea and Japan were believed to be largely responsible for cryptocurrencies' surge in 2017 due to the rapid growth of exchanges that attracted a flood of non-professional investors.
Starting late 2017, regulators in those countries began taking various measures to tame the Bitcoin mania. In contrast, U.S. regulators, while lauding Asia's tightened oversight on cryptocurrency trading, can't seem to make up their minds on any concrete steps.
Meanwhile, U.S. startup founders continue placing bullish bets on the prospect of cryptocurrencies as a legitimate investment asset. Millennial stock trading app Robinhood announced yesterday plans to launch a zero-commission cryptocurrency exchange in February, which attracted 150,000 early bird sign-ups within hours.