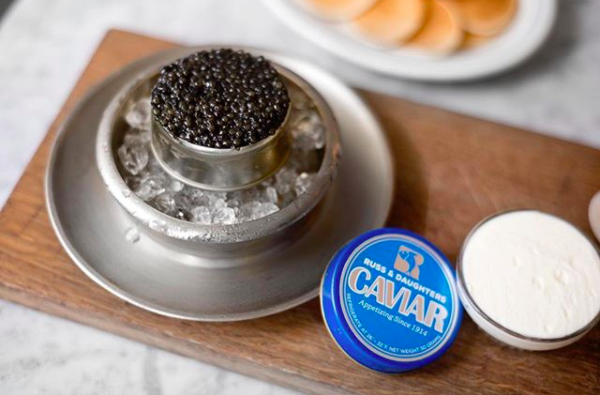 After a string of restaurant seasons focused on simplicity, rustic cuisine, and nostalgic eats, early signs indicate a 2018 pivot. While classics will remain a major source of inspiration for chefs and beverage directors, diners this year can expect to see a touch of old-school luxury in their restaurant experiences. We've seen this brewing for a few years now, with bubbly boîtes like Air's Champagne Parlor and Mad Men-esque steakhouses like 4 Charles Prime Rib. Fans of traditionally-ritzy dining will enjoy the next phase of this trend: the rise of caviar service. Already, plenty of au courant restaurants offer their spin on caviar with all the trimmings, and we've selected six of our favorite spots for roe in Manhattan.
Tucked within Le District market in Brookfield Place, L'Appart is a semi-hidden tasting restaurant boasting a Michelin star and featuring a rotating seasonal menu. Those in-the-know can make reservations and enjoy French-influenced fine dining, and while the offerings change on an almost-daily basis, L'Appart always makes its caviar service available to guests. L'Appart sources its caviar from Sturia, a heritage producer considered the first French caviar maker. Recommended as a course either before or after the tasting menu, L'Appart's caviar service includes a choice between three types of roe: Primeur (creamy, with floral notes), Prestige (buttery and iodized) and Oscietra (with oceanic and dried-fruit flavors). Guests can opt for a 30g serving of just one varietal ($120-220) or can select a flight of all three ($200). The caviar comes with accompaniments like toasted bread, sour cream, and pickled vegetables.
The hit restaurant from Major Food Group focusing on Jewish appetizing traditions, Sadelle's does offer a classic caviar service, but they also allow guests to add caviar as a supplement to existing dishes. This is the spot for caviar-loaded lobster Benedict, potato latkes, and oysters. Sadelle's serves both sturgeon Baeri Royal caviar and trout roe caviar (both market-price), and the full-service option comes with condiments, garnishes and toasted rye for spreading.
At their new, highly-anticipated cocktail lounge in the Seagram Building, the Major Food Group team specializes in seafood dishes designed to pair with their single-focused yet complex drinks. With this goal in mind, Chef Rich Torrisi presents a luxurious caviar service with top-rate accoutrements ($45-270). Guests can opt for 50 or 125 grams of their choice of caviar, with options like trout roe, sea urchin, Baeri, and Golden Ossetra. The accompaniments include soft-boiled Jidori eggs, duck-fat-confited roasted potatoes, freshly-made blini, creme fraiche, and chives.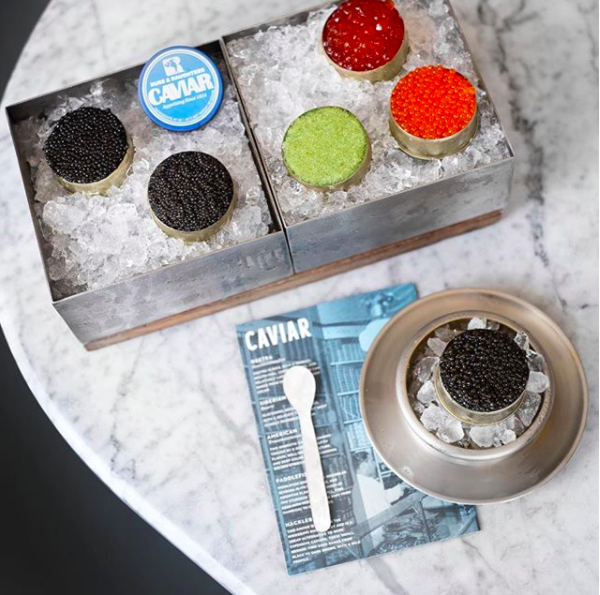 The café space just down the street from the legendary Russ & Daughters appetizing shop features a menu full of its sister store's most beloved offerings. An especially popular example is the café's Bissel of Caviar ($30), a 15 gram tin of hackleback sturgeon roe with a 'Malossol' designation, meaning that it's lightly-salted and of the highest quality grade. Russ & Daughters presents its caviar with blini (traditional Russian pancakes) and a dish of creme fraiche for a smooth and luxurious complement.
A chic caviar boutique and adjacent restaurant on the Upper West Side, Olma brings a new level of accessibility to the once-exclusive concept of caviar service. Single servings of salmon caviar begin at just $5 here, but Olma also has plenty of options for the high-rollers, like a $652 platter of Beluga. Individual portions at Olma come served on either a piece of mini toast or half of a boiled egg white (plus creme fraiche), while platters provide guests with 2oz of their caviar choice, toasted French blinis, creme fraiche, red onion, chopped boiled eggs, and crackers. If you're looking for a libation to match, Olma specializes in Champagne wishes and caviar dreams, with a sizable list of bubbly available at a range of price points.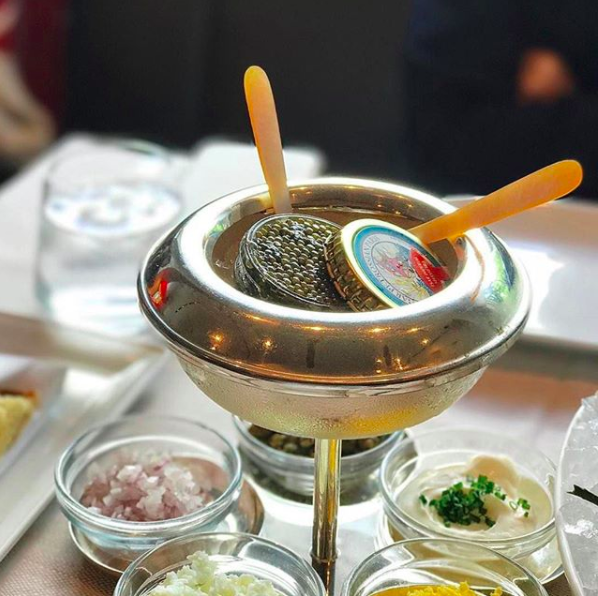 In addition to celebrated pasta dishes like fusilli with bone marrow and octopus, Michael White's super-luxe Italian restaurant overlooking Central Park features an exceptional caviar service. The menu offers of choice of four Ossetra caviar varieties, from Caviar Russe "Russian Osetra" ($170/oz) to Petrossian "Special Reserve Ossetra" ($385/oz). Served over ice on a silver tray surrounded by glass bowls of creme fraiche, chopped red onion, and other additions, Marea's caviar makes for a fantastic pre-pasta appetizer or a course to enjoy with sparkling wine after dinner.