When spending countless hours sorting through meal delivery sites, one of the questions that comes to mind is: where does this food actually come from? While the ease of regular meal delivery kits may solve the problem of what to eat for dinner, we are, in many cases, swapping convenience for clarity—you don't know quite what you're getting until it shows up on your door, and even then it can be difficult to trace your food back to its source. And with certain food products like fish, this information is essential. As two recent studies showed, fraud is rampant in the seafood industry. These reports, from NOAA and Oceana, stated that as much as 90 percent of seafood that ends up on Americans' plates is imported, and is often sourced from poorly regulated industrial farms. In addition, 28 percent of the seafood that Oceana tested was found to be mislabeled, and more than half (58 percent) of that mislabeled seafood posed a health risk to consumers. In a nutshell, the fish you're buying isn't what you're actually getting.
Enter the new trend in home meal delivery kits: sustainable seafood shipped directly to you. Many of the companies that ship seafood to the top restaurants in the U.S. have recently created meal delivery services so that you no longer need to go to pricy restaurants for premium quality fish—at least as long as you're prepared to cook it yourself. Some of these companies go a step further, offering traceable product information so you know who caught your fish, and when. We've vetted the best of these options, weighing up their added conveniences and cost, so you can choose the one that's right for you.
Sizzlefish has been supplying seafood to premium grocery stores and restaurants for over 30 years. Recently, owner Rob Mayo decided to use his years of experience to source, prepare, and pack his product to send directly to consumers, with the launch of Sizzlefish Subscriptions. You can choose how often you want to receive a shipment, and what comes in each delivery—all of their fish is flash-frozen immediately after harvest. You can also choose the date for your next package to arrive, skip shipments or even pause your subscription at no extra charge.
The best part of Sizzlefish is their variety. Some seafood delivery programs lock you into large quantities of one type of fish, so if you easily tire of eating the same thing every night, Sizzlefish is the service for you. Pair their halibut with a light miso glaze for a delicious dinner in.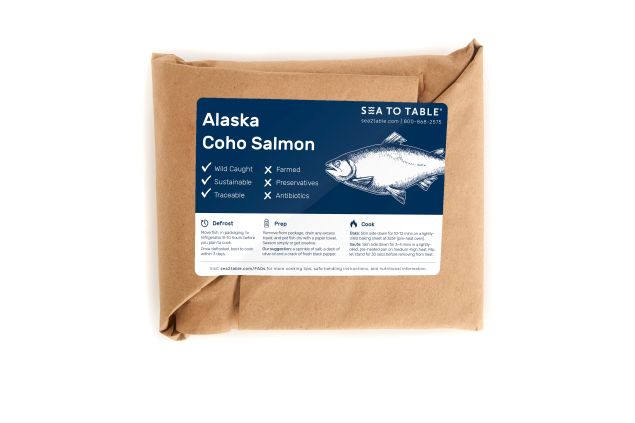 Father and son team Michael and Sean Dimin founded Sea to Table in 2009 to fix what they saw as a broken seafood supply chain, by bringing the highest standard of wild-caught, sustainable American seafood to home cooks throughout the U.S.
The company founders have spent 10 years developing relationships with fishermen and docks on every U.S. coast, shipping their catch overnight to chefs and campuses across the country. Their seafood is caught and packed in the U.S. in small coastal towns like Naknek, Alaska, St. Petersburg, Florida and Cape Cod, Massachusetts. All Sea to Table Home Delivery seafood is 100 percent chemical free, flash frozen at peak freshness and packed in eco-friendly insulation made from recycled plant material.
If you care about where your seafood is coming from and want to support the sustainable seafood movement, Sea to Table is your best choice. Their fish arrives packaged in a net that makes you feel like it was sent directly from the dock. Additionally, each of their products is labeled with information including the catch method, landing dock and fishing vessel so you can trace it back to its source. For someone who is looking for transparency, this is an important feature. Their salmon was superb paired simply with some lemon zest.
Harbour Trading brings customers sustainable, wild fresh catch fish from fishermen throughout the U.S. and was founded by David Goldsmith, a commercial fisherman himself. Using a system called Fish Trax, Harbour Trading allows the customer of each meal to see where their fish was caught using a custom code buyers can scan on their phones to meet the captain and crew who caught their fish—which is delivered fresh to your home within 72 hours of catch.
The best part about Harbour Trading is the delicious accoutrements they include in each shipment—including seasoning, and little extras like a candle and sea salt brownie to add some luxury to your evening meal. Another bonus is that all of the ingredients came packaged in glass instead of plastic. I made the scallops in the butternut squash puree that came with the meal kit, which was perfectly balanced. The toasted pumpkin seeds were also great to snack on while cooking. If you want only fish and don't care about frills or a gourmet experience, this isn't the box for you. But if you appreciate a luxurious gourmet seafood experience that is akin to a top-notch restaurant, this is your best choice.
Lobster by Fabio is a seafood delivery service helmed by celebrity chef Fabio Viviani and his business partner Mark Murrell. The service operates out of Black Point Lobster Company in Maine and sells fresh live Maine lobster, lobster tails and lobster roll kits. The seafood is shipped overnight and can be delivered to any of the 50 states. They have an exclusive relationship with a local Fish Monger in Portland, Maine and their lobsters are caught off shore.
If you are looking for wild caught Maine lobster delivered directly to your door without having to schlep all the way up the eastern seaboard, this service is for you. I tested out the scallops, mussels and lobster. The lobsters are massive and the scallops tasted like they had been scooped from the water only minutes ago. But be warned, if you order the lobster, make sure you are prepared to receive live creatures and are able to cook them yourself. If you are looking for an authentic Maine seafood experience, this is your best option.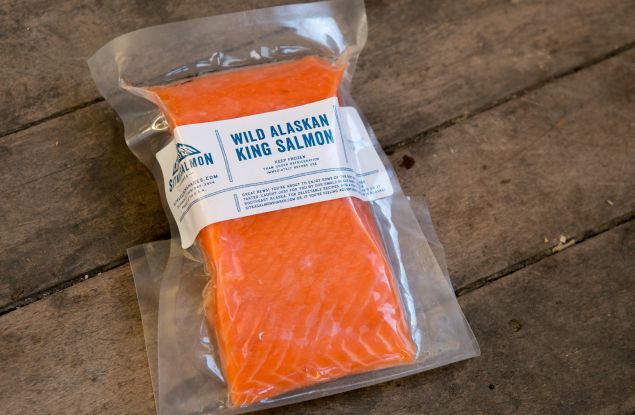 Sitka Salmon is a Community Supported Fishery of small-boat fishermen, where members buy a share of the harvest of one of their 20 small boats. The company is owned by the members and suppliers.  As a member you have to buy in for a season's worth of fish—either three, seven or nine months.
What was most striking about Sitka Salmon was its vibrant color. The company also includes full recipe cards in each order, which was an added bonus and inspired me to get creative with the food they sent over. They also included notes from their fishermen about how and where each fish was caught. I tried the smoked salmon, which still smelled like it had just been brazed with brown smoke. I was surprised that the fish was able to hold the fresh smell, even while flash frozen.
This company's wild Sockeye salmon is sourced from the Bristol Bay region in Alaska, all of which is 100 percent traceable and sourced by a fleet of 100 harvesters. According to The EPA, the Bristol Bay watershed supports the largest wild, sustainable sockeye salmon fishery in the world, with approximately 46 percent of the average global abundance of wild sockeye salmon. Each case of their fish is marked with the name of the fishing district in the bay where it was harvested.
Pride of Bristol Bay ships in minimum of 20 pound increments once or twice per year. If you know that salmon will be a staple item in your family's diet, then this is a perfect solution. Everything arrives frozen, so you can just throw it in the freezer and defrost it any time you are craving salmon. I was impressed with the crimson red color and the clean flavor of the Bristol Bay Sockeye. I also liked that the fish was deboned, which made it easier to eat. I added my own citrus marinade of lemon zest, orange peels and fresh cinnamon. Even with the flavors, the salmon still tasted very clean, and held the moisture of the marinade. Another bonus: they include the nutritional information of the salmon on the box, along with what part of Bristol Bay it was sourced from.
Verdict
Best Gourmet Luxury Seafood Box: Harbour Trading
Best Seafood Box For Salmon Lovers: Pride Of Bristol Bay
Best Overall Variety: Sizzlefish
Best Maine Seafood Experience: Lobster By Fabio
Best Sustainable Fish Options: Sea To Table
Best For Alaskan Seafood Variety: Sitka Salmon
Kris Ruby is the CEO of Ruby Media Group, a Public Relations and Social Media Agency. Kris Ruby is a frequent on air TV commentator and speaks on social media, tech trends and crisis communications. For more information, visit www.rubymediagroup.com or www.krisruby.com