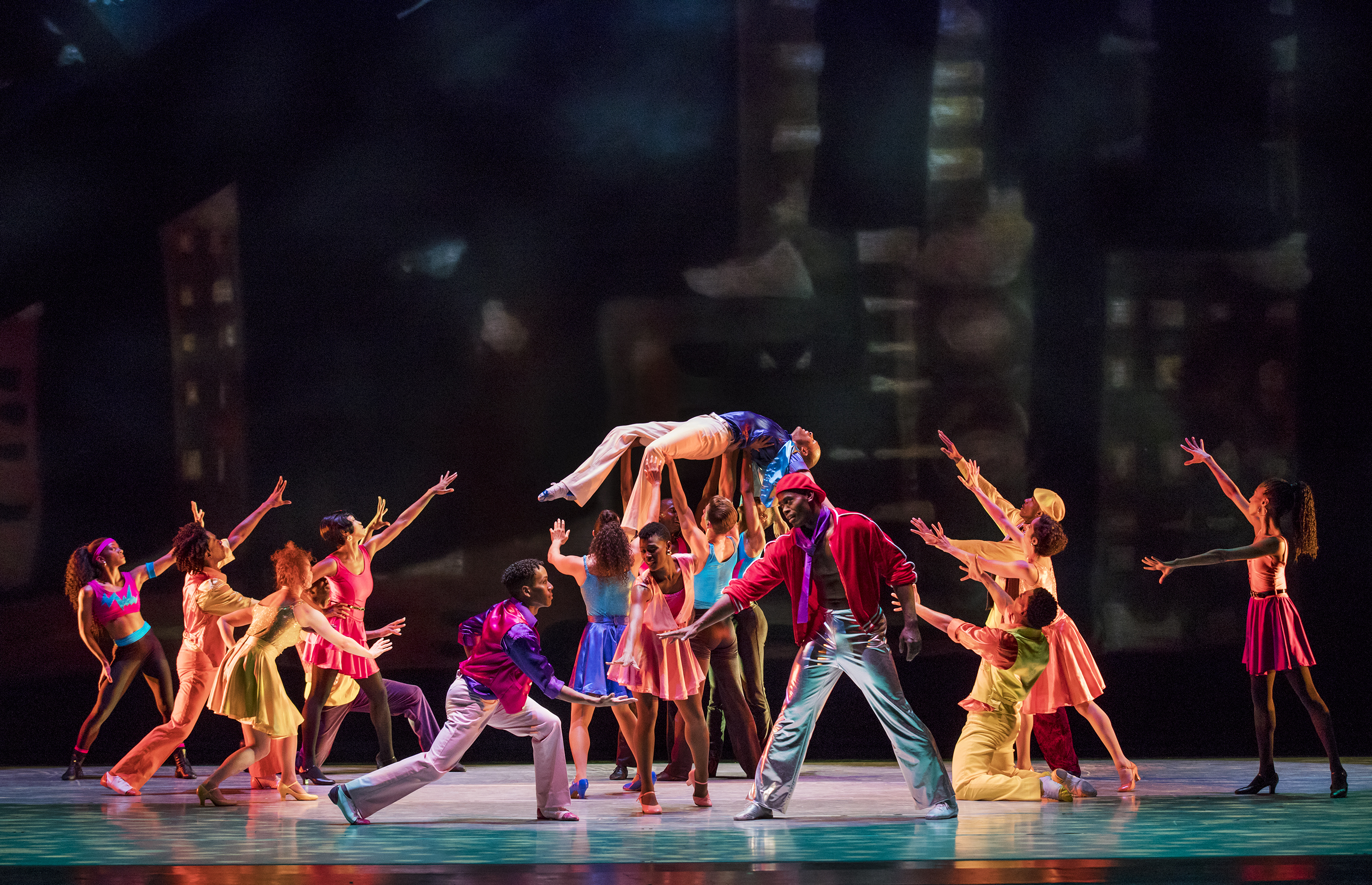 You can't say the Aileys aren't trying. Their relatively new artistic director, Robert Battle, is going here, there, everywhere in response to the company's perpetual need to identify a repertory worthy of its dancers. The problem is basic. Alvin Ailey, The Founder, developed a hybrid style that was colorful and exciting, and he created a single masterpiece: Revelations. But although through the years he made a number of other effective pieces, they were far from masterpieces, and there were nowhere near enough of them to keep the Ailey company artistically afloat.
Judith Jamison, Ailey's successor, both turned herself into an icon and steered the company into the triumphant juggernaut it is today, but she herself wasn't a choreographer of substance, and she never located one who could give the company what it needed—an aesthetic that stretched beyond Revelations. Which is why almost every Ailey performance ends with that miraculous work: not even the amazing strengths of the dancers could prevail on the public without it. Martha Graham, George Balanchine, Paul Taylor, to mention only the most obvious examples, created entire repertories; Ailey left behind one immense hit, and everything else, including his own dances, has been filler of greater or lesser quality.
In the six years since Battle took over, we've been given superior work from Ronald K. Brown: his Grace (1999) is the company's finest new piece of the past 20 years, though even it has coarsened slightly under the assault of the company's slam-bang style; from the hip-hop master Rennie Harris; from Battle himself. And from members of the company: Matthew Rushing, Hope Boykin, this season a creditable effort from Jamar Roberts. We have had junk from Americans Ulysses Dove and Lar Lubovitch; from standard Eurotrash names like Jiří Kylián (the ultra-popular, ultra-vulgar La Petite Mort), Hans van Manen, Ohad Naharin, Mauro Bigonzetti. We have had (who hasn't?) Christopher Wheeldon's After the Rain.
And we have had the company's most auspicious forays into the work of real masters: Paul Taylor and Twyla Tharp. Both Taylor pieces—Arden Court and Piazzolla Caldera—didn't look quite like Taylor, but their superiority to the surround was almost an embarrassment. And this season, Tharp's The Golden Section, first performed by the Ailey in 2006, was back—definitely sharper (and Tharper) than before, but still not quite what it should be. The dancers flung themselves into it, and they have the energy and recklessness it needs. But Tharp is also witty, and there's a ballet component to her modernisms. Wit is not the Aileys' strong point, and ballet is not part of their DNA. Even so, hurrah for the attempt, and if Battle persists with Tharp (and Taylor), maybe the company can transcend itself. Surely the dancers learn from working on first-rate choreography, and they deserve the opportunity.
Battle himself contributed a cute little throwaway from 2008 called Ella—yes, the Ella. It's to a long Fitzgerald solo called "Airmail Special" and it's genius, because she was genius. Megan Jakel and Jacquelin Harris gave us delightful synchronized scatting: they've done it before and let's hope they'll do it again. Whereas we've also had Walking Mad before, but we don't hope they'll do it yet again. This is the one with a wall that the dancers fling themselves up and over and around and through—sometimes amusing, sometimes pretentious. It's by Johan Inger, and considering that it's set to Ravel's "Bolero" with some Arvo Pärt thrown in, and that it comes from the Netherlands Dance Theatre, it could have been a whole lot worse—though it couldn't possibly have been longer. Particularly outstanding were Michael Francis McBride and Danica Paulos in an extended fraught duet.
There were two brand new works, one of which was unbearable. That was Victoria, by the Spanish Gustavo Ramirez Sansano, a free-lance who works all over the place and who has received many honors, including being named Outstanding Valencian Choreographer. Everything was overwrought, ugly, empty. And then there was the music, Michael Gordon's "Rewriting Beethoven's Seventh Symphony"—at last someone thought of doing it!—which was less a rewrite than a rape. It was also louder than any dance music I can remember. How I regretted that I had thrown away the earplugs that had been so generously handed out at the Joyce a month ago for a performance of Liz Gerring's Horizon (her usual capable and earnest watered-down Merce Cunningham) and which I hadn't needed after all.
The Jamar Roberts piece, Members Don't Get Weary, is set to recordings of John Coltrane's "Dear Lord" and "Olé," and how wonderful they sounded! The first part shows us a group of hard-working peasants (with startling wide-brimmed straw hats)—a prelude to a series of longer, more personal and intense exchanges. Roberts' vocabulary is not standard Ailey, yet it's not a rejection or rebellion: it's his reaction to everything he's danced and appreciated all these years without descending to pastiche or imitation. Here was a promising debut for the company (he made a smaller piece for Ailey II last year), and suggests how much more rewarding Robert Battle may find it to stick close to home and restrain himself from succumbing to the lure of the Netherlands or Valencia.
That certainly proved to be the case with what turned out to be the happiest occasion of the season: the return of Talley Beatty's Stack-Up from 1982. (Back then it was called The Stack-Up—it's lost its "The.") Beatty was a whiz—a celebrated jazz and theater dancer and choreographer who worked with the glorious Katherine Dunham for years, studied with Graham, and created 50 or so dance works. Stack-Up is both an explosion of thrilling dance energy and a semi-story of a young man seduced and destroyed by drugs. It's a New York world, a disco world, a Black America world—it charges forward and carries you with it all the way. It's a wow closer and gives Revelations a well-deserved day off. Let's hope it doesn't get put back in the closet or attic or wherever Ailey has been storing it through the years.
A moving surprise. Looking back at how The Stack-Up had been received in the 1980s, I came upon a mention in a review of the company's 25th anniversary gala of the evening's program being dedicated by Alvin Ailey, "with gratitude and love," to George Balanchine. It was exactly a week after the great man's death.