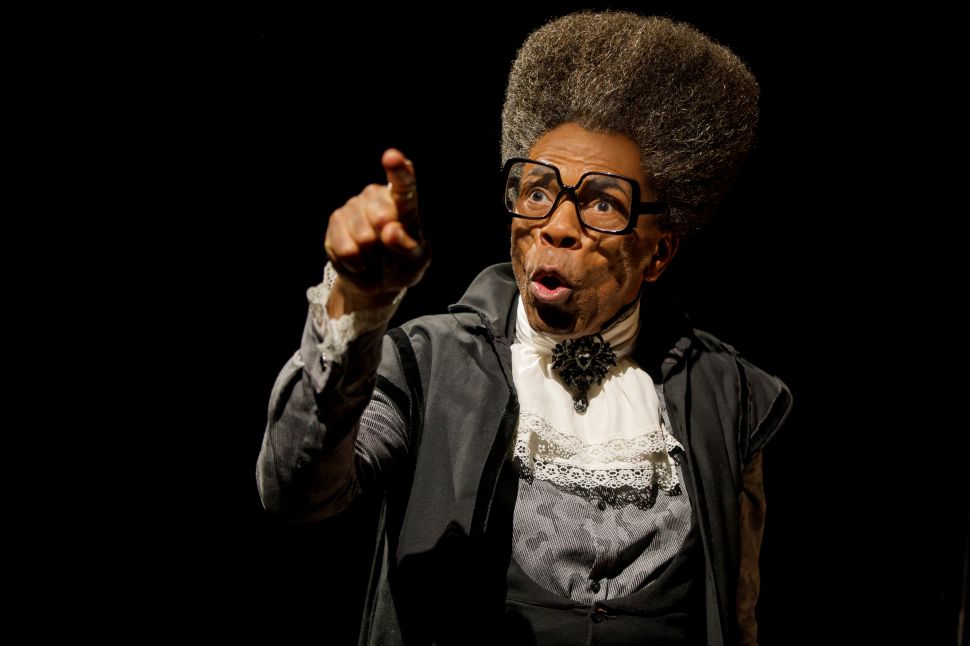 Actor-director-choreographer André De Shields has, of late, broken into one of each: On January 8, he opened as an actor, juggling at least three roles at once in Mankind, Robert O'Hara's latest audacious antic for Playwrights Horizons. The next day he started directing and choreographing Ain't Misbehavin'—the Fats Waller musical he originated on Broadway in 1978 and revived there in 1988—for a four-day (February 1-4), 30th anniversary run at New Jersey Performing Arts Center in downtown Newark.
Come January 12, he may (but likely won't) rest long enough to mark his 72nd birthday.
De Shields has been a whirling dervish of song, dance and theater for a good half-century. At one time or another, he's touched all the bases. His résumé comes with about six more trades than the three above: singer, dancer, novelist, lyricist, composer and college professor. His 1984 Latin Quarter revue, André De Shields' Haarlem Nocturne, drops his name seven more times beyond the title (as star, co-director, co-writer, choreographer, conceiver, composer of songs and composer of songs with lyrics).
The best-known name in Mankind is his, and it rests at the top of the cast—more by virtue of alphabetical billing than by the sum of his chores. Of course, De Shields would be the first to tell you there's no such thing as a small role—and he proves it here with a calculated, succulently sinister entrance that could justify klieg-lighting.
It's a womanless world that writer-director O'Hara has concocted for Mankind. In this bizarro tomorrowland, the fairer sex faded from the scene long ago from abuse, misuse and neglect, leaving the men with the job of perpetuating the species. (Wives should derive plenty of schadenfreude satisfaction from these child-birthing scenes.)
Jason (Bobby Moreno) and Mark (Anson Mount), from the Adam and Steve tribe, are the play's Exhibit A. It's bad enough they get pregnant right off the bat, but their follow-through is worse: their child is the first female to be born in a century, and she triggers a worldwide swing back to the old-time religion. Before intermission, a gigantic golden-girl infant they call Cry-Baby dominates the stage, and red-robed feminists (De Shields among them) are distributing miniature tribute Cry-Baby dolls to the audience, solemnly intoning "AH WO-MEN" instead of the traditional "Amen."
The global furor that "a female amongst us" creates, invites instant and vigorous litigation. Enter De Shields in a flowing black robe as the prosecuting attorney, maintaining a slow, measured, sensual stride, carefully masticating the criminal charges against Cry-Baby's parents before spitting them out. With a massive forehead that tappers down V-shaped into no chin at all, the creature looks like the love child of Will Farrell's Megamind and Elsa Lanchester's Bride of Frankenstein.
To be sure, there's a method to all this madness. "On the page where that monologue exists, you could see how I was inspired during the rehearsal process," says De Shields. "I wrote down the names of the four people I wanted to make the amalgam of that character: I wanted Don King for hair, James Baldwin for the oversized glasses and speech-pattern eloquence, Johnny Cochran for the tenaciousness of the prosecution and Billy Strayhorn for mellifluous elocution. They're all in this man.
"I'm five-foot-nine, but, when you see me for the first time, I'm practically seven feet tall. I'm wearing five-inch platform shoes, which makes me six feet, and then the other seven itches is the hair. You know, 'The higher the hair, the closer to God.'"
There's an imperial quality about this lawyer that might correctly lead you to deduce he's kin to The Wiz. De Shields was the first Wiz on Broadway, originating it in 1975, leaving enough latitude that Richard Pryor could play it in the 1978 movie and Queen Latifah could reprise it on live TV in 2015. "I'm the source," he beams.
Wiz-like regality has been known to seep into other characters. "If one has a signature—and I think everyone does, especially when you begin to achieve a national profile—my calling card would be grace, eloquence and a regal presence. It's not readily sellable, so you have to be very confident if that's your approach to the industry, particularly if you're a black man. There's no domino effect for a regal black man. The last regal black man to make a name for himself was Sidney Poitier."
While logging up eight performances a week in Mankind, De Shields is preparing a 30th anniversary run of Ain't Misbehavin' for NJPAC and seems fairly unfazed to be bringing off two full-time gigs simultaneously: "I'm looking forward to returning to that terrain. In the industry of arts, I believe what belongs to you comes to you. It's not a question of 'Oh, can I do this? It will be difficult.' No. This has my name on it."
Four-fifths of his Ain't Misbehavin' is already cast. "It's very sensitive for me, someone who was part of the original company, to cast it," he says. "When the five of us associated with that show first started it Off-Broadway in 1977, I was the eldest of the group at 31. I want people of this new generation who, at the same age we were when we started, to bring that kind of relentless energy to the project."
The choreographer in him has it made in the shade. "The moves never really left me because Arthur Faria, who did the musical staging of the original, used each of us as a collaborator as to how the show was going to move. The show moved the way we moved as an ensemble. Ain't Misbehavin' had an 'audition process' as unique as the show itself. The creators and the design team just called up people that they thought would be appropriate. By the time I had an opportunity to meet the Powers That Be, Nell Carter, Ken Page, Armelia McQueen and Irene Cara were already in the room."
En route to Broadway from Manhattan Theatre Club's home on East 73rd Street, Cara dropped out to do Fame and her Grammy/Oscar-winning anthem, "I'm Gonna Live Forever," so Charlaine Woodard dropped in—to give Carter a real run for her Tony.
The show also won a Tony for director Richard Maltby, who linked the Fats Waller songs together into a kind of narrative that convinced Tony voters it was 1978's Best Musical. "At first, it was considered a revue," De Shields points out. "What the creative team did was create a play—a tiny play within each song—and then supplement that with some very choice uses of interstitial material that connects two songs, and, when you put the whole thing together, it's a book. We won the Tony Award not for Best Revue or Best Revival, we won it for Best Musical."
Over the years, De Shield's more conspicuous skills have overshadowed his choreographic prowess, which is what got him his first successful toehold on Broadway. He arrived as Desi Arnaz—in Cuban heels, tight black pants, blousy shirt, black hat with fringe, singing 'Babalu' and shaking maracas—for all eight performances of Warp. His second show, Rachel Lily Rosenbloom and Don't You Ever Forget It, never got out of previews, but, come his third time at bat, he got to choreograph with somebody named Michael Bennett for a show called Bette Midler.
He had met Midler socially three years earlier in Chicago through Joe Mantegna, whom he started his career with in Hair. "We were all talking one night when Bette said, 'I wish my girls could dance'—her girls being her backup singers, The Harlettes. They would simply stand upstage of her and coo into the microphone while she'd be downstage doing her Divine Miss M thing. They were just three white chicks. This was 1970 so the presumption was they can't move. I said, 'Well, invite me to your rehearsal. I'd be happy to give them some moves.' She did exactly that. In retrospect, it was kinda shocking because those three backup singers were Melissa Manchester, Gail Kantor and Merle Miller, all of whom went on to great careers."
Midler remembered him for her Christmas show at the Palace in 1973 and, again two years later, for her Clams on the Half Shell Revue at the Minskoff. By then, De Shields had started making it to solvent shores via The Wiz and Ain't Misbehavin'.
Twelfth Night transplanted to Harlem in the '40s—Play On!—played off in 61 performances, but that was enough to earn De Shields a Tony nomination. "It was another one of those situations when the character that I played demanded the person that I am" is how he explains it. He has had more brushes with The Bard than you'd imagine, most recently clowning it up as Touchstone in As You Like It at CSC.
"Clowns, particularly in Shakespeare, are regal individuals. They are necessary since Shakespeare is always dealing with royalty. Because they're absolute monarch, royalty needs a conscience, and the clowns play their conscience, but, in order for the conscience to be heard, it must be as regal as the individual is hearing it."
De Shields also Tony-contended for The Full Monty, the David Yazbek-Terrence McNally musical about out-of-work working-class guys who go the way of all Chippendales for needed cash. He played a decrepit specimen named "Horse" Simmons (don't ask) who is turned into a dancing fool by rhythm-and-blues.
There was one classic night when the cast lived up to the title, doing bumps and grinds to a song called "Let It Go" that's about as far from Frozen as you can get.
De Shields remembers it well—with winces: "We started in the full police costume, and, by the end of the number, we are supposed to be buck naked. But the lighting design is such that the moment we pull off our matching red G-strings, there is an overwhelming flash of white incandescent light, which blinds the audience for probably two seconds. When the retina of the eye has readjusted, we're long gone. This night, the lighting cue failed, and the entire audience got their money's worth."
Harry Haun has covered theater and film in New York for more than four decades for such publications as Playbill Magazine, New York Daily News, The Film Journal, Where Magazine, TV Guide, and Observer.