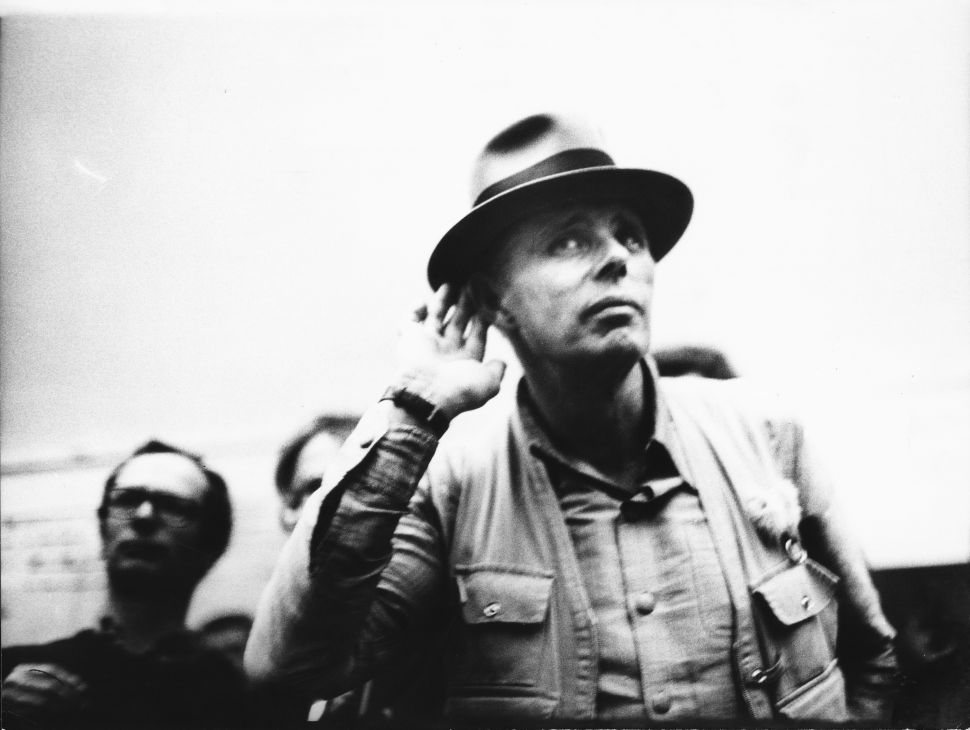 In addition to always looking cool in his trademark fedora and fur coats, Joseph Beuys was one of the most influential artists of the mid 20th century. Enigmatic, charming, fervent, obsessive, polarizing, and downright kooky, his 30-year career bounced between sculpture, performance, and activism—he even put himself forward as a German Green Party candidate in two elections in the late 1970s and early '80s. But his vision for a better, more progressive world through art was revolutionary; indeed, he saw himself as a "social sculptor," his medium the very fabric of society itself.
It was through his beliefs that anyone could be an artist, and that art could be a transformative sociopolitical force, that he changed the shape of art making in postwar Germany and beyond. Beuys, released in Europe last year by German filmmaker Andres Veiel, explores, through poignant photos, archival film footage and interviews, and commentary from peers and colleagues, the legacy of this passionate and polarizing artist. On January 17, the acclaimed documentary made its U.S. debut at New York's Film Forum, where it will run until the end of the month.
Born in Germany in 1921, Beuys was just 12 years old when Hitler came to power. Knowing he would be drafted, he volunteered for the German air force in 1940, and in his five years of service suffered multiple injuries, notably after his plane was shot down in 1943. This was a pivotal event in his life and a major key in understanding the artist's work. Afterward, Beuys suffered a crushing bout of depression; his personal reckoning with his involvement in the morally fraught German army would inform his work for decades to come, as he sought rectitude through art, even up to his death in 1986.
Beuys's greatest skill as an artist, perhaps, was crafting a new mode of expression at a time when the very definition of art was shifting—as seen in movements such as Fluxus, active in the 1960s and '70s, which proposed that everyday events and behaviors could be considered artistic acts. "The concept of art has expanded so much that there's nothing left of it, anything can be art," the artist is heard saying in Beuys.
His sculptural works like Fat Corner (Process), 1968, and Infiltration for Piano, 1966, subverted the traditionally held assessment that sculpture was static and posited it instead as a responsive medium that underscored our bodies' ability to adapt to and manipulate our environments. In his Theory of Social Sculpture from 1979, Beuys explained that he saw sculpture as evolving forms, never fixed or finished, but instead always in a state of change through chemical reactions, fermentations, or discoloration. In the film, a clip of the artist rubbing fat under his armpits and behind his knees is juxtaposed with audio of him saying "the things I find in sculpture I can find in people, too."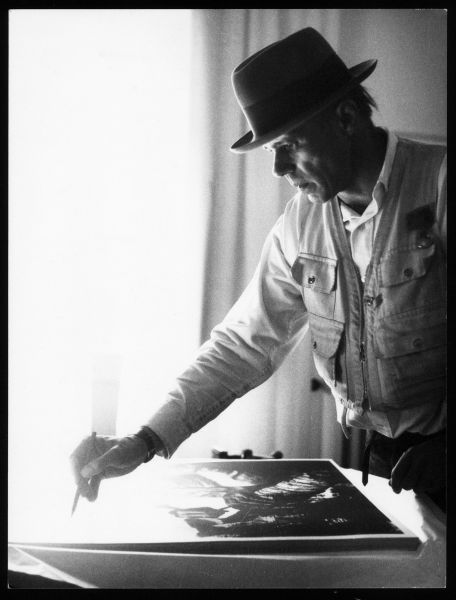 It was Beuys's performances, however, that truly communicated his radical thoughts on social constructs, media influence and capitalist exploitation. Perhaps the best and most memorable example is his 1974 New York performance, I like America and America Likes Me, in which he wrapped himself in felt and was transported via ambulance to Rene Block Gallery, where he was then locked in a room scattered with straw, copies of the Wall Street Journal and a live coyote. For three days he spent eight hours in the room with the native American animal—a symbol of a once wild and uncorrupted land. The coyote ended up using the WSJ papers as a litter box, as evidenced in footage of the performance included in Beuys.
Articulate and argumentative, Beuys was not afraid to challenge the status quo with manifesto-like declarations as often as jovial quips, both of which pepper Beuys plenty. In fact, he was as much a storyteller as he was an artist. He claimed that when his plane was gunned downed over Crimea in '43, he was rescued by Tartar tribesmen who wrapped him in felt and fat—which is why he often employed these materials in his work. His recounting of the traumatic event has since been disproven, but that didn't stop it from making it into his New York Times obituary, perhaps proving his point that art—if not life—can be whatever you say it is.
Margaret Carrigan is a freelance writer and editor. Read her full bio here.