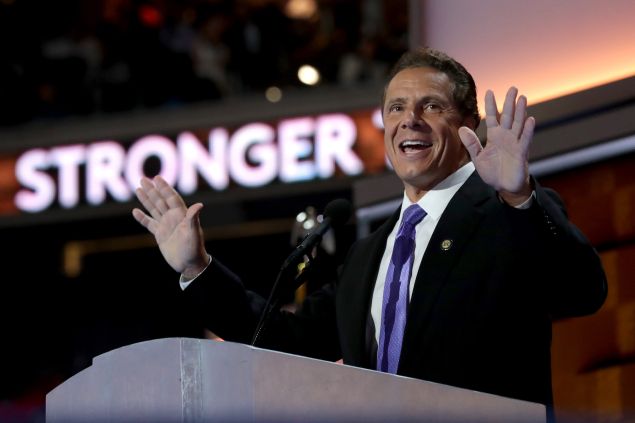 Gov. Andrew Cuomo says New York plans to sue President Donald Trump over his tax plan, arguing it is unconstitutional because it infringes on states' rights.
The federal tax plan, which Trump signed into law a few days before Christmas, caps the state and local tax deduction, also known as SALT, at $10,000, hurting high-tax states such as New York, New Jersey and California.
The governor issued an executive order permitting local governments to immediately issue tax warrants for the collection of 2018 property tax payments and letting property owners to pay at least part of their bill before the end of the year.
Despite the Internal Revenue Service warning some taxpayers who prepaid their property taxes may still face a cap on deductions, both Cuomo and Mayor Bill de Blasio defended the step as the best solution.
During his 2018 State of the State address in Albany on Wednesday afternoon, Cuomo assailed the plan as "illegal" and unveiled the first part of a three-point strategy to address the "federal assault": challenging the plan in court as unconstitutional.
"We will challenge it in court as unconstitutional, the first federal double taxation in history, violative of state's rights and the principle of equal protection," he said. "And let's thank the Attorney General [Eric Schneiderman] and give him a round of applause for his good work in representing us."
The next part of his strategy to combat the plan is launching a "tax fairness for all" campaign.
"We begin today, and we will not stop until economic justice is restored for every state and every taxpayer in the state of New York," Cuomo continued.
The last step, he explained, is developing a plan to restructure the state's tax code to reduce New York's reliance on its current income tax system and establish a statewide payroll tax system. The governor noted the federal government has a payroll tax system.
Cuomo is also considering creating additional charitable organizations so contributions to those organizations can be tax deductible. And the state is addressing the carried interest loophole, which the governor described as a "Wall Street giveaway" to hedge fund managers.
"We are working with our legislative partners and with our local government partners," he added. "We're discussing this restructuring, and you'll hear more about it in our budget presentation. It is complicated, it is difficult, but it is clear that we must protect New York taxpayers from this assault."
Despite frequently clashing with Cuomo over issues such as funding subway repairs, de Blasio, who attended the State of the State address, offered some unusual praise.
The mayor told reporters following the speech he was "struck in particular" by the speech's focus on the tax plan and appreciated that part of the speech. He said roughly 600,000 New York City taxpayers stand to see an average $5,000 increase in their taxes, which he called "double taxation at its worst."
"I think this is a smart and important move by the governor and his administration to look for any way that could lessen the blow of the Republican tax bill," de Blasio said, maintaining the bill will disproportionately hurt New Yorkers.
"I'm glad the governor is looking for creative alternatives that may provide a solution," he continued. "We all agree, as he said, this is a complex undertaking but one the city is certainly ready to join in, because if we can find a way to protect New Yorkers from this double taxation exposure, we want to do that."
He also touted his plan to implement a statewide payroll tax system as an "encouraging idea."
"I think it's great if the governor and the state can find a way to focus on payroll tax that passes muster legally that could save New Yorkers a lot of money," the mayor added. "We are certainly ready to work with them to see if we can get that done."