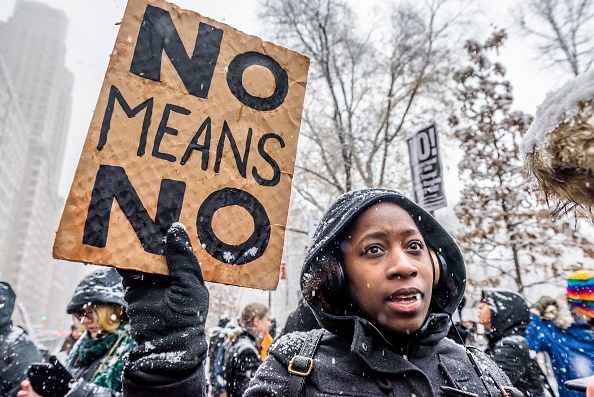 Gov. Andrew Cuomo is looking to give the state's lobbying and ethics ombudsman additional funding to investigate sexual harassment complaints amid sexual misconduct allegations against the leader of a group of breakaway Democrats.
At his fiscal year 2019 executive budget address on Tuesday afternoon in Albany, Cuomo announced that he is looking to establish a unit to receive and investigate sexual harassment complaints within the New York State Joint Commission on Public Ethics (JCOPE) as part of legislation seeking to combat sexual harassment in the workplace.
He noted that in his 2018 State of the State Address earlier this month, he announced a new policy in which he prohibits the use of taxpayer funds for a sexual harassment payment if it is only based on the individual's behavior. During the address, he also proposed a ban on secret non-disclosure agreements and called for requiring companies that do business with the state to disclose the number of non-disclosure agreements they have had.
The governor noted JCOPE has jurisdiction over those issues as part of existing law.
"For JCOPE, JCOPE has jurisdiction over these issues, that's in existing law," Cuomo said. "The only criticism of JCOPE in the past, and JCOPE has done these cases before, and they've been very effective. The criticism in the past was the timing, that it took them a long time. I would propose funding, so JCOPE can set up a specialized unit of people who are trained in these cases, so the timing is actually faster."
Cuomo also called for setting a uniform code of sexual harassment policies and procedures that apply to every branch of the state and local governments.
The announcement comes as Erica Vladimer, 30, who worked at the New York State Senate from 2013 to 2015, alleged that New York State Sen. Jeff Klein, leader of the Independent Democratic Conference (IDC), "shoved his tongue" down her throat at a bar. Both Klein and Staten Island State Senator Diane Savino, also an IDC member—who was dating Klein at the time—denied the incident took place.
Last week, in a letter to Michael Rosen, acting chairman of JCOPE, and JCOPE's executive director, Seth Agata, Klein asked the commission to carry out an independent probe into the allegation. State Senate Majority Leader John Flanagan, a Republican, has said the allegation is not within the Senate's jurisdiction.
"I called for an investigation into this matter from day one and immediately following the allegation, requested an investigation by JCOPE, which according to my attorneys, has already begun," Klein said in a statement provided to Observer. "I think the governor's proposals are an important start. We have to strengthen our harassment laws, and I intend to push to make that happen."
Walter McClure, communications director for JCOPE, confirmed knowledge of Cuomo's proposal.
"We're reviewing it," McClure said.
But he would not say whether JCOPE is probing the allegations against Klein, noting that the commission cannot comment on investigation-related matters.
Elected officials—including Cuomo, Senate Democratic Leader Andrea Stewart-Cousins and State Senator Liz Krueger, from whom Vladimer sought advice—have called for an investigation. Anti-IDC groups have called on Klein to resign. When asked if Klein should step down, Cuomo called for waiting for the results of the investigation.
At a press conference on his affordable housing plan on Tuesday morning, Mayor Bill de Blasio told Observer there should be an immediate investigation into the allegations. In December, he said sexual misconduct allegations against Trump should be investigated.
"Any allegation needs to be fully investigated and then the results—and by the way, the president of the United States needs to be investigated, too, and I don't understand where that formal investigation, why that doesn't exist," de Blasio said. "I mean, everyone's looking at the Russia probe. That's great. Where is the probe into many allegations of sexual harassment? I think if a charge is leveled at any public official, there needs to be a full investigation."
He said he is holding Klein to the same standard as Trump when asked if the senator should step down.
'There needs to be—same thing I said about the president—the decision on that should come at the result of the full investigation," he said.