Andy Roddick and Brooklyn Decker finally sold their North Carolina home. Click through to see inside the custom house.
Zillow
The living room features a stone fireplace.
Zillow
It's comprised of four bedrooms.
Zillow
The couple bought the property in 2012.
Zillow
They built the home from the ground up.
Zillow
They decided to sell the home after having their first child.
Zillow
It sold for $2.35 million.
Zillow
It's right by Silver Springs Lake.
Zillow
It's in the small town of Cashiers.
Zillow
The ceilings are reclaimed wood.
Zillow
The master suite has double bathrooms.
Zillow
It took over a year, but Andy Roddick and Brooklyn Decker have finally sold their North Carolina home.
The couple bought the 2.76-acre land parcel, in the small Southern town of Cashiers, in 2012. A year later, built this custom home, which is located within the Wade Hampton community and golf club. Construction on the house was finished shortly after Roddick, the former world number one tennis champion, officially retired from the circuit.
The four-bedroom, five-bathroom house on Silver Springs Lake was designed by Travis Miletti and built by Ben Harris, per the listing. Roddick and Decker originally listed the home for $2.99 million in June 2016, notes WWD, but the price steadily decreased in tiny increments until the most recent ask of $2.48 million, at which point the home went into contract—the final sales price was $2.35 million.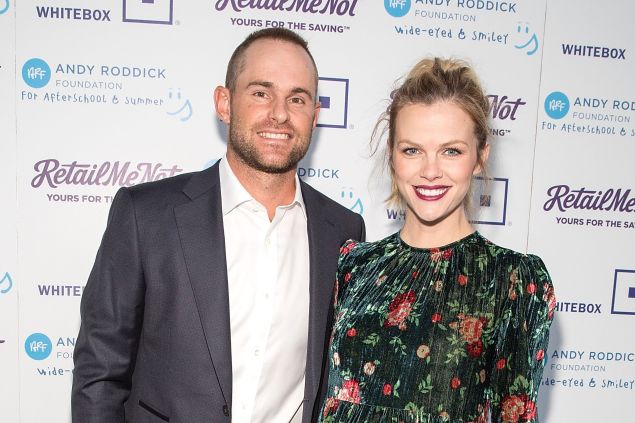 The master suite is on the main level, with a "secret" lofted sitting room in the area above, as well as double closets and bathrooms with a steel-and-glass enclosed shower. The four additional guest rooms are all en-suite, as well. There are antique timber accents, oak plank floors and reclaimed wood ceilings throughout the 4,549-square-foot abode, as well as a number of large stone fireplaces.
Decker, who stars in Grace and Frankie, grew up in North Carolina, and told Forbes in 2016 that the family "absolutely love[s] this area." They weren't planning on leaving the house anytime soon but told the publication that they wanted more space after the birth of their first child in 2015. Now, following the recent arrival of their second child, the couple has officially offloaded the home. Roddick and Decker are staying in the area; they're only moving about three miles away, where they're reportedly building an even bigger home.