Scroll through to see inside Ashley Longshore's Bergdorf Goodman pop-up.
Rebecca McAlpin
The pop-up is on the seventh floor of the flagship, location on Fifth Avenue.
Rebecca McAlpin
Longshore's art is also on display in the 58th Street window.
Rebecca McAlpin
The artist with friends Blake Lively and author Angie Niles.
Instagram
"She's one of my favorite artists. And now a dear friend. (Yes I stalked her too)," Lively wrote on Instagram.
Instagram
Longshore with Linda Fargo, the senior vice president of the fashion office and store presentation at Bergdorf Goodman.
Instagram
The pop-up includes paintings of Audrey Hepburn, Grace Kelly, Frida Kahlo, Kate Moss, Abraham Lincoln and Teddy Roosevelt (who looks a little like Ron Swanson).
Rebecca McAlpin
Designer Christian Siriano and his husband, producer Brad Walsh pose with Longshore.
Instagram
The collection includes Longshore's diamond rugs, bejeweled butterflies and crystal-encrusted lipstick sculptures.
Rebecca McAlpin
Beyoncé's stylist Ty Hunter is a fan.
Instagram
Lil Wayne at Bergdorf Goodman.
Rebecca McAlpin
The Audrey Hepburn paintings are some of Longshore's most popular work.
Rebecca McAlpin
Last Thursday night, pop artist Ashley Longshore debuted an exclusive partnership with Bergdorf Goodman, thanks to a little help from her friends Blake Lively, Linda Fargo and Christian Siriano. The iconic department store has been open since 1901, but this is their first art exhibit dedicated to a solo female artist. The Instagram-famous creative is based in New Orleans but thinks New York is "the best city in the world," making this art collaboration even more triumphant.
Alabama-born Longshore was raised to be in the Junior League but instead creates subversive pop art that has garnered a celebrity following. "I think there's a fantasy about money and the American dream and that's what I'm exploring," she told Observer about her Audrey Hepburn portraits and Anna Wintour imaginings, back in 2015. She models her art sales after the Birkin bag and waitlists everyone for her exclusive pieces, which only serves to increase her celebrity.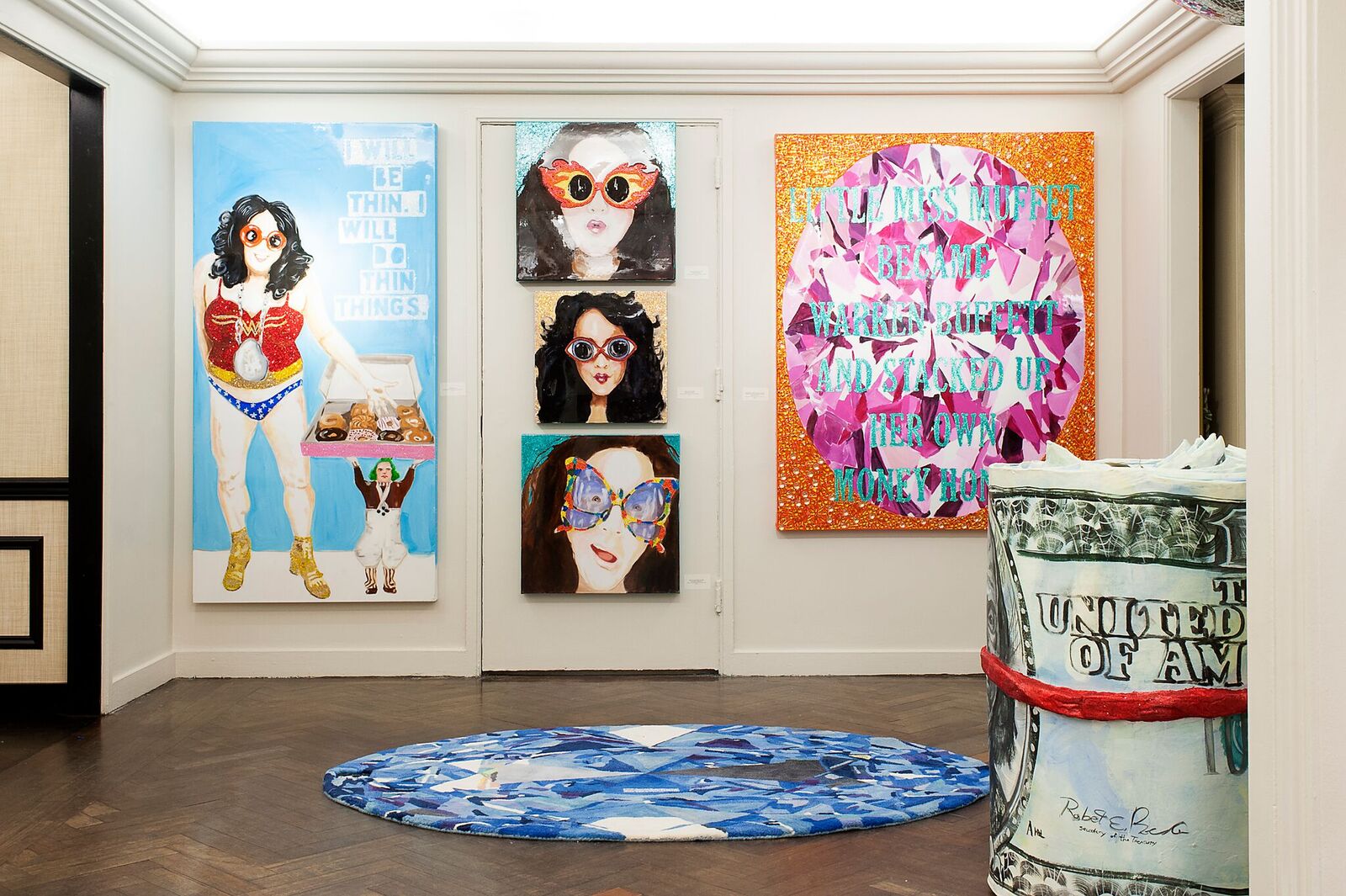 While she might not be a former Gossip Girl actress, Longshore's appearance was met with the same excitement as Serena van der Woodsen's triumphant return to New York City. Squealing fans with beauty queen blowouts trailed her around the space while clutching glasses of champagne, hoping for an Instagram moment with the artist and her elaborate glasses. Plenty of fashion stylists were on-hand, including June Ambrose and Ty Hunter.
If you didn't make it to the seventh floor, scroll through to look inside the installation, which is open through February.