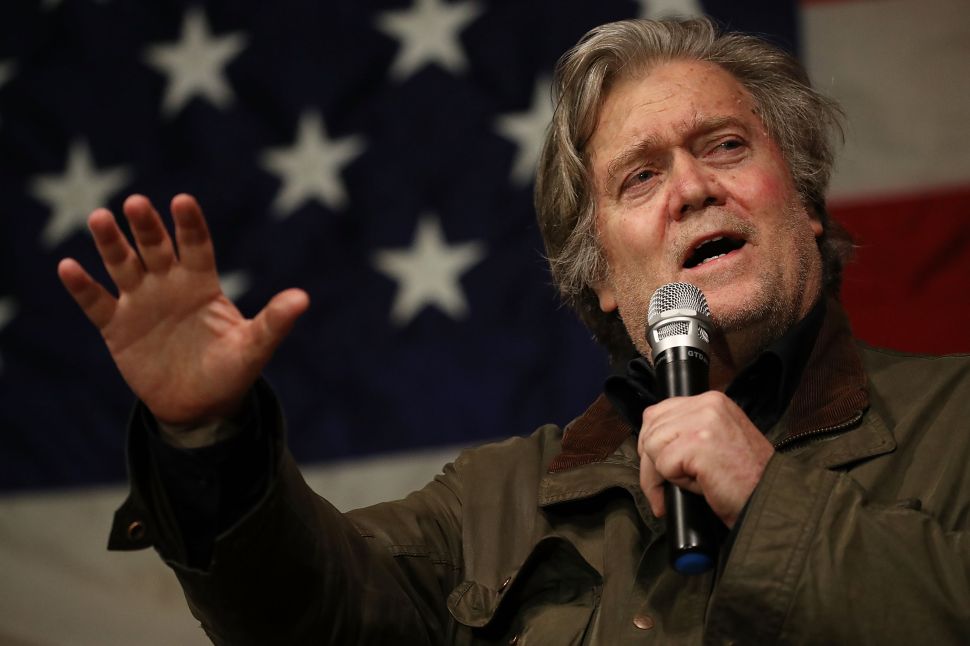 Breitbart Executive Chairman Steve Bannon's fall has accelerated into a plummet. A conservative watchdog group helmed by Bannon worked to discredit President Donald Trump during the onset of the 2016 presidential primary, according to opposition research obtained by CNN.
Collected by the Government Accountability Institute (GAI) and author Peter Schweizer, the document reportedly describes connections between Trump's companies and mafia figures, allegations that have long circled the president's business enterprise. GAI was co-founded by Schweizer and Bannon in 2012 and received heavy funding from the Mercer family—one of Trump's largest campaign contributors. Before backing Trump, the Mercer family publicly supported Texas Senator Ted Cruz for the presidency.
"We research political figures from all political parties and our basic premise is follow the money. That's what guides our research approach," Schweizer told CNN.
A source familiar with the organization confirmed to CNN that GAI collected research on all Republican and Democratic candidates during the 2016 presidential election. Additional sources confirmed that the document was shared with GOP donors during the primary, but made no indication as to whether Trump was aware of its existence when he hired Bannon as his campaign's CEO.
The document's revelation comes amid fallout from Michael Wolff's recently published book Fire and Fury: Inside the Trump White House. Bannon is quoted at-length attacking members of the president's inner circle during his brief stint as a White House aide, accusing the president's son Donald Trump Jr. as engaging in "treasonous" and "unpatriotic" behavior. The president issued a statement last Tuesday condemning Bannon's remarks.
"Steve Bannon has nothing to do with me or my Presidency," wrote Trump. "When he was fired, he not only lost his job, he lost his mind."
The Mercer family publicly severed ties with Bannon last Friday following the president's statement.