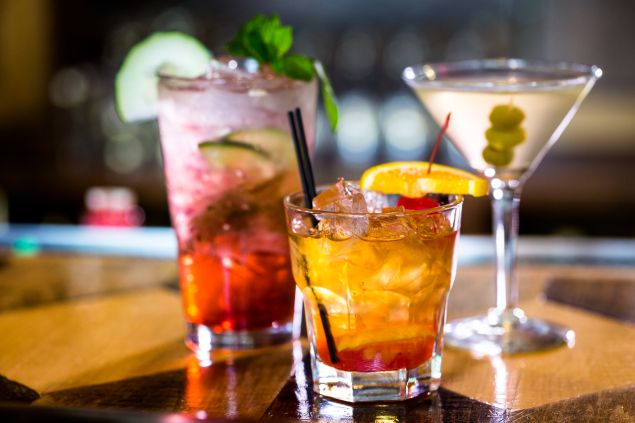 Well, we made it to 2018. And with a new year comes new resolutions, new possibilities, a new election season and bartenders inventing new ways to celebrate life's highs or drown our sorrows in watering holes across the country. We asked an esteemed panel of bartenders to share their predictions for this year's hottest beverage themes, and we've got your 2018 Cocktail Forecast right here.
Classic Cocktails
When it comes to cocktail trends for 2018, our expert panel overwhelmingly agreed: overly complicated drinks are out, and simple, time-honored classics are in. As Russell Davis of Austin's Academia explained, "the cocktails we as an industry have been introducing the past few years have been complex and sometimes ego-driven. But now, we are beginning to focus on the treatment of the actual ingredients, instead of complicating things with baby tears and unicorn sweat." Davis himself is a fan of the trend. "I love this, because it makes us rely on getting back to the basics and making a great drink."
On many cocktail lists, this "back to basics" approach will involve a focus on bar standards that every bartender knows how to make, but with an elevated approach. For Chris Gutierrez of Las Vegas' Corduroy, this allows for an emphasis on quality ingredients and excellent technique. "As bars and bartenders push the limit of creativity, I think there will be a strong trend of offering recognizable, re-creatable and approachable cocktails, with fewer but more thoughtful (local, seasonally fresh) ingredients," Gurierrez told Observer. His newest menu reflects this. "In support of this direction, Corduroy's recent menu change offers some minimal-ingredient classics made meticulously. The Moscow Mule, Irish Coffee, and Old Fashioned are examples of commonly known 'simple' cocktails where mindful preparation can differentiate the end result significantly."
For cocktail mavens who want to mix things up a bit while still honoring the classics, Allen Lancaster of The Bar at The Spectator in Charleston recommends "crossover" libations. "The crossover cocktail trend is something I've noticed gaining momentum recently," he said."Essentially, it is the supplanting of the original spirit or ingredient with a non-traditional one. Fundamentally, the drink is structured the same, but the end result yields something far more unique. Some examples might be a Tequila Old Fashioned, Scotch Last Word or a Rum Manhattan."
Infused and Fermented Spirits
This year, creative beverage maestros will seek to add multiple flavor levels to their cocktails, and they'll use infusion and fermentation to achieve that goal. "I like to use creative infusions instead of just mixing liquors together," said Kate Nelson of State Street Provisions in Boston.
While herbs, fruits, and aromatics are popular ingredients for liquor infusions, 2018 will also see an influx of "washed" spirits, according to Emma Conroy of Momofuku Nishi in New York City. "I've noticed a rising trend in spirits being 'fat-washed', 'dairy-washed', and 'olive-oil-washed'," Conroy tells Observer. The last can be spotted in Momofuku Nishi's E.V. Oh! Oh! cocktail.
Jimmy Barrat of Zuma in Las Vegas, NYC, and Miami also sees great potential in the "washing" trend. "New techniques are coming to fruition like fat-washing, a clever method to add savory flavors to cocktails. For example, you can sweat bacon in a pan, separating the fat via freezing but still infusing the liquid with the fatty flavors. Another example is infusing cognac with foie gras."
If you're looking for flavor depth and a hint of funk, you'll want to turn to fermented cocktails in 2018, says Paul Benkert of The Bluebird Cocktail Room in Baltimore. "[Fermented cocktails involve] the same magic that comes with making wine. Bartenders prep for weeks, sometimes months, to create these drinks, and you never know exactly what you're going to get. This makes the process more convenient since [the drink is] already prepared, but it requires expert knowledge and skill, making the experience more exclusive and special for guests. Obviously, fermenting is not a new technique, but it's poised to change cocktail culture."
Low-ABV and Non-Alcoholic Cocktails
Low-ABV cocktails lit up the drinking world in 2017, and according to our sources, the trend isn't going anywhere in 2018. "Though nothing new, low-strength cocktails will continue their rise in popularity, breaking into the mainstream. Using wines and fortified wines with lower-strength spirits makes for endless flavor possibilities.  Even better, when I drink low-ABV, I can go out on the town, shut the bars down, walk home safe, and still get up in the morning to hit the gym," said Silas Manlove of The Nest at Thompson Seattle.
2018 will see a rise in low-ABV drinks and even in no-ABV cocktails (also known as "mocktails"). "No-ABV cocktails allow those who don't want to drink to participate in drinking culture regardless (and to have something interesting to enjoy). When establishments specifically design and showcase these offerings on their menu, it acts as a statement of their intentions and engages with those who often feel excluded. As people who appreciate social drinking become more in-touch with the health benefits of partaking  in moderation, I expect to see them gravitate towards these types of cocktails," said Lauren Corriveau of Nitecap in New York City.
Culinary Cocktails & Edible Garnishes
Beverage-and-dish pairings have long been featured on restaurant menus, and food programs at cocktail bars are no longer an anomaly. However, our panel predicts a new level of symbiosis between the bar and the kitchen in 2018. "Cocktails that incorporate aspects of culinary tradition have been part of restaurant cocktail programs for some time, but this year we'll see this concept go mainstream as cocktail programs continue to use ingredients, flavors and techniques borrowed from our peers in the kitchen," said Danielle Lewis of GT Prime in Chicago. "Examples include beets and peppers as syrups, duck fat-washed bourbon and sous-vide infusions,"  Michael Kudra of Quince in San Francisco agreed, citing the kitchen as a major source of inspiration for this year's bartenders. "In 2018, we will see a greater emphasis on the relationship between the bar program and the kitchen in restaurants. Bartenders will take a chef-driven approach to cocktails and consider the seasonality of ingredients and experimental techniques," he said.
When it comes to chef-driven options for cocktail ingredients, Ross Kupitz of D'Amicos Continental in Naples, Florida, offers the following list of potential 2018 trends: "We are moving in a direction that pushes the flavor profiles of house-created cocktails to include things maybe not thought of for drinks.  For example: salt solutions, shiso, truffle, unique infusion flavors, milk and fat/butter/oil-washed spirits, 'complex syrups' instead of simple syrup, and other flavors that complement the vast array of spirits and liqueurs that are available to us."
In addition to an increased focus on ingredient quality and culinary technique in cocktail creation, our bartender panel anticipates edible garnishes as a major trend for 2018. As Meghan Balser of Herb & Wood in San Diego put it, "my predictions for cocktail trends in 2018 [involve] extended and edible garnishes. A garnish is not only aesthetically pleasing, but can also accentuate and compliment the flavor components that are in a drink."
Bittersweet & Savory Flavors
In 2018, drinkers are poised for a departure from sweet and sugar-forward cocktails, with bartenders instead highlighting bitter and savory notes in their libations. Mike Gharrity of The Exchange & Alibi Lounge in Minneapolis sees a definite turn in this direction, based on its popularity in Europe. "In 2018, I think we will see more bars trying to combine bitter and earthy notes like dark chocolate or oaky wood notes with a subtle sweetness from fruit reductions. This [blend] gives the drink a perfect balance. We're seeing a lot of this trend already in France and the Netherlands, and it's only a matter of time before it comes to the US."
Will Benedetto of In Good Company in New York City interprets the savory shift as a new and invigorating challenge for bartenders. "In 2018, people will be looking for drinks much farther on the savory and bitter side of the flavor spectrum than before. I think this is an exciting thing for bartenders because it allows us to use a much broader spectrum of ingredients than before, giving us much more space to be creative and innovative."
Reduced Waste & Sustainability
Bars in 2018 will place priority on eco-conscious practices this year. According to Matt Brown of Honeycut in L.A.,  Death & Co.'s West Coast sister, this theme will arise in various aspects of the job. "Within the industry, we all communicate so much about our visions for future direction, and we all seem to be very much on the same page with waste-reducing practices. Personally, I would love to see more new programs that not only pursue already-popular techniques (second-use ingredients, lower water waste, doing away with straws) but also find ways to communicate to the customer (without beating them over the head with it) what they are trying to accomplish with their waste reduction. Most reasonable people can get behind the idea, and I think if customers are aware, a bar culture would develop that would encourage and support waste-minded bar programs," he said.  
Andrew Smith of Atomic Liquors in Las Vegas implements waste reduction in the ingredients he sources for the bar's cocktails, deriving flavor from items that are typically tossed in the garbage. "We're seeing more and more bars reducing waste and finding clever ways of using commonly discarded products, whether repurposing kitchen waste or looking at what's commonly wasted at the bar. This industry is notorious for the amount of trash we create, so even the smallest changes can help ease our carbon footprint and in turn help the bar's bottom dollar. An example is the lime-peel syrup we use at Atomic Liquors for our house gimlets."
Waste reduction also offers bars the opportunity to use technology to get the best flavors out of previously discarded bits. "I think that with bartenders having more and more control over their craft and the tools at their disposal, you will see a lot less waste from bars.  There's a ton of tech-like centrifuges and sous-vide machines that bartenders are using now to make their house ingredients more efficient," says Kyle Darrow of Red Owl Tavern in Philadelphia.
Gender Equality in Bar Staffing
When asked about her wish list for 2018 drinking trends, Christina Cabrera of Gertie's in Nashville sees an opportunity for establishments to focus on staffing a more gender-balanced group of bartenders. "I would have to say that the #MeToo movement is changing the industry. For too long, it's  primarily been a boy's club where we have had to play along with the status quo. Now, I feel that with voices and concerns being heard, we'll see more equal opportunity for all. This is a trend that I hope will continue year after year," Cabrera told Observer. We concur.
Recipes
Classic Crossover Cocktail: Tequila Old-Fashioned
By Blaine Adams of Barrel and Ashes in Studio City, California
¼ oz agave nectar
2 dashes Angostura bitters
1 dash grapefruit bitters
2 oz Viva XXXII Reposado tequila
Add ice and stir.

Garnish with a grapefruit peel.
No-Waste Cocktail: Caravan
By Jason Stevens of Boiler Nine Bar + Grill in Austin, Texas
1.5 oz agave spirit (Cimarron tequila, Wahaka Espadin mezcal, or Chihuahu Blanco sotol)
1.25 oz Strawberry Rosé Syrup (recipe below)
0.5 oz lime
Ice
Salt
Combine and shake choice of spirit, Strawberry Rosé Syrup, lime, and ice in a cocktail shaker.

Garnish rim of a glass with salt and a lime wheel.

Pour ingredients from the cocktail shaker into the glass.

Top with crushed ice.
Strawberry Rosé Syrup:
1 bottle dry rosé
13 oz simple syrup
1.5 cups organic freeze-dried strawberry powder (freeze-dried fruit eliminates spoilage and food waste)
1 tbsp Herbsaint
1 pinch salt
Combine dry rosé, organic freeze-dried strawberry powder, Herbsaint, and salt. Mix with immersion blender until fully integrated.

Pour in glass and keep refrigerated for up to two weeks.