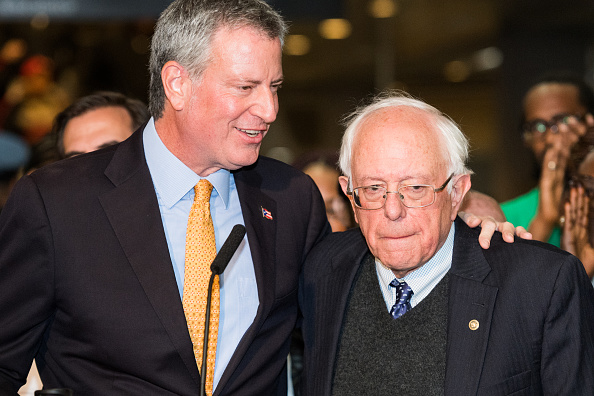 In 2014, as Mayor-elect Bill de Blasio — who coasted to landslide victory against far more established rivals — vowed to end the "Tale of Two Cities," he was flanked by none other than former President Bill Clinton.
Clinton's wife, former Secretary of State Hillary Clinton — whose 2000 Senate campaign de Blasio managed — became the Democratic presidential nominee and got de Blasio's support, though belatedly.
Four years later — and a little more than a year after Clinton's unexpected loss to now-President Donald Trump — de Blasio had a different type of politician by his side: the self-proclaimed democratic socialist Bernie Sanders, the Independent senator from Vermont who is viewed as a leading progressive voice despite losing the Democratic presidential primary to Clinton.
The mayor being sworn in by Sanders, who endorsed de Blasio for reelection, was perhaps a sign of an appetite for more progressive leaders and a move away from establishment and more centrist Democratic politics.
"About a year ago, Jane and I attended an inauguration in Washington, D.C. and let me tell you, today's inauguration is a lot more fun," Sanders told the crowd before swearing de Blasio in, garnering laughter and applause from the crowd.
Sanders, whose jacket was zipped to the top and covered with a blanket to fend off the freezing cold, said the United States is the only major country that does not guarantee health care for all people. He blasted the Trump administration for taking aim at former President Barack Obama's Affordable Care Act, its tax reform plan, for eviscerating environmental legislation and making it harder for students to afford higher education.
The Trump administration, he contended, is trying to divide people "to appeal to our worst prejudices."
"That is the bad news," he continued. "But I am very happy to say that there's also a lot of good news in our country and we are witnessing some of that good news today. In this city, the largest city in our country, the people of New York, under Bill de Blasio, have chosen to move government in a very different direction than what we're seeing in Washington."
Among de Blasio's accomplishments, Sanders said, are his universal prekindergarten initiative, rent stabilization, the neighborhood policing initiative that pairs residents with police officers and ensuring the city remains a "sanctuary city" for all immigrants. Sanders also praised First Lady Chirlane McCray for her ThriveNYC mental health initiative.
De Blasio, Sanders maintained, listens to the needs of working families "instead of pandering to billionaires."
"The bottom line is, that what Mayor de Blasio and his administration understand is that in this country, in the home of Ellis Island, our job is to bring people together with love and compassion," Sanders added.
De Blasio said Sanders and his wife, Jane O'Meara Sanders, who was also present, lauded the couple.
"These two proud Brooklynites have changed America in a profound way," the mayor said after Sanders swore him in. "Bernie and Jane, you have proven that the voices of the people are what matter most and the political process in this country will never be the same. It will be better. It will be more democratic because of what these two have done."
Second Term Officially Starts
During his speech, de Blasio did not speak to any new initiatives or plans for the second term but discussed first-term achievements, including the neighborhood policing initiative.
"Here's what we can say more proudly than ever as we start the year 2018: we are the safest big city in America," he said. "My friends, we are safer than at any time since the 1950s…As of midnight, New York City recorded the lowest number of homicides for any year since 1951. We have brought police and community together like never before."
The mayor expressed hope that the city will hold the title of safest big city "for many years to come." He repeated his campaign slogan, "This is Your City": a reminder the city does not belong to big landlords, developers, titans of Wall Street or the 1 percent.
"I have another hope for this city: I want us to be the fairest big city in America and I know we can do it because we are called in a time of vast, overt disparities to do something different, to be something better," de Blasio continued. "For too many years, our city descended into growing inequality, numbly allowing our social fabric to be torn more and more. The message conveyed to thousands upon thousands of our fellow citizens was that they didn't count."
He concluded his speech by affirming the city's values of diversity and inclusion. He insisted the city has a responsibility to remain "a beacon to our nation and to the world."
"We know the overt and gleeful prejudice that is suddenly imposed spits in the face of all that has made our city great and we will not be passive in the face of regret," the mayor added. "We will not ignore or deny the threat. We will confront it head on. To do anything less would be an affront to our very identity as New Yorkers."
In opening remarks, McCray echoed similar sentiments.
"While some politicians in Washington try to push our country in the wrong direction, New York City is the light that illuminates a better way forward," McCray said. "We don't build walls here. We open our doors wide. We stand against racism and misogyny and we stand with those who are transgender and gender nonconforming. We don't put profits for the few ahead of prosperity for all. And when we bring people together to tackle big challenges, people with different perspectives but shared values, we achieve what others have said is impossible."
While the 2014 inauguration drew thousands of people, this year's inauguration was a smaller affair. The mayor's office told reporters this year's ceremony would be a "scaled-down version of prior inaugurations" in part due to the potential for extreme weather, anticipating a crowd size between 1,000 and 1,500 people. And they projected the final cost to be about half of what the inauguration cost in 2014. Half of the roughly $200,000 budget is covered by private funding.
In November, de Blasio became the first Democrat to win reelection since the late former Mayor Ed Koch in 1985 in a landslide victory. He hailed his victory as the beginning of an "era of progressive Democratic administrations."
Public Advocate Letitia James and Comptroller Scott Stringer, both rumored 2021 mayoral candidates, were also sworn in. And former Mayor David Dinkins, Council members, some state senators, State Comptroller Thomas DiNapoli and the Brooklyn district attorney were among attendees.
Gov. Andrew Cuomo and Senate Minority Leader Charles Schumer were at the swearing-in ceremony of Nassau County Executive Laura Curran. Schumer arrived late to de Blasio's inauguration but Cuomo, who did not endorse de Blasio for reelection, was not in attendance.
A spokeswoman for Cuomo told Observer Lieutenant Gov. Kathy Hochul, who was at the ceremony, attended the inauguration on the governor's behalf.
National Ambitions Ignited
De Blasio's last attempt at becoming a national party leader hit roadblocks. In February 2016, he went to Iowa to knock on doors for Clinton. Clinton and de Blasio did not meet, and the mayor did not give a surrogate speech. And in 2015, he cancelled a presidential candidates forum that was scheduled to take place in Iowa because none of the candidates wanted to participate.
Following his belated endorsement of Clinton, he argued her message was "the most progressive of any Democratic nominee in many decades" and that his late endorsement pushed her to take a "more progressive stance."
But in the aftermath of the presidential election, he contended Clinton lost because her platform lacked a "much more central focus on the economy" and a "progressive populist economic message." He then said Sanders was the candidate with the message that "would have won the election," although he was uncertain as to what a race between Sanders and Trump would have looked like.
More recently, Sanders spoke at his campaign rally and endorsed his millionaires tax on wealthy New Yorkers to fund subway repairs and reduced fares for low-income New Yorkers.
And during a keynote address at grassroots organization Progress Iowa's holiday party last month, he seemed to take a jab at Clinton and Democrats overall when he recommended campaign tactics such as knocking on voters' doors to shed the Democratic Party's image as an "elite party."
"Obviously, he's framing it as, 'Bernie Sanders is a son of Brooklyn,'" Dr. Christina Greer, associate professor of political science at Fordham University, said of Sanders swearing de Blasio in. "It makes sense because de Blasio definitely wants to be at the table when all these progressive conversations are happening and/or the nominee. That remains to be seen."
Greer added that if de Blasio says he is not running for presidency, then there does not appear to be a competitive nature to his relationship with Sanders, especially if Sanders "feels he wants to run again."
"I think de Blasio and Bernie want to be the torch bearers…by having Bernie swear him in, he's essentially making the case that we're aligned and this is our brand of big D democratic politics," she said.
Second Term Agenda
So far, the mayor indicated he will focus on bringing full-day, early childhood education to three-year-old children and have all students reading on grade level by third grade. He also touted body cameras for police officers and the expansion of his affordable housing plan from 200,000 units by 2024 to 300,000 by 2026.
And he plans to work on initiatives in Albany, including the mansion tax on residential property sales of at least $2 million, the millionaires tax and strengthening the city's rent laws. He also vowed to fight the Trump administration's policies, including the tax plan.
Despite some first-term accomplishments, he has received criticism for not making enough progress in the area of police reform, affordable housing and tackling the city's homelessness crisis. His first term was also marked by incessant fighting with Gov. Andrew Cuomo.
Greer argued there are "two de Blasios": the New York legacy and then the "national ambition post-New York." Former Republican House Majority Leader Eric Cantor lost his job, she explained, because he was "too busy focusing on his national ambitions in D.C. and forgot to cater to his district."
"You've got some big ticket items on his plate and so you need to make sure that Iowa isn't the focus and New York City isn't his main priority," she said.
This story has been updated to include a comment from the governor's office, which reached out after this article's publication.