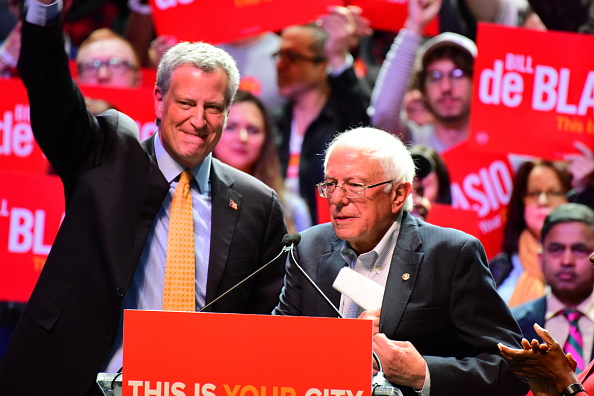 Mayor Bill de Blasio heaped praise on Sen. Bernie Sanders (I-Vt.) amid reports that he is considering running for president for the second time in 2020.
Sanders, 76, has not yet made a decision as to whether he is running for president but reportedly assembled his political advisors in Washington, D.C. over the weekend for a meeting in which the topic of a possible 2020 presidential bid was discussed, according to POLITICO.
Sanders, who ran as an outsider candidate, focused on issues such as getting money out of politics, free public college tuition and a single-payer health care system in his presidential campaign platform.
Earlier this month, Sanders swore de Blasio in at his second inauguration ceremony.
"From the bottom of my heart, the American political process will never be the same because of what you started," de Blasio said on Sanders' The Bernie Sanders Show on Thursday afternoon.
De Blasio endorsed former Secretary of State Hillary Clinton, whose Senate campaign he managed in 2000, for the 2016 presidential election—though belatedly.
He contended her message was "the most progressive of any Democratic nominee in many decades" and that his belated endorsement made her adopt a "more progressive stance."
But following President Donald Trump's victory, he argued Clinton lost because her platform did not have a "progressive populist economic message" and that Sanders was the candidate whose message "would have won the election."
Last year, Sanders spoke at de Blasio's campaign rally and backed his proposed millionaires tax on wealthy New Yorkers to fund subway repairs and reduced fares for low-income New Yorkers.
During his appearance, de Blasio said being a progressive mayor in the Trump era in 2018 means there's a "world of possibilities," which he described as ironic.
"I think the election of Donald Trump was not the essence of what happened in 2015 and 2016," he said. "I think what was happening already, since the Occupy Wall Street movement and manifesting all over the country locally—including in places like New York City and culminated in your [Sanders'] campaign—was obvious movement for progressive change. I fundamentally believe we're entering a new progressive era."
He insisted "big progressive changes" are occurring in New York City and that they will "be the norm going forward."
"Despite Donald Trump, the energy levels, the organization levels, the number of people getting involved, a lot of it started with your campaign, has deepened like we saw in the Women's March last weekend," de Blasio continued, speaking to Sanders. "I believe Trump is not somebody that we should see as sort of a door closer. I think he inadvertently is opening a new door."