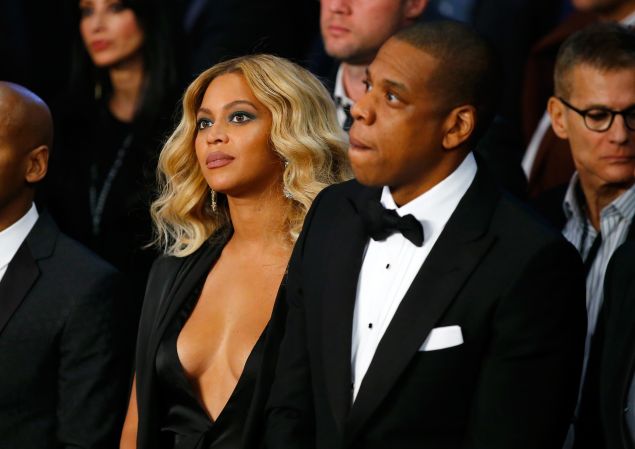 Beyoncé and Jay-Z set a record in Bel Air last year, with their purchase of a $88 million megamansion.
Located atop a hill in the East Gate neighborhood, the palatial home includes at least eight bedrooms and 11 bathrooms, with security details like bulletproof windows and a metal gate. The compound spans around 30,000 square feet, on almost two acres. And while the couple, who welcomed twins this summer, set a record in Los Angeles County with the sale, at least it's less than the $120 million offer they were said to have put in on the place.
But the couple is reportedly not quite done with improvements on the home, and are still putting finishing touches on the place. It's the work done prior to the duo purchasing the house, however, that is currently at the center of a lawsuit.
A company called Qwest Engineering is apparently filing a lawsuit against the developers of the house, Dean McKillen and Cuesta Estate, reports TMZ.
Qwest is alleging that celeb developer McKillen and Cuesta hired the company to do "all the excavating and…carve out a space for a future basement," per TMZ. Qwest is claiming that it completed the work within five or six weeks, but McKillen and Cuesta haven't paid the approximately $205,000 that Qwest says is owed. Qwest is apparently also now asking for over $1.8 million in punitive damages.
In addition, Qwest is saying that McKillen and Cuesta scored a huge profit when selling the house to Beyoncé and Jay-Z, because the developers "paid only 'a small fraction'" of that purchase price to demolish and reconstruct the home McKillen, however, told TMZ that the lawsuit is "based on false info," and Qwest is not actually owed any of that money.
It doesn't seem that this will inconvenience or impact Beyoncé and Jay-Z, however. And even though the couple hasn't yet been able to move in to their new home, it's not like they're lacking in lavish real estate. They spent the summer in a $400,000 a month Malibu rental, which they might still be holding on to, and they bought a Hamptons home on Georgica Pond for $25.9 million in September 2017.