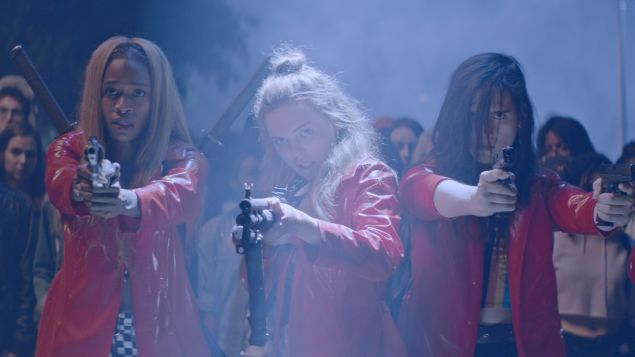 The snow may have stopped here at Sundance, but the flurry of money is just getting started.
In certainly the week's biggest deal to date, and in one of the top Sundance deals ever, the social-media screed Assassination Nation went for more than $10 million. Neon landed the film by partnering with AGBO, the new production company formed by tentpole auteurs Joe and Anthony Russo (Captain America: The Winter Solider; Captain America: Civil War; Avengers: Infinity War).
Clearly the directing duo was throwing around some of their hard-earned Marvel money and went all in for the sassy, violent tale about a quartet of teenage girls who find their personal data exposed to the world by a malicious hacker and decide to seek revenge. A raucous feminist fantasy with high schoolers and millennial anxiety? Seems like a smart bet at the box office.
The other deals have been for more predictably mainstream movies like the prestige period pic Colette, starring Keira Knightley as the racy French novelist, which went for $4 million to Bleecker Street and 30West; American Animals, a true-crime college-kids heist thriller picked up jointly by The Orchard and MoviePass Ventures for $3 million; the father-daughter music dramedy Hearts Beat Loud, the festival's closing night film, which was snapped up by Gunpowder and Sky for an undisclosed seven-figure deal; and Lizzie, a sapphic take on the 19th century accused axe murderess Lizzie Borden starring Chloë Sevigny and Kristen Stewart, which was bought for an unannounced but competitive sum. Saban Films will partner with Roadside Attractions to distribute it this summer.
Leave it to Lionsgate, though, to land one of the most topical movies at Sundance. The rogue studio behind the Hunger Games and Saw franchises, which won the Best Picture Oscar for 2004's maudlin social-conscious ensemble drama Crash, nabbed Blindspotting, a furious, funny, and feverish look at a week in the life of an Oakland ex-con (Daveed Diggs) who is wrapping up his parole when he sees a white cop murder a fleeing black man in the middle of a dark, empty street.
The ambitious film, co-written by Diggs and his co-star Rafael Casal, is tonally and thematically shaky, rollercoastering from raucously social-conscious highs to P.S.A. after-school special lows as it tackles gentrification, gun violence, "wigga" culture appropriation, Black Lives Matter outrage, Blue Lives Matter defensiveness and fundamental notions of self-identity. It's a shoot-the-moon mess, with an electric, star-is-born performance by Casal and a climactic spoken-word crescendo from Diggs that's as technically dazzling as it is dramatically maladroit.
But the film was in good company at Sundance, which this year showcased a slew of features that tackled race and ethnicity head-on in surprising, provocative and sometimes downright surreal ways.
Boots Riley's Sorry to Bother You was hands-down the most acid-laced candidate, with a WTF sense of screwball satire fueling its gonzo look at a black telemarketer who uses his "white voice" sales acumen to rise the ranks of the corporate ladder on the backs of exploited workers. (The most egregious boss is played by a coked-up Armie Hammer, who reinvents slave labor with his WorryFree labor force, a slew of broken people signing life contracts and living in converted jail cells.) Blood-soaked performance art, shit tanks, masochistic TV shows and medical experiments worthy of Dr. Moreau soon follow.
Much less cartoonish but equally alarming was Tyrel, Sebastián Silva's slow-burn race-baiting movie, in which mild-mannered Tyler (Jason Mitchell) joins a white friend (Christopher Abbott) and meets all of his bromates in a booze-fueled birthday weekend in rural upstate New York. Deliciously awkward moments pile up as Tyler feels more and more uncomfortable in his skin. Think of it as a soul-brother companion piece to Get Out but without the sci-fi twists—which, perversely, makes it even more horrifying.
These films are, in a way, the best hybrid of a typical Sundance film, which either veers towards art house respectability or dives headlong into genre madness. The Zellner Brother's latest, Damsel, is a quirky combo of the two, as it ropes in Robert Pattinson, Mia Wasikowska, and a miniature horse named Butterscotch to reinvent and subvert the Western. The deliberate pacing and spare narrative belie some truly extraordinary moments, including a prologue where Robert Forster tees up the events to follow: "Things are going to be shitty in new and fascinating ways."
After its premiere, the cast was asked, if they could go back in time, what career advice they would give themselves. "Don't even start one," deadpanned Wasikowska. The comment made more sense in light of her other Sundance film, the uneven S&M-soaked thriller Piercing, in which she plays a prostitute with a propensity for self-mutilation and vengeful violence.
Maybe she needs to takes notes from Mandy star Nicolas Cage (or "Nicolas motherfucking Cage," as he was introduced at the midnight screening) who was much more droll about his career choice during the film's 2 a.m. Q&A. "I flipped for it," he said about the hallucinogenic '80s-set horror movie, in which he has to rescue his woman from a Manson-like cult. "I really enjoyed the ending after the transmutation from drinking the skull juice. Also, the axe fighting."
With trippy synth music and a visual design more in line with prog-rock album covers from the 1970s, the leaden-paced Mandy is a singular psychedelic experience that left more than a few audience members wishing they were stoned. Thank god for the publicists behind An Evening with Beverly Luff Linn. The bizarre Aubrey Plaza comedy divided critics at its premiere, although one wrote that it would probably play better "with the assistance of some weed." Duly noted: the film's flacks quickly sent out an e-mail alert before the film's next screening. "Thanks to that brilliant suggestion," they wrote, "we will be offering free marijuana to press attendees. Please arrive early!"
Stephen Garrett is the former film editor of Time Out New York. Read his full bio here.