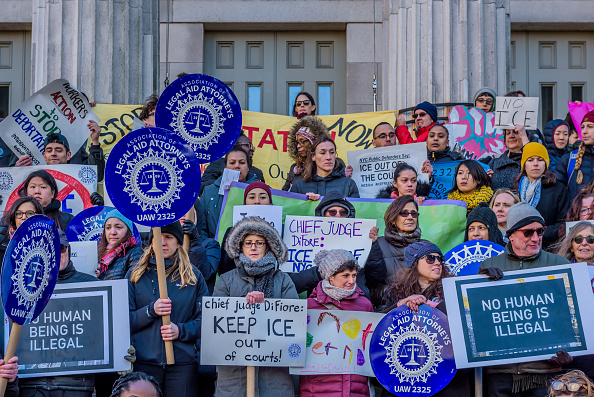 Mayor Bill de Blasio is planning to expand upon immigration policies he rolled out during his first term to protect immigrant New Yorkers as President Donald Trump carries out his immigration enforcement policies, while advocates tout progress but urge for more protections and services.
In January 2015, the city launched new municipal identification cards to provide a form of I.D. for undocumented immigrants as well as for homeless, elderly and transgender people—the largest program of its kind in the United States. More than a million cards have been issued, and the city fended off a lawsuit by two GOP lawmakers to keep it from destroying applicants' files.
The city also booted U.S. Immigration and Customs Enforcement officials from the Rikers Island jail complex and has only honored the federal agency's requests to detain a suspect if the individual has committed one of 170 serious or violent crimes.
And in the last budget cycle, the mayor added $16.4 million in immigrant legal services, bringing the administration's investment to more than $30 million, securing representation for about 15,000 residents—the largest municipal investment nationally.
But the mayor has faced criticism over his continued embracement of the broken windows policing method which targets smaller crimes to stave off larger ones. Advocates argue it puts immigrants at risk for deportation when they are arrested for low-level offenses.
De Blasio upset advocates and City Council Speaker Melissa Mark-Viverito when he excluded immigrants convicted of serious or violent crimes from receiving legal services—eventually resolved with private funds—and has proposed to exclude the same group from getting legal counseling services from community organizations focused on immigration rights.
When asked about the mayor's vision for immigration policy during his second term, Bitta Mostofi—acting commissioner of the Mayor's Office of Immigrant Affairs (MOIA) while Immigrant Affairs Commissioner Nisha Agarwal is on medial leave—told Observer during an in-person interview at the MOIA office near City Hall last month that MOIA has a "very broad mandate."
She said "the number one thing" is that the city "remains New York City."
"The mayor has had… leadership on making sure that New York City is a welcoming city, that the way that we put forward our policies, do our programs, is one that has the lens of being inclusive to all New Yorkers, including immigrants," Mostofi said. "So from everything like municipal IDs to strengthening our language access policies, that has been sort of a core vision of how we do our work and how we strengthen who we are—a city of immigrants."
She noted the mayor has maintained the city's status as a "sanctuary city" for immigrants and that Police Commissioner James O'Neill affirmed the NYPD will not become an arm of civil immigration enforcement. A third priority is ensuring that the city is championing justice for immigrants and giving them access to resources.
Since Trump's victory in November, the city has conducted nearly 1,000 "Know Your Rights" trainings, supported community-based providers and promoted a capacity-building program.
"I think those are sort of the broad strokes, if you will, of where our key priorities are and how we've kind of already began that work but kind of continue to double down on it and build on it in this coming term," she continued.
In September, Trump ended the Deferred Action for Childhood Arrivals (DACA) program for undocumented youth. On Tuesday, a federal judge in California temporarily restored part of DACA.
MOIA helps lead Cities for Action, a coalition of more than 100 mayors and county leaders that advocates for policies and legislation at the federal level. The city has held a number of days of action and a tele-town hall with more than 10,000 callers.
"We feel lucky that there is a possibility for a real DREAM Act, that the reality that it could be that these 30,000 New Yorkers who have DACA, the 800,000 nationally who have DACA, could realize some path to permanent status is remarkable and in this kind of moment in time," she said. "That is where our focus is."
The Trump administration also terminated Temporary Protected Status—a program for people from countries experiencing humanitarian crises—for Sudan, Nicaragua, Haiti and El Salvador. There are 300,000 TPS holders nationwide, including about 15,000 in New York City.
MOIA partnered with the Children's Cabinet, a multi-agency initiative de Blasio created to tackle child safety and wellbeing, which sent a letter to the U.S. Department of Homeland Security requesting the continuation of TPS and discussing the impact on young people if their primary breadwinners are deported.
Advocates Weigh In
Favio Ramirez Caminatti, executive director of El Centro del Inmigrante, a community-based organization and worker center established in 1997 in the Port Richmond section of Staten Island, told Observer he believes the relationship between the immigrant community and the NYPD has been improving.
He described de Blasio's first term as "good for the immigrant community."
"I think that the original funds for legal representation for people that have been arrested… I think that is a very good initiative," Caminatti said. "I think that the IDNYC and the policy of IDNYC, it's the mayor's responsibility but also the City Council. It's a great initiative and we totally support it."
Still, he expressed concerns about the city "reacting a little bit later," claiming the city's "Know Your Rights" trainings in the five boroughs should have started in early 2017, instead of in September, and calling on MOIA to fill the Staten Island organizer position. MOIA told Observer it has a full-time outreach team that has conducted "Know Your Rights" trainings well before September and that it has an ongoing presence on Staten Island.
JoAnn Yoo, executive director of the Asian American Federation, also touted IDNYC and the city expanding its language access law.
But she urged the city to expand programs like ActionHealthNYC—a health care access program for low-income immigrants the city undertook as a demonstration project—and argued the city's crackdown on e-bikes adversely affects delivery workers, many of whom are immigrants. And she renewed calls for Congress to pass a clean DREAM Act.
In response to the legal counseling services proposal, she noted people accused of crimes need to be able to explain their circumstances. And she called on City Hall to conduct more capacity-building for communities "that haven't been getting the help they need."
"I'd like to see the capacity-building programs be able to do more services in Asian-American, African and Caribbean communities," Yoo said. "I think MOIA is trying, but I'd like to see them make a deeper commitment. There are still communities that are left behind that haven't been able to engage with City Hall and haven't been invited to the table."
She applauded the mayor and Gov. Andrew Cuomo for "holding their ground" amid Trump's policies.
"We hope that he [de Blasio] will continue to push for his progressive policies, be bolder, be louder, be faster, be more inclusive," she continued. "I think he's done a really great job, but you can always do better."
Betsy Plum, vice president of policy at the New York Immigration Coalition (NYIC), lauded IDNYC, the language access expansion, the mayor's universal pre-kindergarten initiative and the city reducing its cooperation with ICE.
"Those are all tremendous indicators of progress and examples of really focused efforts to support immigrant communities," Plum told Observer.
NYIC was one of the groups that signed onto a letter opposing de Blasio's legal counseling services proposal. The group also wants more investments in education, calling on the mayor to baseline the dollars allocated. And she blasted broken windows and the e-bike policy.
"We're talking about policies that may not on face value have anything to do with immigrants but continue to create hostile living environments for immigrants," she contended. "So if we recognize there's a problem with ICE in the courthouses, then let's have fewer people gong into the courthouses."
She noted there are a limited number of groups that serve the "hardest to reach emerging communities," noting Haitian Women for Haitian Refugees and African Communities Together as examples.
"We're talking about black immigrant communities, Asian-American communities, Muslim-American communities—communities that are often served well by local community-based organizations, many of whom are NYIC members, but don't benefit from the privileges of the larger organizations that have been around for a long time, that have decades of experience under their belt," she added. "How is the city investing in that?"
City Response to Criticisms 
MOIA is reviewing the lessons learned from ActionHealthNYC and pointed to Action NYC, an immigration legal services program, which was brought into public hospitals and clinics. The Health Department also provided bilingual health insurance enrollment services at federal immigration court in response to the surge in unaccompanied minor arrivals in 2014 and launched a $300,000 campaign in 2016 to connect DACA recipients to Medicaid.
On limiting legal counseling services, MOIA said that at a time in which the Trump administration has increased arrests for immigrants but offers no appointed counsel, the city's investment is not sufficient enough to provide truly universal representation, so it has to prioritize cases that will get representation.
And MOIA outlined steps taken to support recently arrived populations from Africa, Asia and the Caribbean, including a capacity-building program launched in May 2017 for community-based organizations with an emphasis on those populations.
With respect to educational investments, MOIA referred to $95 million in funding for broader literacy services citywide and is announcing new programming to expand English language opportunities in the coming year.
As to the crackdown on e-bikes, City Hall told Observer the law prohibits the operation of e-bikes on city streets and holds businesses accountable for illegal use of the bikes. He urged workers to file complaints with the NYPD and the Consumer Affairs Department if they are fined.
The city insists that the combination of neighborhood, precision and quality of life policing has driven crime to historic lows and cemented the New York City's status as the safest big city in the country.
"While prioritizing police resources to snuff out violent crime, the administration and the NYPD have led a shift away from arrests for low-level offenses in favor of summonses," de Blasio's spokesman Austin Finan said.
Mostofi pointed to the ending of the NYPD's Muslim surveillance program, a reduction in stop-and-frisk policing, the NYPD accepting the IDNYC card to issue summonses or desk appearance tickets instead of arresting individuals and the city contacting the local ICE director about ICE arrests in courthouses.
"That work, as I said, while we've seeded it under the first term, is so critical, it's so—at this juncture—urgent in making sure that immigrant New Yorkers frankly know that the city remains here for them and open and that these resources are available to them," Mostofi said.