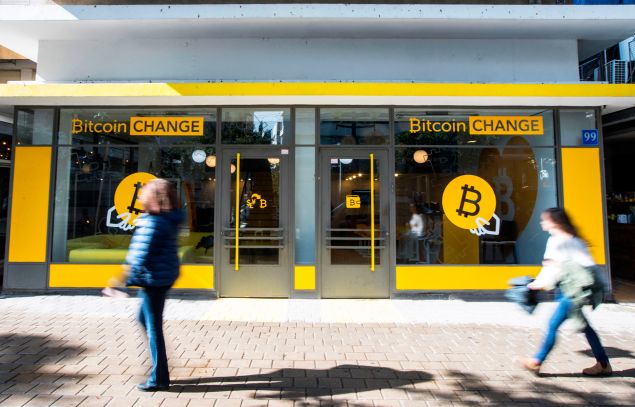 During a brief sojourn in the investment world 15 or so years ago, I remember a colleague's analysis of the then-red hot housing market. "Oh, we know how the story's going to end," he said. "We just don't know when it's going to end."
Watching the wild ride of Bitcoin and its fellow cryptocurrencies, it's hard to avoid the sense of deja vu. Flashing red lights are everywhere, from enormous day-to-day market gyrations to troubled companies scrambling to recast themselves as crypto plays. Let's face it, there's no way this all ends in anything but tears.
Now before the crypto fanboys jump me and beat me to an insensate pulp, let me make clear that I'm not questioning the potential uses or importance of cryptocurrencies and the technology, called blockchain, that underpins them.
"Cryptocurrency opens the door for revolutionary technological possibilities," concludes PricewaterhouseCoopers, the international accounting giant. "Collaborative technology, such as blockchain, promises the ability to improve the business processes that occur between companies, radically lowering the 'cost of trust.'"
But you don't have to side with JPMorgan Chase CEO Jamie Dimon—who last year called Bitcoin a "fraud" and "worse than tulip bulbs" before recently softening his opinion—to see that the current crypto craze is only minimally about streamlining business transactions or protecting intellectual property.
Rather, many of the get-rich-quick investors buying Bitcoin, Ripple and their brethren are simply looking for a big, easy score, with only a minimal or non-existent understanding of what they're actually investing in, or even how currency markets work. Instead, they look at an investment that was worth $800 in January 2017 and $11,000 in January 2018 and all they see is an arrow pointing up, up, up.
Here are just a few signs of the apocalypse:
For some of us old-timers, it's all reminiscent of nothing so much as the early days of the Internet gold rush. Then as now, an important new technology caught the fancy of the investors, who indiscriminately piled into the market without a firm grasp of the larger forces at play, the underlying pitfalls or the fragility of the bubble.
Then too, some people got very, very rich by getting out while the getting was good. (Looking at you, Mark Cuban.) And perhaps some others were smart and prescient enough to identify and invest in the Internet high flyers of 1998 that would still be around and prospering 20 years later (Amazon and, to a much lesser extent, eBay), as opposed to, well, just about everybody else.
Put another way, there's a world of difference between recognizing that a new technology is going to be important and figuring out how to successfully profit from it.
At least the Internet bubble played out in a more or less established marketplace of IPOs and exchanges that were supervised (if sometimes only minimally) by government regulators. By contrast, the cryptocurrency market is still nascent, to put it charitably. CBOE became the first U.S. exchange to offer Bitcoin contracts—just last month. Meanwhile, proposals for Bitcoin exchange-traded funds remain in legal limbo.
It truly is the Wild West, and the terms of engagement are still being written. What are the rules and risks of dealing with the taxman? Are the concepts of cryptocurrency and investor protection mutually exclusive? Who the hell knows?
Analysts disagree over whether cryptocurrencies could pose a systemic risk to the world financial system the way that, say, subprime lending helped sink the global economy a decade ago. A survey of top European economists last month found that nearly three-quarters don't view cryptocurrencies as a threat to financial stability. But Deutsche Bank placed the danger of a Bitcoin crash on its list of significant 2018 market risks.
At the moment, cryptocurrencies have more in common with a Las Vegas casino than they do with anything normally associated with the word "investment." Like Vegas, a lot of crypto speculators are being swept away by the excitement and spectacle of it all. The price of a coin is up $4,000 today! No, wait, now it's down by $5,000! Now it's back up! Whee!
And also like Vegas, it's possible to hit it big on occasion. But if you play long enough, the house always wins in the end. And just as in Vegas, only a fool mistakes luck for skill.
Rich Jaroslovsky is an Observer technology columnist and vice president of SmartNews Inc. Read his full bio here.