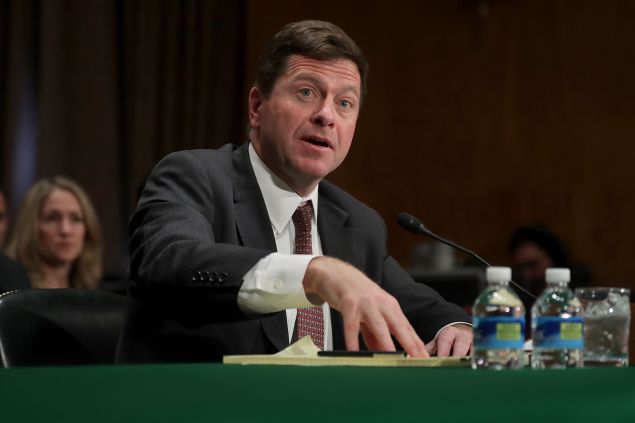 Companies like Kodak and Long Island Iced Tea, which are entering the blockchain game out of the blue just so their stocks will rise, may be in trouble with the Securities and Exchange Commission.
SEC Chairman Jay Clayton gave a stern warning to companies rushing into initial coin offerings (ICOs) during a legal conference at Northwestern University's Pritzker School of Law yesterday. He said firms which take on new names and adopt blockchain business models all of a sudden may just be trying to lure uninformed investors.
While ICOs are technically securities, Clayton pointed out that in many cases, issuers aren't complying with U.S. laws. Indeed, according to Ernst & Young hackers have stolen $400 million from unwitting ICO investors in recent months—even some celebrities have fallen for the hype.
Clayton didn't name any specific companies during his speech, but warned in general about firms with no cryptocurrency experience transforming into "Blockchain 'R Us." Companies without a meaningful track record in the bitcoin sector shouldn't change their names and offer ICO investments without disclosing the risks, Clayton said.
Lawyers who counsel their clients to invest in ICOs could also face penalties, according to Clayton.
He said his agency had found "disturbing" evidence that some attorneys had told clients that digital currencies are simply "tokens," and thus ICOs don't need to comply with federal securities laws.
"These lawyers appear to provide the 'it depends' equivocal advice," Clayton said. "I have instructed the SEC staff to be on high alert for approaches to ICOs that may be contrary to the spirit of our securities laws and the professional obligations of the U.S. securities bar."
Many entrepreneurs agreed with Clayton's advice.
"Choose counsel wisely. Not a lawyer who says what you want to hear," PayPal and LinkedIn executive Keith Rabois wrote on Twitter.