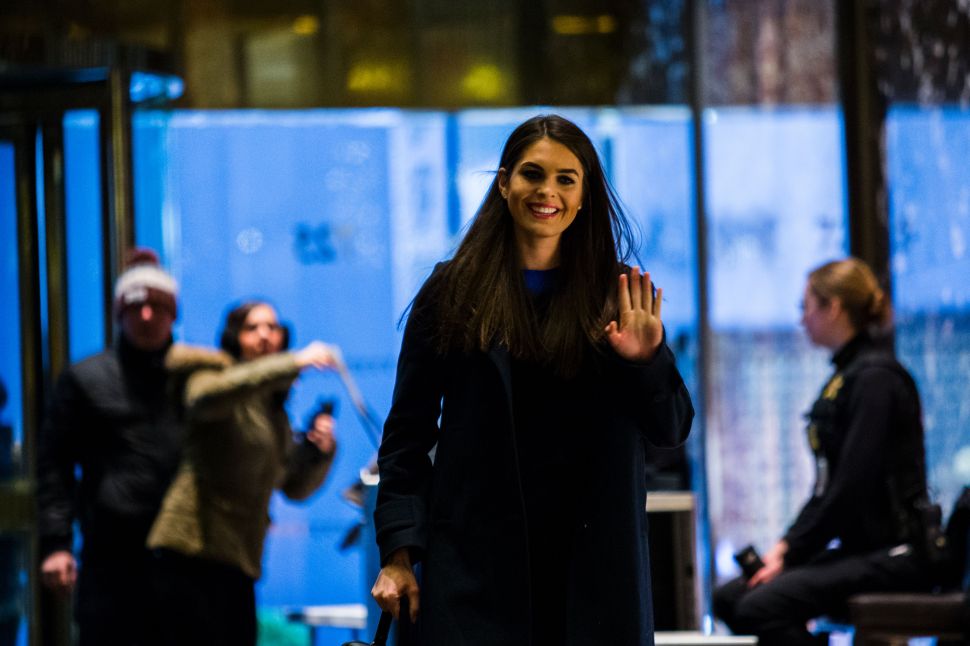 Earlier this week, Business Insider thought it apt to publish an article entitled "Trump's 'real daughter' Hope Hicks has started copying Melania instead of Ivanka — and it could reveal a secret White House drama." Since going live shortly after noon on Thursday, the piece has pulled in nearly one million page views. Penned by a "retail reporter," the story attempts to prove that the evolution of Hope Hicks' personal style—initially taking cues from first daughter Ivanka Trump, but now apparently influenced by first lady Melania—signals a "subtle change of allegiance."
Readers are led through a series of images chronicling Hicks' transition from pastel, knee-length, business casual Ivanka frocks to more severe fashion-forward choices, including (seriously) stilettos on a plane. At its best, the compilation is boring. At its worst, the 24 photos are evidence—for those feeble-minded enough to believe—that (1) there has been a "fashion pivot" from Ivanka to Melania, which (2) "could signify bigger factors at play behind the scenes."
Standout captions accompanying the investigative piece of reporting include but are not limited to:
As Ivanka's brand popularity has tanked, the public's perception of Melania has only gotten better.
Hicks isn't someone who will publicly trash members of the Trump administration. Instead, she may be subtler in signaling her allegiance.
At the end of this desperate photographic journey, Business Insider's retail reporter draws the serious and shocking conclusion that readers are shallow and stupid there is something going on in the White House because Hope Hicks has ditched her Ivanka-like hairstyle and makeup for a dramatic lip, smoky eye and Melania-inspired waves. Littered in this already massive pile of trash are a few additional and completely irrelevant details about Hicks' alleged affair with Corey Lewandowski, Donald Trump's former campaign manager.
Whatever your politics, I hope we can all agree that this is a giant slap in the face to our present and hard-earned #metoo era—and it should go without saying that it's astonishing any journalist for any publication would publish such a base and sexist story. By spending our time talking (and writing) about the clothes, hair, makeup, weight, and appearances of those in leadership positions, we take energy away from the issues that really matter and have impact on our lives. The fight against sexism should be a bipartisan issue, and no man or woman—Republican, Democrat, Independent or journalist—should be considered fair game for what they wear or how they look. Let's leave the criticism grounded in what we say and do.
It's a lesson everyone should have learned by third grade.