Fertile Campania, ancient Rome's bread basket. Located in southern Italy, its volcanic-soiled plains produced high-quality durum wheat, the primary edible ingredient in the Roman formula for pacifying its population—bread and circuses.
Campania also sent Rome scores of fruits, vegetables, nuts and cheeses.
Today, with the focus still on farming, the emphasis is now on quality over quantity, as epitomized by purveyors like Maida, which ships locally grown, artistically-jarred fruits, vegetables and marmalades world-wide.
For good reason, artisanal Campania is one of Italy's top culinary destinations. From truffles—yes, they come from the south as well as the north of Italy—and the ultimo buffalo milk mozzarella, to the iconic San Marzano tomatoes and the EU-protected Amalfi lemon, Campania's fertility is on display.
If artisanal food lovers died and went to heaven, they'd be at Le Campestre, a 35-acre agriturismo and restaurant in Castel di Sasso, a tiny mountain hamlet an hour north of Naples. Food doyen Alice Waters once visited.
At Le Campestre, the Lombardi family grows their own heirloom wheat, stone-grinds and bakes it into hearty country loaves, finishes their pigs on their farm-grown Annurca apples (a unique and ancient Campanian variety), has 200 sheep and makes cheese aged in clay amphora, as the ancient Romans did. If that doesn't keep them busy, they also grow grapes and olives—which become, of course, wine and oil—and sun-dry their own tomatoes.
The Lombardis offers full-day immersion classes for visitors who tend to the animals and learn how matriarch Liliana crafts bread.
They invited two cheese-making friends to meet us. Giuseppe Iaconelli is innovative and charismatic. He wants "the taste of the cow, sheep or goat to be in every bite." The 30-month old, sweet and moist Pecorino Cru (made exclusively from sheep milked in May) accomplishes this. His cheeses are in Italy's top restaurants as well at George V in Paris.
Mimmo La Vecchia, owner of Il Casolare, is a master buffalo milk mozzarella maker. At an annual competition in 2016, his cheese was voted best mozzarella in Italy, maybe because he never uses milk more than 16 hours old. His artistry tops the pies at nearby Pepe in Grano, considered to be Italy's best pizzeria. (As an aside, chef owner Franco Pepe is a media darling, having been featured in Food and Wine as well as a segment of Amazon's Emeril Lagasse TV series.)
Space doesn't allow for a full description of Campania's sights, but we would be remiss not to mention the Royal Palace in Caserta. This UNESCO site is the largest royal residence in the world (bigger than Versailles) and displays 1200 fully decorated, ornately frescoed rooms, plus acres of formal landscaped fountains and grounds.
A few kilometers up a hill, Caserta's silk factory museum is worth a visit, as is the king's hunting lodge (looking like a palace to us commoners).
For lunch, we were taken to Hackert, a newly opened restaurant, bar, pastry, and chocolate shop, all under the toque of prodigy Marco Merola. Classically trained as a pastry chef, he worked for a founder of Eataly.
Marco strives to modernize classic dishes, for example a three-dimensional, Plexiglas-lidded box out of which a "tree grew." At its base was an edible moss-covered hill (pureed and sautéed mushrooms with flecks of green foam to mimic the moss). The presentation and essence-of-mushroom flavor were stunning. Gambero Rosso, the Italian version of Michelin, recognized Hackert last month.
Also near Caserta, well-known chef Pietro Leonetti fell in love with a ruin, bought and painstakingly restored it. Il Frantoio Ducale's (the Duke's olive oil press) dining room which retains structural elements from the old mill, massive terra cotta amphora, and walls lined with local wines, envelopes the diner in "antico ambience." Pasta with truffles, smoked mozzarella and potatoes preceded scalloped rabbit coated in wild fennel.
Out of the hills and into the coastal plain south of Naples are the must-visit Roman ruins of Pompeii and Herculaneum/Ercolano. Both are also modern, lively cities with notable restaurants.
Pompeii boasts La Bettola del Gusto. Michelin-rated and Slow Food-approved, this elegant space is owned by 25-year old twins, one who oversees the front of the house while the other cooks. It is not unusual for an entire tasting menu to be built around one extremely local, seasonal ingredient.
A few kilometers away in Ercolano lies another gastronomical highlight. Vive lo Re is the vision and hard work of Maurizio Focone, who saved this classic building in a neighborhood that, while once elite, has seen better days. His simple yet delectable food is the result of a focus on purity of ingredients, simplicity in preparation, and respect for seasonality. The wine cellar that boasts over 1,000 bottles is heavily concentrated on Italian selections.
If you prefer to prepare your own food Baronessa Cecilia Bellelli Baratta will show you how. From her family's 200-year old estate, now an agriturismo (Tenuto Seliano), farm, and cooking school, the Baronessa teaches approximately 20 classes per year. Lessons vary based on student knowledge but will likely include pasta and salumi making. The bed and breakfast part of the estate is spread over several buildings, both old and new, with restful landscaping and a pool.
Cecilia is a delight, an indefatigable, larger-than-life woman who, when not teaching classes, making preserves from her fruit trees or vinegar from her grapes, holds court in the historic dining room. Tenuta Seliano is ninety minutes south of Naples, minutes from Paestum, another shouldn't-be-missed Greek "pile of rocks."
The area around Paestum is world-famous for its buffalo milk mozzarella. We visited Barlotti, one of the area's top producers. Mozzarella is a fresh cheese, quick to make but also quick to move past its prime. The process of turning the milk into cheese isn't where the skill lies. It's in the breed and diet of the animals—both of which affect fat and protein content—plus the speed at which the milk is delivered to the cheesemaker.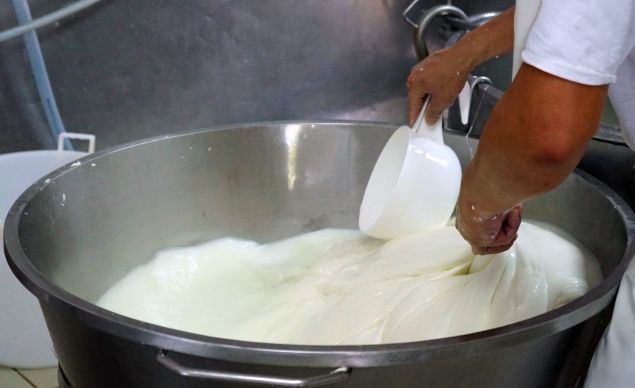 For export, freshness continues to matter. Top restaurants receive several shipments per week and won't serve mozzarella more than few days old.
Barlotti welcomes visitors. The buffalo and cheese making process are on display. There is also a café plus a skin care line.
If you want a tour of water buffalo central, the Baronessa's son Massimino will take visitors to see their herd of over 1,000, many of whose names he knows.
Back up in the mountains, we found ourselves asking: why would a chocolatier and pastry chef who has won awards from Paris to London—including second place in an international chocolate competition—who sells his chocolates in 20 stores in Rome, plus shops from Madrid to Luxembourg, set up in Piaggine, an isolated mountain town?
Answer #1: Maybe because Pietro Macellaro grew up there and is following in his baker father's footsteps. Macellaro senior created traditional sweets. Pietro, whose wildly creative dolce push envelopes, loves the distraction-free environment.
Answer #2: Or, maybe it's because Pietro is a purist, insistent on growing many of the ingredients he uses. The almonds, figs, thyme, rosemary, fennel, lavender, and oranges—a total of 45 different ingredients—all thrive in the environment his farm offers.
Chocolate and pastry lovers make pilgrimages for the chocolate marzipan thyme fondant. Restaurants and shops drive up to Piaggine for pick-ups. One wealthy businessman sends his helicopter for Macellaro's most famous product, a light, heady-with-citrus panettone, the result of a 51-hour rise.
Pietro loves New York and is hoping to establish a presence there.
The next culinary visit was to Antonio Longo, the high-priest of Campanian Dottato figs. These delicate white orbs are a world apart from the courser Turkish fig we're used to eating. Housed in an ultra-modern temple to the fruit, Longo dries and stuffs his fruit with local artisanal ingredients ranging from lemon zest to pistachios. During their brief season, his Santomiele brand are shipped world-wide including Dean & Deluca.
As you can see from this small sampling, Campania is a multi-faceted culinary jewel. While many other Italian regions, like Tuscany, have been overly-discovered, Campania awaits.
(As mentioned in our Campanian wine article, the man who guided us through these delights was Gianfranco Sorrentino, owner of top NYC restaurants Il Gattopardo, The Leopard at des Artistes, and Mozzarella e Vino.)
Jonathan Russo has been an executive in the New York media world for over 40 years and resides in Manhattan. Read his full bio here.
Deborah Grayson was initially in publishing, and now, in the culinary and nutrition worlds. Read her full bio here.