Scroll through to see the recent renovations and some of the celebs who stay at The London West Hollywood at Beverly Hills.
Courtesy The London West Hollywood at Beverly Hills
The puppy mascots arrived in August 2017 and are named Winston and Churchill.
Instagram
The new 110-seat screening room most recently hosted the premiere of Freeform show Alone Together.
Alone Together/Instagram
Hugh Grant dropped by to premiere Paddington 2.
Instagram
Two small influencers at the Paddington Bear premiere.
Coury Combs/Instagram
The new lounge is now open.
Courtesy The London West Hollywood at Beverly Hills
Victoria's Secret Angel Alessandra Ambrosio met Winston and/or Churchill.
Instagram
One of the balcony views from a suite.
Instagram
Gwen Stefani with the hotel's famous mascots.
Instagram
The Boxwood Restaurant offers complimentary Continental breakfast every morning.
Courtesy The London West Hollywood at Beverly Hills
An ideal spot for Valentine's Day dates or Instagram posts.
Instagram
Teen actress Addison Riecke, who has a million followers, posed on the sun deck.
Addison Riecke/Instagram
Bella Hadid attended an event at the hotel.
Instagram
There are plenty of reasons New Yorkers consider moving to Los Angeles. One temptation is the sheer amount of space; instead of being crowded into shoeboxes, L.A. offers sprawling expanses, including the city's hotel rooms. The London West Hollywood at Beverly Hills is known for their enormous suites, celebrity clientele and their mascots, two bulldog puppies named Winston and Churchill, who conveniently live onsite and are available for meet and greets. This month, the notoriously luxe hotel is debuting an $11 million makeover.
To celebrate its 10 year anniversary, the hotel introduced the London Bar, a watering hole inspired by an English country house, but the Boxwood Restaurant is the pièce de résistance. Visitors can enjoy a complimentary Continental breakfast in the space every morning, and the food is as refreshingly California as the décor. The menu offers fresh parfaits and fruit juice, but there are also bagels, for those who are really missing New York. The redesign makes the restaurant feel spacious, with lots of natural light, palm fronds and, of course, views of Hollywood.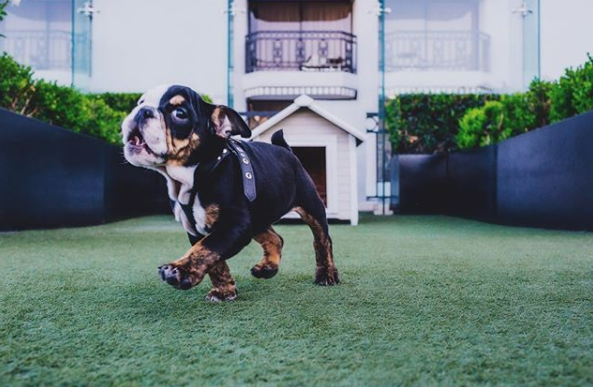 The London is home to a rooftop pool and a separate sun deck, which offers ample Instagram opportunities, thanks to its black and white design and a life-size chess board. The saltwater pool's space was redesigned to be reminiscent of an English garden, so prepare to channel your inner royal, that is, if they wore bikinis in public. This isn't the only upgrade the hotel has made recently—in 2015, a $27 million renovation included the addition of Premier Suites and an 11,000 square-foot penthouse designed by Vivienne Westwood. They also unveiled a viewing space, where the new Freeform show Alone Together recently premiered.
Of course, there are plenty of super hip places to stay in LA, with neon lights and in-room cameras for bed selfies, but if you want a bit more space and the opportunity to play with puppies, The London is by far the best option, equipped with refined Insta-friendly details like colorful cocktails, a British atmosphere (without the weather) and small tic-tac-toe boards in every room. And if you're hoping to spot a star in Hollywood, there's no better place; recent visitors have included Gwen Stefani, Rob Lowe, Chris Hemsworth, Bella Hadid, Allesandra Ambrosio, Pretty Little Liars star Troian Bellisario and Hugh Grant. Scroll through to see the recent renovations and some of the celebrities who have stopped by.