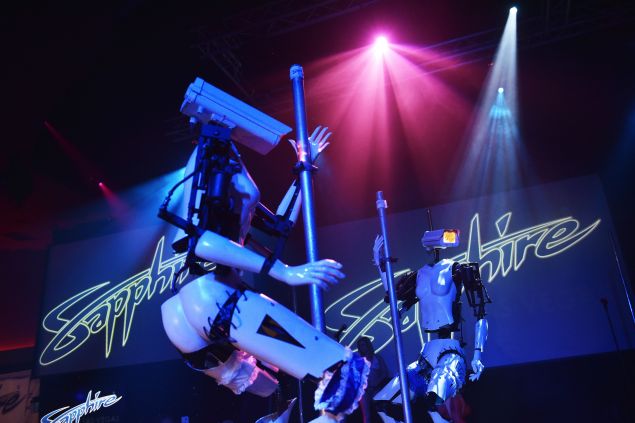 The Consumer Electronics Show, home of artificial intelligence roundtables, smart speaker demos and… sex robots?
Yes, one Las Vegas club is giving CES attendees the chance to live their Westworld-induced fantasies. The Sapphire Las Vegas offered free Tesla transportation to its stripper robot unveiling last night. The pun-laden press release announcing the event went viral on Twitter.
"These dancing gadgets claim their 'motherboards bring all the boys to the yard,'" the release read. "Come watch sparks fly as the robo-twins gyrate on the pole, shake their hardware and leave everyone wondering if those double D's are real or made in 'Silicone' Valley."
During the actual event, the two naughty androids reportedly entered the room to the Star Wars theme before grinding against poles while wearing high heels. Human dancers also performed.
This demonstration wasn't officially sanctioned by CES—the Sapphire simply used the conference for publicity. And CES organizers further distanced themselves from the sex robots in a statement to Observer.
"The show doesn't tolerate inappropriate behavior on our convention grounds," the statement read. "There are many events taking place throughout Las Vegas such as this one, which is not a sanctioned event. It also doesn't speak for CES 2018 and the industry."
In spite of this, many people online equated the virtual strippers with a general lack of respect for women at CES.
For the second year in a row, the festival is not featuring any female keynote speakers (though organizers claim that will change in 2019). At the same time, the conference still features many scantily clad waitresses and promotional models (known as "booth babes").
"In 2018, no technology event can claim to be doing business in the new world order without a gender-neutral, inclusive environment," Cindy Gallop, founder and CEO of sextech startup MakeLoveNotPorn, told Observer. "You have to change the optics and change the content."
CES' promise to do better next year also rings hollow for Gallop.
"It's not about ticking boxes in terms of percentages, it's about putting them in positions of leadership," she said. "A woman on a keynote stage is gonna deliver a completely different, innovative take from a man. You get way more disruptive points of view, which is what CES is meant to be all about."
And while CES may try to distance itself from the sex robot controversy, Gallop said it was a "visible and public manifestation" of the conference's problem.
"CES is not an environment that welcomes us or allows us to do business," she said. "We are objects of their entertainment and satisfaction instead of professional equals."
Gallop also acknowledged, however, that these gender issues were not exclusively a CES problem. She said she's been to several tech events where all the female servers and bartenders "look like Robert Palmer's 'Addicted to Love' video."
Both the stripper robots and the buxom waitresses show that tech needs to reevaluate how it approaches sex.
According to Gallop, sextech encompasses more than dirty robots and virtual reality porn. Her definition of this cottage industry includes "technology, and technology-driven ventures, designed to enhance, innovate and disrupt in every area of human sexuality and human sexual experience."
Gallop champions many products that fit this definition, including smart vibrators and female-founded porn startups. But she's also putting her money where her mouth is through the venture capital fund AllTheSky Holdings. Gallop wants to raise $200 million for sextech that goes beyond robotic titillation. One of her goals is to reduce the amount of revenge porn on sites like Snapchat and WhatsApp by designing products that add consent to the platform.
CES has thus far been resistant to sextech, but Gallop says she's willing to work with the conference on a presentation that shows the sector's complexity and makes sex robots and "booth babes" a thing of the past.
"Sextech can be so much more than sex robots, but that's what everyone hones in on because CES doesn't open itself up," Gallop said. "Sextech is Silicon Valley's final frontier."