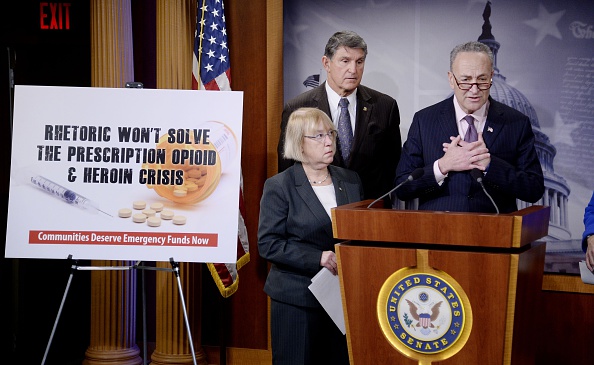 Senate Minority Leader Charles Schumer plans to draw attention to the nation's opioid epidemic at President Donald Trump's first State of the Union address on Tuesday, bringing a New York mother of a U.S. soldier who died of a heroin overdose.
On Monday, Schumer announced that he is bringing Stephanie Keegan, mother of Daniel Keegan, a veteran who overdosed on heroin while waiting to be seen at his local Department of Veterans Affairs Hospital, as his guest at Trump's address before a joint session of Congress in Washington, D.C.
Schumer, who is looking to include $8 billion in the federal budget to fight the epidemic, said he wants to bring attention to the issue of preventing and treating individuals who are addicted to opioids.
"I'm very pleased to announce that Ms. Stephanie Keegan, Daniel's mother, will be my guest at President Trump's State of the Union Address, which will draw much-needed national attention to an issue near and dear to our hearts: beating back the opioid scourge and treating those afflicted by addiction, including our vets," he said in a statement.
Earlier this month, Schumer and Keegan highlighted a report by the Centers for Disease Control and Prevention—the country's top national public health institute—that found that life expectancy in the United States has dropped for the second year in a row, the first time in more than 50 years.
Researchers concluded the decline is partially due to the opioid epidemic, Schumer explained. In 2016, the drug overdose death rate across the nation was 21 percent higher than the rate in 2015.
With the pending budget agreement in Congress, the senator called for fighting for increased federal funding to help federal agencies involved in combatting the epidemic, such as the Substance Abuse and Mental Health Services Administration.
"Ms. Keegan's trip to Washington is just one example of her great strength in the face of the tragic loss of her son Daniel, and I hope that together we can rally support for additional grant funds in New York that could help localities, like Staten Island, beat back the opioid epidemic," Schumer continued.
The senator referred to the U.S. Department of Health and Human Services' State Targeted Response to the Opioid Crisis Grants provided under the 21st Century CURES Act, which looks to accelerate the development of medical products.
Those grants are given to each state to hep fight the opioid crisis. The Substance Abuse and Mental Health Services Administration oversees the funding, which is used for prevention, treatment and recovery service programs.
In fiscal year 2017, $485 million in Opioid Crisis Grants were granted to states throughout the country. Out of that funding, New York State received $25 million. The cost of the opioid epidemic was $504 billion in 2015, according to the White House Council of Economic Advisers.
There were 1,374 unintentional drug overdose deaths in New York City in 2016, compared to 937 unintentional drug overdose deaths in 2015—an increase of 437, according to the New York City Department of Health and Mental Hygiene. And in 2016, roughly four fatal drug overdoses occurred every day in New York City.
The drug epidemic on Staten Island has been significant, Schumer said, arguing the numbers could have been higher if the overdose antidote naloxone was not used.
In 2016, there were 116 unintentional overdoses on Staten Island, the city's Health Department found. The borough had the highest rate per capita in all of New York City. And in 2015, there were 69 unintentional drug overdose deaths on Staten Island.
Mayor Bill de Blasio recently filed a lawsuit against the country's biggest opioid manufacturers and distributors for $500 million, arguing they are responsible for the city's deadly opioid crisis. The Big Pharma suit seeks to recoup current and anticipated costs the city will incur to deal with the epidemic.
Gov. Andrew Cuomo, for his part, proposed an opioid epidemic surcharge in his fiscal year 2019 executive budget: a new surcharge of 2 cents per milligram of active opioid ingredient on prescription drugs.
All proceeds would go to the Opioid Prevention and Rehabilitation Fund, which would expand prevention, treatment and recovery services with an objective of reducing opioid-related deaths by half by 2021.