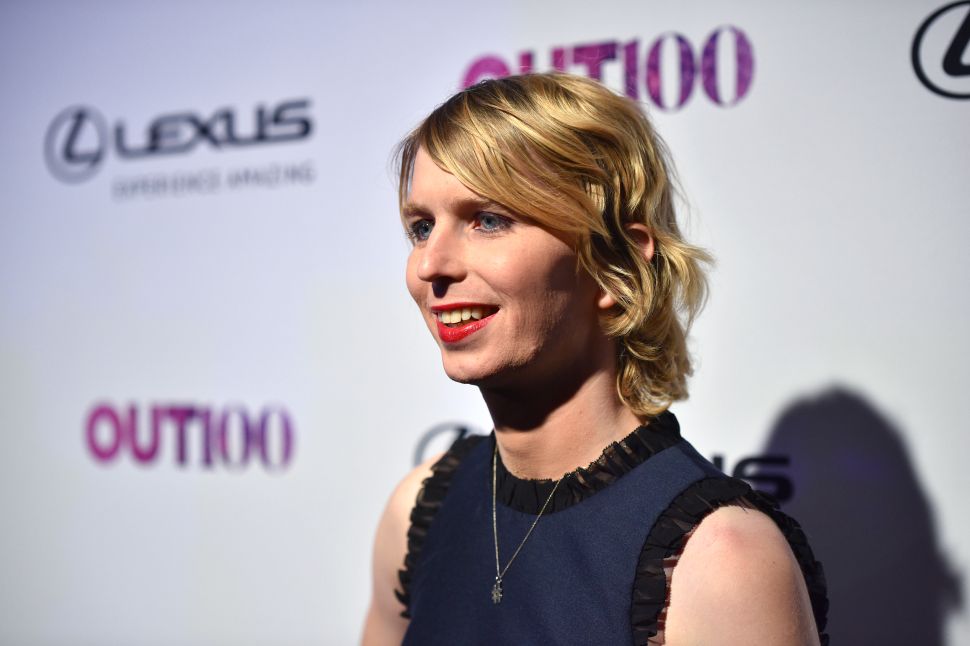 Chelsea Manning was caught mingling with Project Veritas' James O'Keefe and a handful of hard right media strategists at a Hell's Kitchen nightclub.
The event Manning and O'Keefe briefly spoke at was a gala hosted by conservative reporter Mike Cernovich—a regular host on Alex Jones' Info Wars, who previously peddled the Pizzagate conspiracy theory.
In addition to O'Keefe and Cernovich, Manning met with former Vice Media co-founder Gavin Mcinnes, who launched the nationalist organization Proud Boys in 2016.
Guests at the event were predominately supporters of President Donald Trump.
"I fucking crashed!" Manning told Observer when asked whether her appearance at the party contradicted her platform as a leader of the anti-Trump resistance.
"Hell yeah!" Manning enthusiastically added.
After seven years of imprisonment for leaking classified intelligence to Wikileaks, Manning's sentence was commuted by former President Barack Obama. She announced a campaign for Maryland's Senate last week.
"We've already put out some stakes," said Manning on her run.
The former whistleblower was later seen outside the party with a crowd of antifascist protestors.
"There are 400 people outside who want to kill us," said Mcinnes as the party winded down. "They've been brainwashed by the left."
O'Keefe—who came under fire this year after Project Veritas attempted an undercover sting operation to discredit the accusers of former Alabama GOP candidate Roy Moore—later tweeted footage of himself being surrounded by an angry mob. He was escorted by police to his car.
"You might want to take an Uber home," security told several guests outside wearing Make America Great Again hats.
SaveSave