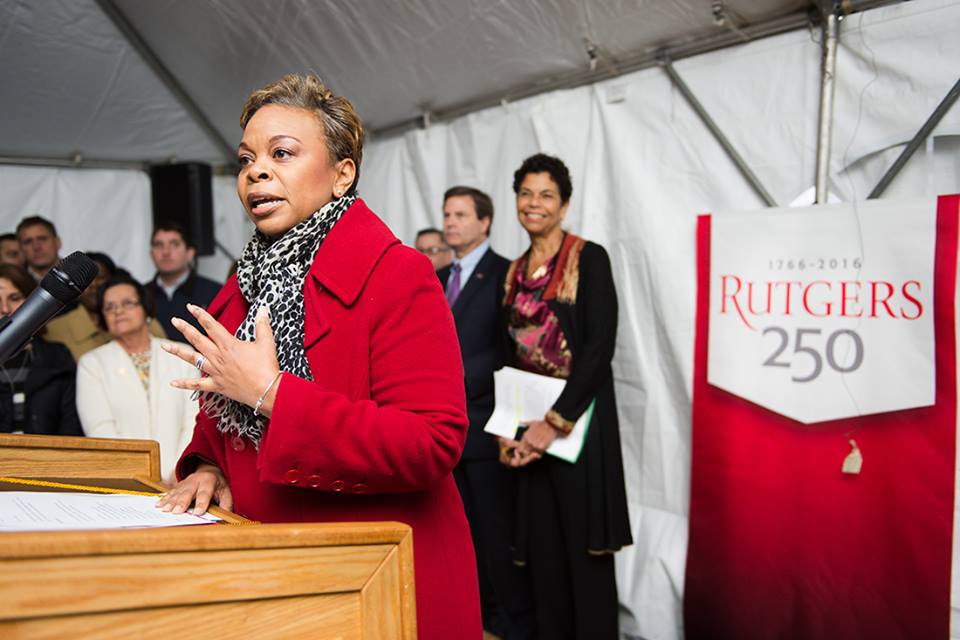 Former Camden Mayor Dana Redd is about to get a bigger pension.
During his last full day in office, Gov. Chris Christie signed a controversial bill on Monday to pad pensions for some politicians, including Redd. The fast-tracked bill, which sped through the legislature in less than a month, allows certain elected officials to re-enroll in the public worker pension system, even if they were kicked out due to switching from one elected office to another.
The new law appears tailored to benefit Redd, a Christie ally who left office this month and just got a high-paying public job overseeing the Rowan University/Rutgers-Camden board of governors. Lawmakers have insisted the bill could benefit other elected officials too, including state Sen. James Beach (D-Camden) and Assemblyman Ralph Caputo (D-Essex). But legislators never provided a full list of names and passed the bill without any firm financial details on the bill's impact.
Christie did not include a signing statement for the pension padding legislation, one of 108 he signed into law on Monday and 50 others he "pocket vetoed," or let die without taking any action. The governor's office did not immediately return a request for comment Monday on the pension bill.
Effectively, the new law (S3620/A5322) creates a special exemption that allows Redd to cash in on a bigger public pension at a time when public workers who are not politically connected have seen cutbacks to their benefits and a freeze in yearly cost-of-living adjustments for retirees since 2011.
New Jersey's pension system is one of the worst-funded in the nation, with nearly $90 billion in unfunded liabilities, according to a report released last month by a Christie-appointed commission.
Lawmakers, including Senate President Steve Sweeney (D-Gloucester), have argued the new pension law will have "no impact" on the pension system since only a handful of elected officials will be re-enrolled. Analysts from the Office of Legislative Services said they were "unable to estimate the cost to the state or local governments of permitting elected public officials to reenroll in PERS if the conditions set forth in the bill are met."
At issue is a 2007 law that put new elected officials in a retirement plan, similar to a 401(k), called the "Defined Contribution Retirement Program." That plan offers less generous benefits than the Public Employees' Retirement System (PERS), one of the state's largest and least financially sound pension funds.
Elected officials already enrolled in PERS before July 1, 2007, however, were allowed to keep building up their heftier PERS pensions as long as they remained in the same elected office, with an exception for lawmakers who jumped between the Assembly and Senate.
Redd, a Democrat allied with Christie and South Jersey power broker George Norcross, became Camden's mayor in 2010. She had to resign the simultaneous offices she held in the city council and state Senate when she became mayor, and the PERS pension she had been accruing was frozen.
Now, Redd and others who served in elected office on July 1, 2007—but later jumped to another elected office—can re-enroll in the PERS fund, so long as they have served at least 15 years with no break in time between holding different offices. Those elected officials can also make their pension enrollment retroactive to the date of taking any previous elected office.
Christie signed the bill three days after Redd was named chief executive of the Rowan/Rutgers-Camden board. The new gig comes with a $275,000 salary, according to reports. The bill Christie signed allows Redd to return to PERS and draw a pension commensurate with the heftier salary, and she also will be able to accrue more time toward her pension because of the retroactivity provision, accounting for her years of service in the city council.
Christie is one of Redd's closest allies. The governor and the mayor have been in a close partnership for years on charter schools, police issues and economic development in Camden. Christie took time to thank Redd during his farewell State of the State Addresss last week.
"Dana Redd kept her word to me for eight years," Christie said. "She's here today, and for that, Dana, I say thank you, partner. Thank you very much."
The outgoing governor later warned lawmakers about the dire shape of New Jersey's cash-starved pension system.
"We still have a big problem to tackle, and that problem will only be solved by making these benefits more realistic for both pensions and health insurance," Christie said.
SaveSave
SaveSave