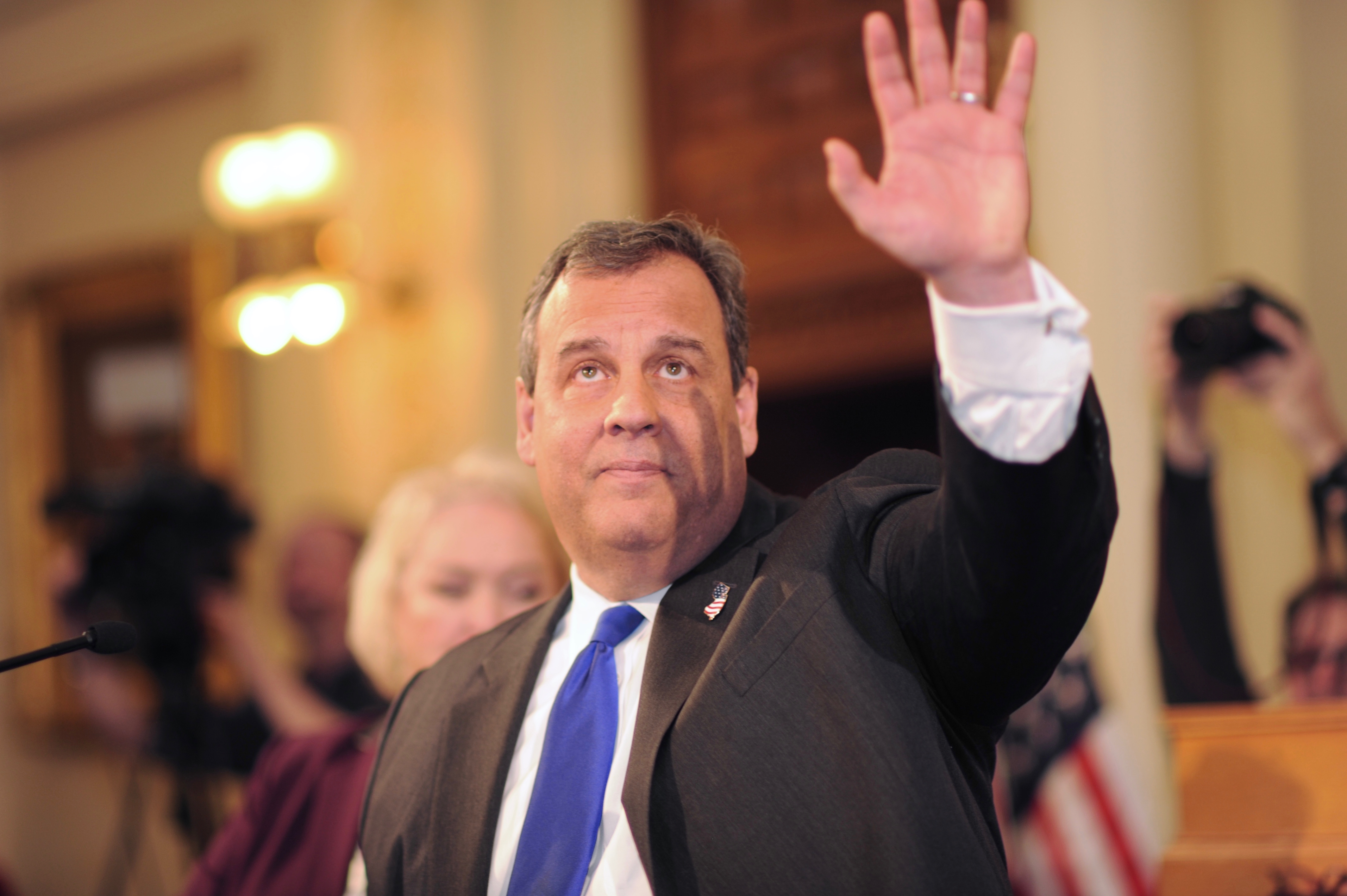 Gov. Chris Christie delivered his final State of the State Address on Tuesday, a speech where the governor touted his work over the last eight years as leaving New Jersey "much, much better than it was eight years ago," when Christie started his first term.
During the address—which clocked in at almost 90 minutes—Christie boasted of New Jersey's reduced unemployment rate. When Christie started his first term in 2010, the state's unemployment rate was at over 10 percent but had dipped to 4.9 percent as of October, according to the Bureau of Labor Statistics. He also celebrated his two percent property tax cap, something that he said prevented ballooning property tax rates of seven percent annually that were seen under prior administrations.
"Don't change it," Christie said of the property tax cap, one of his many pieces of parting advice. In order to continue keeping property taxes from ballooning, Christie also recommended a renewal of the interest arbitration cap, a two percent cap on police and fire salary increases that expired at the beginning of the year.
"Failure to renew this cap would be a failure of leadership—a failure which would cost our citizens money they need to support their families," Christie said. "As a property taxpayer, I urge you to pass the arbitration cap and not return to the days of seven percent annual increases in property taxes."
Christie did not shy away from heaping praise on colleagues from both sides of the aisle.
He praised Lt. Gov. Kim Guadagno—with whom he has had a notoriously rocky relationship—for joining him as the state's first lieutenant governor, a position that was created when Christie was running. He also thanked former Camden Mayor Dana Redd for being his "partner" on the reform of the Camden police force. Christie also thanked Senate President Steve Sweeney (D-Gloucester) and George Norcross, the South Jersey political boss who has had a close relationship with Christie across the aisle for years. The outgoing governor also praised Sen. Sandra Cunningham (D-Hudson) for her work on criminal justice reform and Attorney General Chris Porrino.
According to Christie, among his crowning achievements was the rebuilding of the Jersey Shore after Hurricane Sandy, the 2010 storm that wreaked havoc in New Jersey.
"The results were not always perfect; you know, they never are perfect," Christie said of the Sandy response. "But I'll tell you what was perfect: the effort, the compassion and the focus."
During his tenure in office—and particularly during his final year—Christie poured significant resources into combating the state's opioid epidemic, hailing legislation passed last year to limit the amount of opioid drugs that could be prescribed and the inter-state prescription information database that New Jersey spearheaded on his watch in order to cut multiple prescriptions.
"We are still losing too many of our citizens to this disease, but we are now taking concrete steps to try turn back the tide of death and suffering," Christie said.
One of the other defining issues of Christie's tenure has been the state's pension system, a plan that he reworked in 2011, but that is currently $90 billion underwater due to a lack of state funding. Christie admitted that the pension issue will continue to plague New Jersey; he called it the "sword of Damocles that hangs over the head of every New Jerseyan." Christie recommended making retirement savings "more realistic" for future workers.
"If we do not, let me assure you that there are not enough taxes to raise or other programs to cut to feed the insatiable beast of public employee pensions and platinum-plus health benefits," Christie said.
A Rutgers-Eagleton Poll released on Tuesday found that Christie will be leaving office on Jan. 16 as the least popular governor in New Jersey history, with just five percent of respondents saying that they will miss him when he is gone. But, for Christie, the last eight years have been a wild ride, one that has seen him rise to become one of the best-known national political figures and a presidential candidate.
"I leave you today grateful, happy and a better man than I was when I walked in here for the first time eight years ago," he said in closing his State of the State Address. "For that and so much more, I thank you. Most of all, I thank the wonderful people of the great state of New Jersey. I came to this job eight years ago proud to be one of you. I leave it next week even prouder to be one of you. God Bless you and farewell."