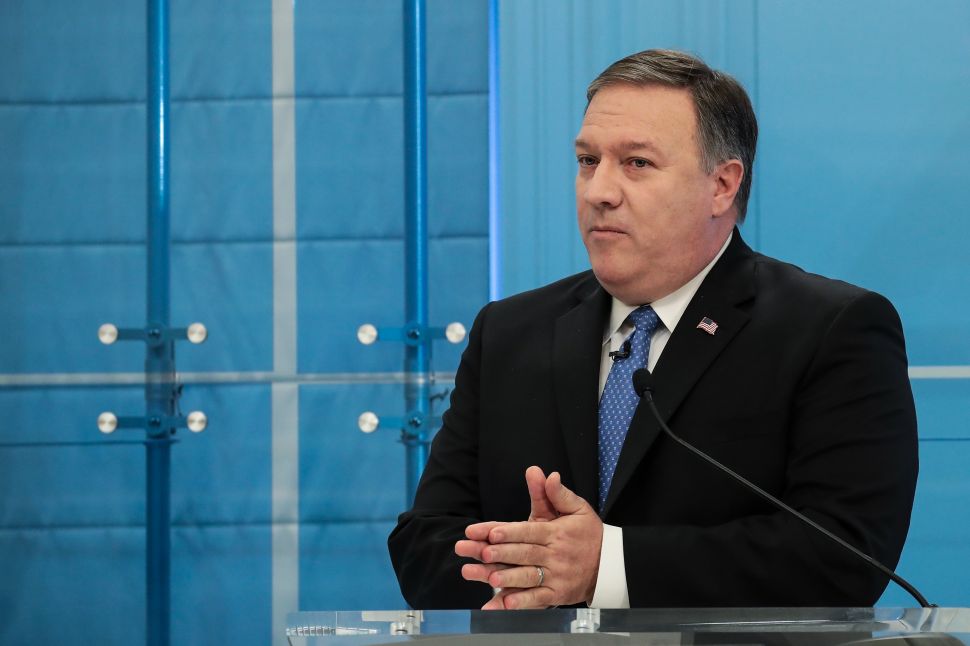 CIA Director Mike Pompeo met with top Russian intelligence officers days before insinuating that Moscow was likely to interfere in the upcoming U.S. midterm elections.
U.S. Ambassador to Russia Jon Huntsman told CNN on Wednesday about the meeting. Additional reports in the U.S. and Russia conclude that Pompeo met with Sergey Naryshkin, the head of Russia's Foreign Intelligence Service (SVR), and Alexander Bortnikov, who runs Russia's Federal Security Service (FSB). The FSB is considered the main successor to the KBG—the former secret police force behind the Soviet Union regime.
Also in Washington was the head of the GRU, Russia's military intelligence, according to the Washington Post. It is not clear whether he met with Pompeo.
U.S. and Russian officials confirmed talks between intelligence counterparts had occurred but would not specify which actors were present.
"The Trump administration must immediately come clean and answer questions. Which U.S. official did he meet with?" Senate Minority Leader Chuck Schumer (D-N.Y.) told reporters after news of the discussions surfaced.
Last week's meeting between Pompeo, Naryshkin and Bortnikov reportedly centered on containing terrorist attacks, but it comes amid multiple investigations into whether or not Russia influenced the 2016 U.S. presidential election.
On Monday—just days after meeting with Russian intelligence officials—Pompeo warned that intelligence agencies "haven't seen a significant decrease" in Moscow's attempts to hack democratic elections. The CIA director promised that the U.S. would retaliate "in a way that is sufficiently robust" should Russia interfere in this year's upcoming midterm elections.
The Trump administration released a list of Russian businessmen and oligarchs tied to the Kremlin on Tuesday night but decided not to add new sanctions against Moscow.
After calling the list a "hostile step," on Wednesday, Russian President Vladimir Putin announced his decision to hold off on pursuing "serious steps, that could push [U.S. and Russian relations] to the nadir."