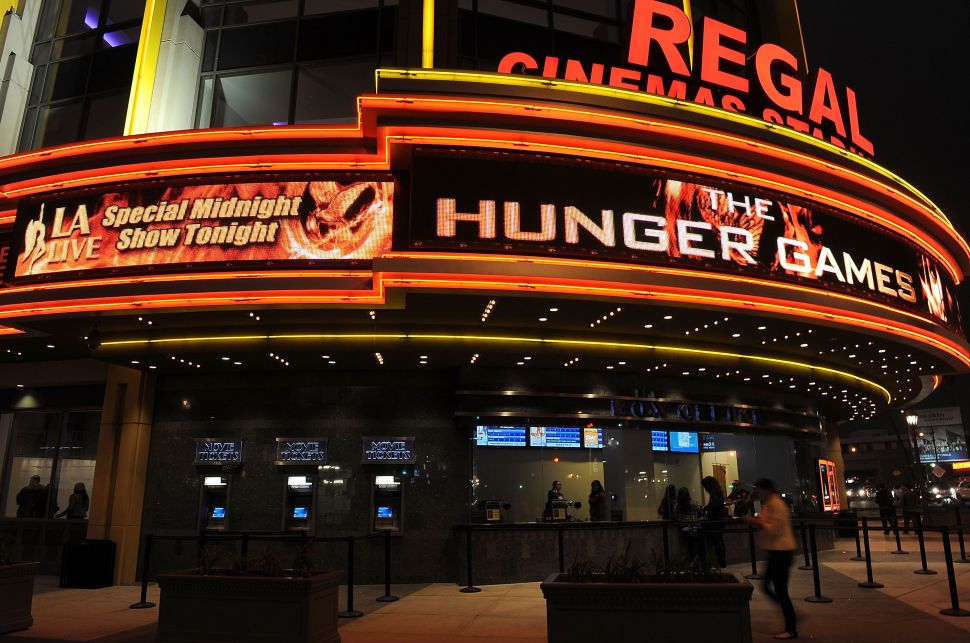 We thought MoviePass might be the struggling movie theater industry's savior, but perhaps the real glimmer of hope is arriving from overseas.
It's looking like Cineworld, an international exhibitor with no U.S. locations will be allowed to obtain Regal Entertainment unchallenged, per THR. The deal would see the country's top two cinema operators fall under the control of foreign companies.
Regal had been seeking a more lucrative offer than the $3.6 billion ($5.9 billion including debt) Cineworld had offered before the deadline passed on January 22. The next hurdle is getting shareholder approval in February.
"We envision minimal risk around the Cineworld shareholder vote, financing and/or regulatory approvals," B. Riley FBR analyst Eric Wold told the outlet.
The movie theater business has been in decline for some time now, with ticket sales decreasing steadily since 2002, per The Numbers. The rise of streaming and other SVOD services have further cut into the market that used to flock to theatrical releases. Don't let the inflated box office totals fool you: moviegoers are a dying breed.
Cineworld has just 2,200 screens in nine European countries.
For comparison, Star Wars: The Last Jedi opened on more than 4,200 screens in the U.S. last month. Regal control 7,300 screens domestically, second only to China's Dalian Wanda Group's AMC (AMC) Theaters, which is the world's largest exhibitor. AMC Theaters lays claim to a whopping 8,000 screens in the U.S. However, the U.K.'s 3.6 percent box office rise in 2017 to a record $1.9 billion helped up Cineworld's value. The U.S. box office, meanwhile, sunk by two percent in 2017.
What's more alarming is that China, America's biggest competitor, saw its box office business rebound after a down 2016. The country is now, once again, on pace to surpass America as the most important box office territory in the world.
But combining Cineworld and Regal would create a much more powerful competitor to AMC and provide more size and leverage at the negotiating table when it comes time to hammer out a box office share deal with the major Hollywood studios.
Lately, powerhouse outfits such as Disney (DIS) have been driving ridiculously hard bargains, with the Mouse House demanding 65 percent of the North American gate for The Last Jedi.
"Greater global scale can potentially improve overall bargaining power in discussions with studios surrounding film splits or windowing, which could possibly benefit the theater industry as a whole," Morgan Stanley analyst Benjamin Swinburne said.
However, shareholders could spike the deal as stock prices have declined since Cineworld's bid went public. Key to any potential deal is convincing Israel's Greidinger family, who own around 29 percent of the company, to get on board with the acquisition. They're expected to kick in $2.3 billion in the deal.
"We haven't seen any evidence of another bidder emerging for Regal," RBC Capital Markets analyst Leo Kulp says.
"We do not anticipate a higher offer," Wedbush Securities analyst Michael Pachter added.
China has instituted government mandates to slow the flow of capital out of the country and into Hollywood over the last two years. Turning the tables in the domestic theater battle would be a win in the ongoing cinematic struggle between the two markets.