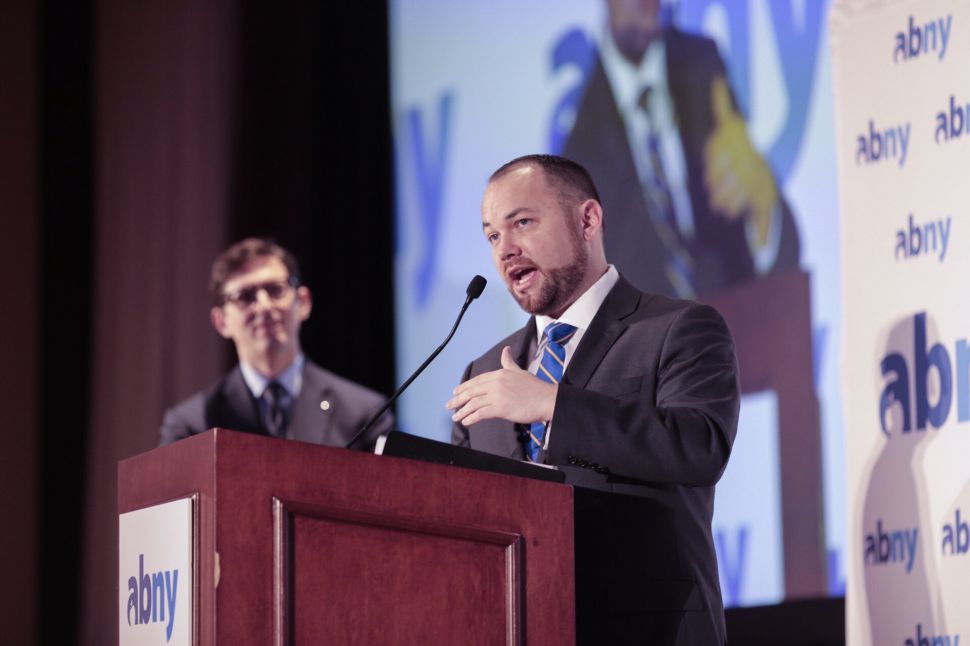 City Council Speaker Corey Johnson has a simple message for Gov. Andrew Cuomo and Mayor Bill de Blasio: stop the squabbling and "get something done" to fix the city's subway system—and urged de Blasio and Albany to get behind congestion pricing.
Speaking to reporters following his first address before the Association for a Better New York in Midtown Manhattan on Tuesday morning, Johnson said he has not yet settled on the amount of money he would like to see in the mayor's preliminary budget—which will be unveiled this week—for the Metropolitan Transportation Authority (MTA).
He still supports the city putting more money into the MTA but only if the money will be spent "efficiently and wisely" and prioritizes certain projects with clear budget timelines.
"Until there's more accountability with the MTA, I agree actually with the mayor that $1 billion for station upgrades is probably not the best way to prioritize money right now," Johnson said.
Johnson has not yet received details on the mayor's budget but anticipates that de Blasio will not put "significant money upfront."
Still, he expressed frustration with de Blasio, Cuomo and MTA Chairman Joe Lhota's fighting over funding for subway repairs. Last week, the de Blasio administration and Lhota held dueling press conferences about the funding issue.
"We'll figure out what that is depending on what offer they come forward with," Johnson continued, speaking of city funding for MTA. "But the squabbling between dueling press conferences on amounts of money, you should get something done. New Yorkers don't care about really who puts the money in. They care about the money getting put in so subway service is better. Ultimately, that's what the public cares about."
The MTA said its capital program has $4 billion for stations, includes $2 billion for critical repairs and maintenance such as the Enhanced Station Initiative program, $1 billion for new elevators at 19 stations to make them comply with standards for accessible design outlined in the Americans with Disabilities Act and $519 million for the new fare payment system that will replace the MetroCard over the next five years.
The capital program, the agency said, also allocates $2.7 billion for signal and communications infrastructure, $1.8 billion for track and switch work and $1.7 billion for subway cars.
"New leadership at both MTA and New York City Transit are laser-focused on delivering improved subway and bus service to City residents, quickly and efficiently," Shames Tarek, an MTA spokesman, said in a statement. "The current capital plan includes billions of dollars' worth of investment in not just station repairs and maintenance but in elevators, signals, tracks, subway cars, and buses as well."
During his speech, Johnson warned that the city is facing the prospect of "massive, massive cuts" to infrastructure funding that the city receives from the federal government. Trump is set to announce his long-awaited $1.5 trillion infrastructure plan during his first State of the Union Address on Tuesday night.
The speaker also told the crowd the Trump administration has "basically walked away" from the Gateway Tunnel Project, a train tunnel that would link New York and New Jersey under the Hudson River. Johnson argued the city and the state should focus on fixing the subway.
"Dealing with the federal government isn't easy these days, so let's move on to something that actually is: fixing the subways," he said. "It is the greatest infrastructure challenge that we face today as a city. The subway is the lifeblood of our economy, and our failure to address the crisis could literally be our undoing."
Johnson, who rides the subway to City Hall every day, said the system has "truly reached its breaking point."
He touted congestion pricing as the solution, noting his district—which includes Manhattan's West Side from Canal Street all the way to Columbus Circle—is clogged with traffic on a "near daily basis."
"We need new, smart, sustainable revenue streams, and one piece of that puzzle is congestion pricing," he continued. "We need congestion pricing—this year, this legislative session."
A panel convened by Cuomo last year recently proposed charging drivers $11.52 in the most traffic-heavy parts of Manhattan. Cuomo said he received the report and plans to review it and discuss alternatives with the legislature over the next several months.
De Blasio said he needs to "know a lot more"and pointed to his proposed millionaires tax to fund subway repairs and reduced fares for low-income New Yorkers. He also called for a "lockbox guarantee" that the money would not be diverted from subways and buses.
But the mayor said Cuomo's plan shows improvement over previous versions—he praised the fact that bridges were taken "out of the equation," resulting in fairness for Brooklyn and Queens.
After the breakfast, Johnson told reporters the mayor's language "has changed a little bit" and is looking to ensure the plan is not "punitive to folks in the outer boroughs."
"I'm open to just getting something done," Johnson said. "That doesn't mean that I'll take anything, but I am flexible when it comes to getting something passed that will raise revenue and will disincentivize cars from coming into Manhattan."
The speaker said the Council would only pass a "Home Rule Message"—when the Council makes an official request of the state legislature to pass a special law impacting the city—on a proposal "that's actually gonna pass."
This, he explained, would entail having conversations with state Assembly Speaker Carl Heastie, state Majority Leader John Flanagan and Gov. Cuomo.
He also said the time frame for the home rule would depend on when the Council knows what the proposal is, noting he is unsure of whether the governor will try to "wrap the plan in" before the April 1 budget or later in the legislative session.
"I'm going to Albany next week for budget hearing day, where I'm gonna try to meet with each one of them and delve a little bit more into the details of congestion pricing," he added.
Spokespeople for Cuomo, de Blasio, Flanagan and Heastie did not immediately respond to requests for comment on Tuesday.
This story has been updated to include a comment from the MTA.