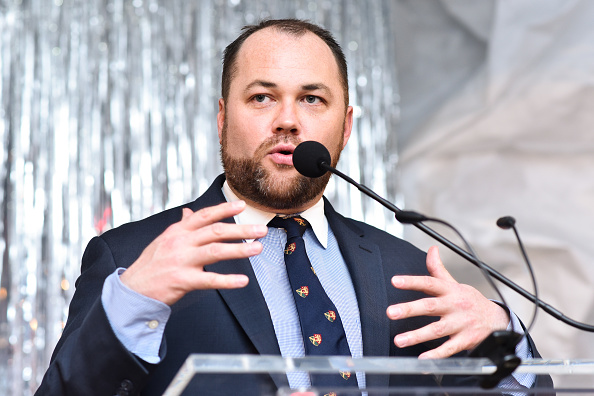 City Council Speaker Corey Johnson—the city's first openly HIV positive speaker and the only HIV positive elected official in New York State—was sworn in amid a host of top New York lawmakers on Sunday afternoon.
The star-studded affair at the Fashion Institute of Technology in the Chelsea section of Manhattan drew at least 200 people, including Gov. Andrew Cuomo's counsel Alphonso David, Mayor Bill de Blasio, state Assembly Speaker Carl Heastie, Rep. Hakeem Jeffries (D-Brooklyn), Rep. Carolyn Maloney (D-Manhattan) and Rep. Jerrold Nadler (D-Manhattan), the ranking member of the Judiciary Committee.
Johnson is also the second LGBT speaker—Christine Quinn was the first and served from 2006 through 2013—but he is the first male LGBT speaker and the first speaker who is not a person of color since Quinn.
"I look forward to doing all I can to ensure that my unique story of being a 19-year-old who moved here, came out at 16, who… found out he was HIV positive at 22 years old, who lost his health insurance three weeks later, who couldn't get insurance because of a preexisting condition, who grew up in public housing, who has always struggled to make ends meet here in New York City," Johnson said during his inaugural address. "I will remember where I came from. I will remember the struggles that I faced."
Johnson told the crowd that despite progress, the city faces an affordability crisis, with more than 60,000 people living in the homeless shelter system, racial disparities in "nearly every aspect of life" and "fiscal realities" presented by Washington and Albany. He also urged the city, state and federal governments to unite to fix the subway.
He insisted it is possible to prevail "because we have done it before."
"In the darkest points in our history, New Yorkers stood up and fought back," Johnson continued. "When the AIDS crisis burned and ravaged its way through this community and thousands of gay men were literally dying, every day New Yorkers stood up… they organized, they put their bodies on the line… they forced the development of antiretroviral drugs and that's why me and many people are alive today."
Elected officials pointed to Johnson's humble beginnings: he grew up in public housing. He also came out in 2000 when he was captain of his high school football team and struggled with substance abuse as well as alcohol and drug addiction.
"He struggled, the family struggled and struggled and struggled," Sen. Chuck Schumer recalled, before swearing Johnson in. "But Corey had some inner strength, a great gift from God and he became captain of his football team… he came out and he said, 'I'm gay.'"
Schumer, who met Johnson shortly after he came out, said Johnson has earned his success.
"There's no one who doesn't like him," he continued.
Mayor Bill de Blasio described Johnson as one of the people who "stood up quickly" in the days after President Donald Trump's victory and organized his community to resist.
He touted Johnson's work in fighting the tobacco and fast food industries.
"We have to be the antidote to what's happening in Washington, D.C. and we need leaders who will not break down… who will make it their every moment's purposeful mission and we have that now in your speaker Corey Johnson," the mayor said.
The mayor also noted the historic nature of his speakership.
"We send a message to the whole country that an HIV positive man is one of the great leaders of our city," de Blasio continued.
Cuomo's counsel, pointed to Johnson's life story.
"Corey Johnson, the disruptor, the underdog, the fighter and now the speaker of the New York City Council," he said. "Corey Johnson hails from humble beginnings. He has never forgotten how important it is to remain humble."
He also praised his dancing skills.
"Corey Johnson sings and he dances to Top 40 radio including, noticeably, Beyonce while educating New Yorkers on his agenda and on the challenges that are facing New York City residents," he continued. "There's been talk of presenting him with a silent Grammy award."
Some elected officials alluded to the dynamics of the speaker's race. Although the 51 members vote to select the speaker, the Queens and Bronx Democratic party bosses are key players.
"I'm happy that the Bronx was part of your ascension to your position," Speaker of the State Assembly Carl Heastie, whose district is in the northeast Bronx, said during the ceremony.
Rep. Jerrold Nadler, whose district covers the same geographic area as Johnson, said "collegial politics" involves elected officials proving themselves to fellow lawmakers.
"That's a much more difficult challenge, especially when you're in a body like the City Council which… has so many very capable public officials," he said. "Corey has emerged from that as the choice of his colleagues."
State Comptroller Thomas DiNapoli seemed to warn of potential challenges ahead.
"You're the one that's going to have to work on building a consensus and that is not always easy to do," DiNapoli said.
Public Advocate Letitia James, a rumored 2021 mayoral candidate, argued Johnson is an "imperfect person"—a quality she called necessary for a speaker.
"Corey can relate to all of that," James said. "What we need now more than ever [is someone] who can not just understand what you're going through but with their heart and their soul can relate to you," James said.
Comptroller Scott Stringer, another potential mayoral candidate, seemed to suggest Johnson will stand up to the mayor. Johnson said he would assert the Council's independence if circumstances call for it.
"It hasn't even been 30 days yet—Corey Johnson has made it clear that this Council is going to be a Council of independence, of issue focus," Stringer said.
Thomas Duane, the first openly gay member of the New York State Senate, who is Johnson's mentor, professed his faith in Johnson.
"That's the real challenge, is stopping really bad things from happening and Corey is really good at stopping bad things from happening and making good things happen," Duane said.
Brooklyn Councilwoman Laurie Cumbo, the Council's Majority Leader and a close ally of Johnson's, gave birth to her son, Prince Noah Oluwafemi—who was at the ceremony—during her reelection campaign last year and thanked Johnson for helping her.
"He amassed an entire army of young people all throughout the city to come to my district to make sure that I was reelected to the New York City Council," Cumbo said.