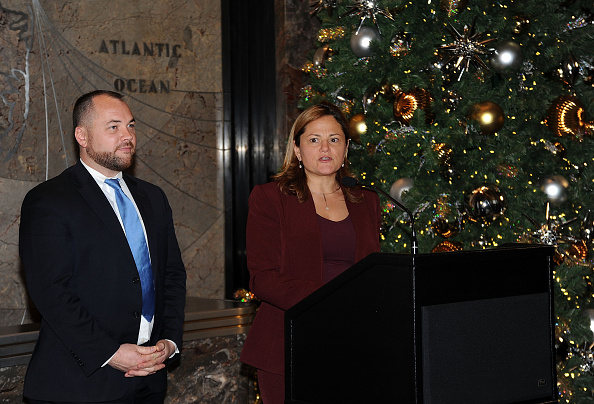 No women will be heading the City Council's top committees under newly elected City Council Speaker Corey Johnson, as the new class grapples with a low number of women members and the first male speaker in more than a decade.
Queens Councilman Daniel Dromm will head the powerful Committee on Finance, while Bronx Councilman Rafael Salamanca will chair the Committee on Land Use.
Queens Councilman Donovan Richards will serve as chairman of the Committee on Public Safety, Brooklyn Councilman Mark Treyger will head the Committee on Education and Brooklyn Councilman Robert Cornegy—who initially refused to concede amid news that Johnson was the presumptive victor for speaker but eventually backed Johnson—will chair the Committee on Housing and Buildings.
Bronx Councilman Ritchie Torres, who previously headed the Committee on Public Housing, will now serve as chairman of the newly created Oversight and Investigations Committee. Torres was among the speaker candidates who conceded as soon as Johnson clinched key support.
None of the major committees will be chaired by women.
This represents a departure from the tenure of former City Council Speaker Melissa Mark-Viverito. Under Mark-Viverito, Queens Councilwoman Julissa Ferreras-Copeland served as chairwoman of the Finance Committee and Bronx Councilwoman Vanessa Gibson served as chairwoman of the Public Safety Committee.
At a meeting following the Council's first monthly stated meeting of the year on Thursday afternoon, Johnson defended his choices to head the committees.
"Every single woman in the Council is chairing a committee," he told reporters. "If you look at the leadership team, a lot of women of color."
Johnson's speakership marks the first time the body has not been led by a woman, following Melissa Mark-Viverito, who served from 2013 to 2017 and her predecessor, Christine Quinn, who served from 2006 to 2013. And the number of female members has dropped from 13 to 11. The number decreased from 12 to 11 after incumbent Queens Councilwoman Elizabeth Crowley lost her bid for reelection.
All eight speaker candidates were male until a week before the speaker's race vote, when Brooklyn Councilwoman Inez Barron announced her candidacy on the grounds that it was time for a black speaker. She stayed in the race until the very end and voted for herself.
Brooklyn Councilwoman Laurie Cumbo, an African-American woman and a close ally of Johnson's, will serve as Majority Leader. On the 20-person leadership team, there are only six women, though five of them are women of color. Cumbo is the only woman in the seven top positions on the leadership team.
The 20-person budget negotiating team includes six women: Adams, Cumbo, Gibson, Koslowitz, Rose and Rosenthal.
Brooklyn Councilwoman Inez Barron chairs the Committee on Higher Education and Manhattan Councilwoman Helen Rosenthal is chairwoman of the Women's Committee. Manhattan Councilwoman Margaret Chin will head the Committee on Aging, and Queens Councilwoman Karen Koslowitz will chair the Committee on Rules, Privileges and Elections.
Staten Island Councilwoman Debi Rose will head the Committee on Youth Services, and Bronx Councilwoman Vanessa Gibson, who previously headed the Committee on Public Safety, will chair the Capital Budget Committee.
Newcomers also made the cut.
Manhattan Councilwoman Carlina Rivera chairs the newly created Hospital System, and Brooklyn Councilwoman Alicka Ampry-Samuel—who was born and raised in public housing—will serve as chairwoman of the Committee on Public Housing.
And Manhattan Councilwoman Diana Ayala, who succeeds Mark-Viverito, will head the Committee on Mental Health, Developmental Disability, Alcoholism, Drug Abuse and Disability Services. Queens Councilwoman Adrienne Adams will also chair the Committee on Landmarks, Public Siting and Maritime Uses.
In a statement, Gibson said she was pleased with her assignment overseeing city agencies' capital budget spending.
"She welcomes this exciting and new opportunity to advocate for the best interests of all New Yorkers, particularly as it relates to investment in our city's infrastructure," her office said in a statement.
Two of the three Republican Council members also received committee chairmanships.
Staten Island Councilman Joseph Borelli will serve as chairman of the Committee on Fire, while Staten Island Councilman Steve Matteo—who will again serve as Minority Leader—will serve as chairman of the Committee on Standards and Ethics.
Brooklyn Councilmen Jumaane Williams and Brad Lander did not receive any committee chairmanships. Williams was named chairman of the City Workforce Equity Task Force, while Lander will serve as Deputy Leader for Policy on the leadership team.
Williams refused to concede during the speaker race up until the last minute. He instead traveled to Albany the day of the vote—he is said to be preparing to run for lieutenant governor of New York State—and conceded in a statement.
Bronx Councilman Andy King, who is said to be the subject of an internal Council probe into sexual harassment allegations, was still named as chairman of the Committee on Juvenile Justice. Johnson said he would not confirm or deny the allegations against King.
"There is due process and congeniality as part of our process here at the Council," he said.