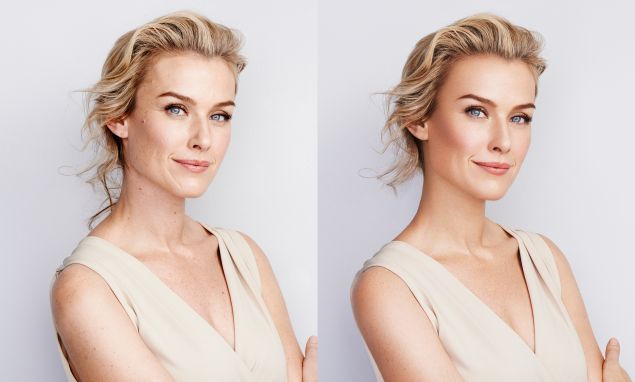 Beauty products aren't known for promoting body positivity, but CVS is doing its part to change that.
America's largest pharmacy chain, which has almost 10,000 stores, announced on Monday that it would no longer touch up images used in marketing for its beauty products. By the end of 2020, CVS will stop materially altering promotional beauty imagery in post-production. This rule applies to in-store and online advertising, as well as social media marketing.
But CVS doesn't want to do this alone, so it's working with suppliers to ensure they don't change or enhance their imagery either.
Any products with unaltered imagery will receive a "CVS Beauty Mark" watermark. The Beauty Mark will begin appearing in stores this year, with full implementation by the end of 2020.
Companies that continue to use digitally altered marketing materials after 2020 will be displayed in CVS stores with a label indicating the image has been manipulated.
"We have a responsibility to think about the messages we send to the customers we reach each day," CVS Pharmacy President Helena Foulkes said in a statement. "As a purpose-led company, we strive to do our best to assure all of the messages we are sending to our customers reflect our purpose of helping people on their path to better health."
It's important that a large public company is taking this step and pressuring suppliers, according to Jennifer Berger, executive director of San Francisco-based nonprofit women's empowerment group About-Face.
"They're riding the wave of this new resistance to image editing," she told Observer. "Removing these harmful and idealized images from their aisles will help girls and women feel better about the way they look as they are."
Berger also noted that CVS' new rules could help young women avoid health issues like eating disorders and depression.
Revlon has already agreed to comply with CVS' mandate. The company's North American President John Collier told USA Today that it "support(s) CVS' mission to present positive and authentic images of women."
Berger hopes other suppliers follow suit—and she believes that "if they're smart, they will."
"This is where the world is going," she said. "The awareness that women and girls have around these images is so much more widespread, and these companies should realize they have to follow the zeitgeist instead of providing those idealized images."
This isn't the first time CVS has made a change to promote healthy living. The chain stopped selling tobacco products in 2014 and has vowed to remove harmful chemicals from beauty and personal care products by 2019.