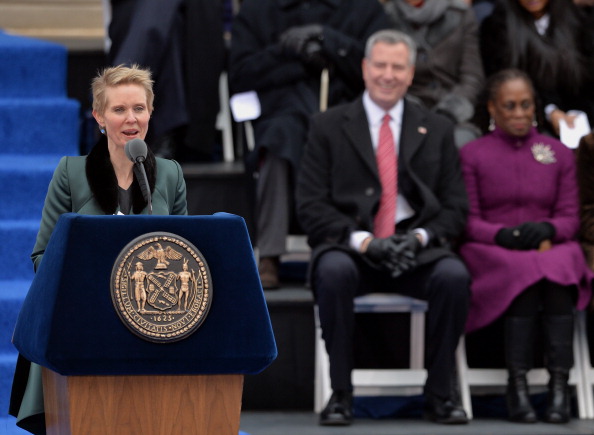 Actress and education advocate Cynthia Nixon has not ruled out challenging Gov. Andrew Cuomo in the 2018 gubernatorial race, according to a report.
In August, the Wall Street Journal reported that Nixon, an Upper West Side resident known for her advocacy on education issues, was considering challenging Cuomo in the Democratic primary.
And she told NBC's Today that she has heard and read about the rumors that she is thinking about running. She also said supporters want her to run primarily to tackle the education issue.
The Sex and the City actress—a staunch ally of Mayor Bill de Blasio, who often feuds with Cuomo—told NY1's Josh Robin at a fundraiser she was co-hosting with a feminist collective on Thursday night that she might jump into the fray.
"Maybe, maybe," Nixon said.
Nixon was headlining an inaugural fundraiser with The Broad Room, a feminist training camp working to fight President Donald Trump's policies. The collective offers free monthly trainings "to take political action and resist the right-wing agenda," according to the group's official website.
The directors include, Monica Klein, who served as communications director for de Blasio's reelection campaign, and Elana Leopold, de Blasio's finance director.
During the event, Nixon made sure to note her ties to de Blasio, saying he is someone "who I would stump for any time, any place, anyhow."
Cuomo, for his part, seemed to dismiss Nixon's potential candidacy.
"I think a lot of people are running for governor maybe," Cuomo told NY1's Errol Louis on Friday afternoon.
Former Syracuse Mayor Stephanie Miner is another potential Democratic gubernatorial candidate. Former State Senator Terry Gipson, a Democrat, already announced he is running against Cuomo.
Brooklyn Councilman Jumaane Williams—a two-time candidate for City Council speaker who was contemplating running against Cuomo—recently announced he is seeking to challenge Lieutenant Gov. Kathy Hochul, Cuomo's running mate. He has been a vocal critic of Cuomo.
On the Republican side, Cuomo is facing a challenge from state Assembly Minority Leader Brian Kolb.