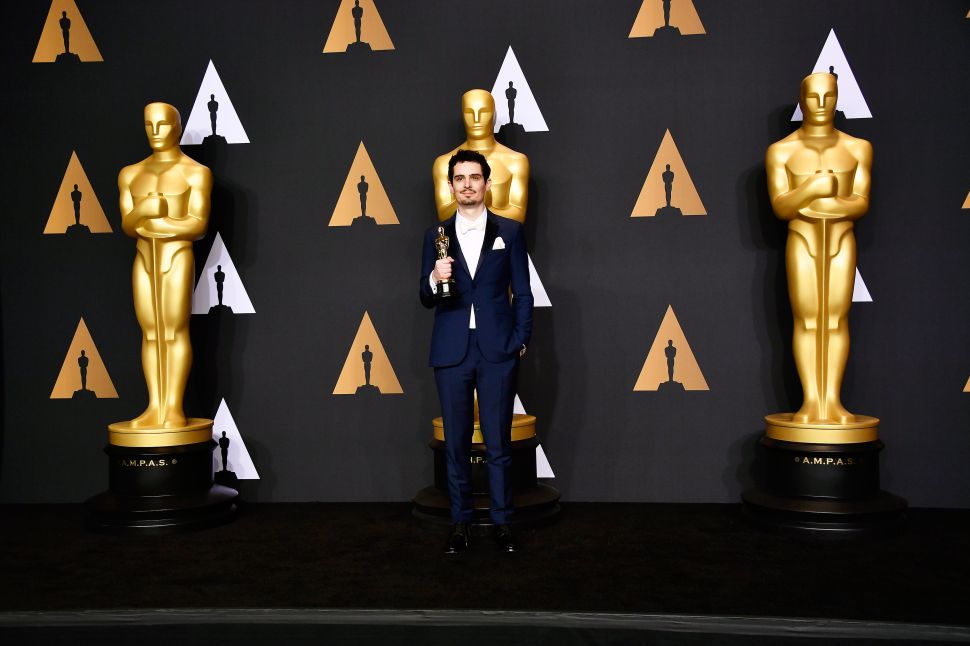 Filmmaker Damien Chazelle is just 33 years old and has already won a Best Director Academy Award, while his two films—Whiplash and La La Land—have both been honored with Best Picture nominations. Clearly, he's a name to keep track of, which is why Apple has swooped in on his next project.
The tech giant has inked a deal with Chazelle for what its describing as an "innovative drama" series, TVLine reports. The series comes from MRC, the studio responsible for big name projects such as House of Cards, Ozark, J.K. Simmons' new Counterpart and last summer's Baby Driver.
Chazelle, who is currently working on the Neil Armstrong biopic First Man with Ryan Gosling attached, will write and direct every episode of the untitled hour-long show, which Apple handed a straight-to-series order.
Details on the project are few and far between, but it marks the second TV show Chazelle has sold to a streamer. Back in September, Netflix snatched up his new musical drama The Eddy.
Chazelle's representatives have not yet returned Observer's request for comment.
Apple is determined to disrupt the current status quo of the streaming wars, which sees Netflix on top, Hulu nipping at its heels and Disney set to challenge all once its Fox acquisition is confirmed. However, no one is quite sure just how the company is going to deliver its content. There's been talk that Apple is eyeing a $75 billion acquisition of Netflix, though that's all it is right now, just talk.
Regardless of how Apple plans to get its content in front of users, one thing is for sure: they've lined up a handful of compelling series.
So far, that $1 billion content budget is being put to good use. Here's a brief rundown of what you can expect from Apple once its streamer is up and running:
A reboot of Steven Spielberg's Amazing Stories that is being positioned as Apple's version of Black Mirror; a boundary-pushing sci-fi anthology. The series will reportedly cost a healthy $5 million per episode.
A splashy new drama from Reese Witherspoon and Jennifer Aniston that inspired a major bidding war. Apple handed them a full two-season order (20 episodes) and will reportedly pay the pair around $1 million per episode.
A new space drama from Outlander showrunner Ronald D. Moore. A one-hour drama that received a straight-to-series order.
With Peak TV expected to produce 500 scripted series in 2018, everyone is scrambling for content. Though it's still early, Apple is setting itself up well with buzzy, attention-grabbing projects from established talent.