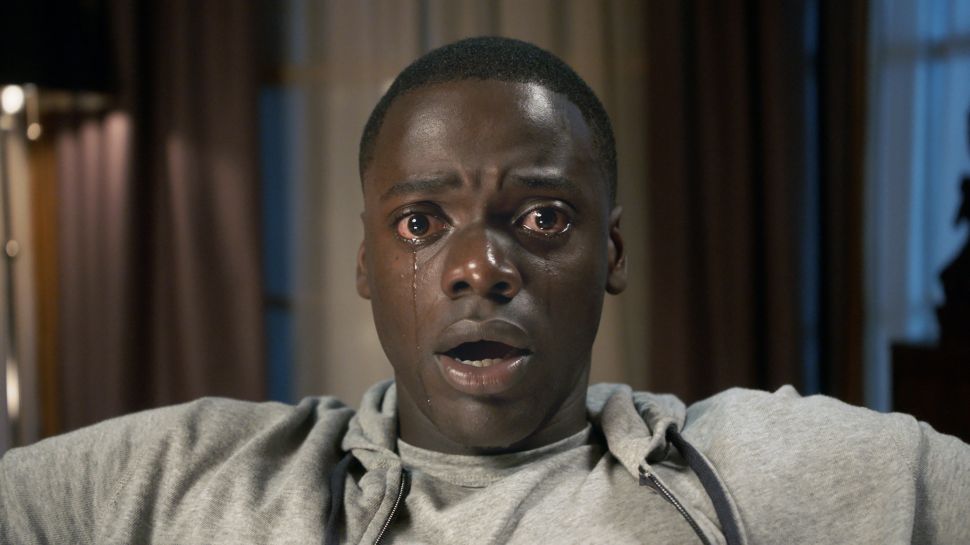 Many fans were upset that Universal Pictures' Get Out, written and directed by Jordan Peele, was shut out at the Golden Globes Sunday night. But even though the social thriller didn't take home any statues over the weekend—don't worry, it's still a contender for certain Oscars in March—fans should take solace in the fact that the film was one of 2017's most profitable.
Made for a paltry $4.5 million, Get Out earned $254.3 million worldwide, per Box Office Mojo. That includes nearly $79 million overseas where the picture collected a solid 31 percent of its total gross. So how has an American film made by an American filmmaker connected so well with international audiences?
"Racism isn't just in America," star Daniel Kaluuya, who is English, told THR. "…Alienation is felt worldwide in different capacities. That's what Jordan [Peele] does: He taps into an inner truth by telling his specific truth, so everyone gets it and it works on levels for people who don't experience racism. They enjoy it as a genre film, but the reason why they can enjoy it is because Jordan understands the African-American truth that he's trying to portray. To stay loyal to that, and to be specific, allows it to travel."
Get Out received near-universal praise upon its release last February and currently holds a 99 percent rating on Rotten Tomatoes and an 84/100 on Metacritic. The former's consensus describes it as, "Funny, scary, and thought-provoking, Get Out seamlessly weaves its trenchant social critiques into a brilliantly effective and entertaining horror/comedy thrill ride." We can't argue with that. Get Out's depiction of a black experience in a white-dominated world is both introspective and externally jarring.
The film has helped to launch Kaluuya's career, whose biggest credits prior to Get Out were arguably an episode of Black Mirror and a bit role in Sicario. He'll next appear in Ryan Coogler's Black Panther and Steve McQueen's Widows, both of whom are black directors, though he isn't trying to make a point about "diverse stories."
"I think diverse stories are just stories. I don't think 'diverse' is an add-on package," the actor told the outlet. "Things that are not diverse are weird because that's not accurate. We live in the world and there's so many different people, so I just think I want to show the world. I like three-dimensional characters—it's just more interesting when you get on set. All the filmmakers recently have been black, but I just want to tell stories where the character that I'm playing is more than an archetype that he needs to be for the function of the story. I got that with something like Sicario with Denis [Villeneuve]. It's a perspective. I think it's just filmmakers who actually live in the world and tell honest world stories."
The 28-year-old Kaluuya is one to watch moving forward, as is Peele, who shocked everyone with this writer-director debut. The filmmaker is rumored to be working on a Twilight Zone reboot with CBS and a Nazi hunting TV thriller, while Kaluuya is set to enter the Marvel Cinematic Universe.
Box office dominance, critical acclaim and lucrative career opportunities for those involved? Not bad for a little movie that was made for chump change.